Leno diagnosed the issue of a man's broken down German classic car after pulling over to see if he could offer assistance.
---
It's not everyday that a celebrity comes to our aid in a time of need, but that happened for one man as he was stuck on the side of the road with his broken down 1953 Mercedes-Benz and the good samaritan that came to his aid was none other than Jay Leno. Sure, most regular people associate Jay Leno as the late night host of his former talk show, but us car enthusiasts know him mainly for his boundless car collection and his reality television series titled Jay Leno's Garage. On top of that, he also writes a regular column for Popular Mechanics magazine. Speaking of his almost infinite and ever-growing collection, Leno is said to own 286 vehicles which breaks down to 169 cars and 117 motorbikes.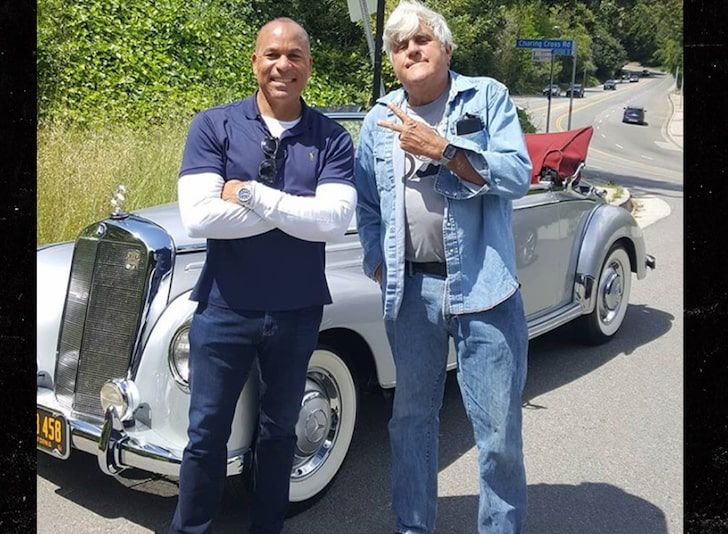 After suffering from cabin fever after being stuck at home thanks to the coronavirus pandemic, the motorist, Dwayne Henry, decided to take his old-school Mercedes out for a nice drive but soon realized the German classic wasn't running mechanically sound. Leno and his wife happened to be driving their Tesla through Los Angeles close to the Sunset Strip when they stumbled across the stranded Henry, a luxury real estate agent, as he was waiting on a tow truck. Leno pulled up and asked to take a peek under the hood to see if he could diagnose the issue.
It wasn't long before the tow truck driver pulled up not long, and Leno, 69, was able to borrow some tools to tamper with the car. Leno was able to find the issue which turned out to be an issue with the brakes and brake fluid causing problems. Thankful for Leno and his extensive car knowledge, Henry still had the vintage Mercedes loaded on the tow truck to be taken in for the needed repairs.
It's safe to say that Leno definitely has the mechanical skills and knowledge ad well as a good heart to stop and help a stranded motorist someone in need, especially during these trying times when the negativity seems to overpower the positive. Much respect to Jay Leno for his kindheartedness and lending a helping hand. Respect.