It's a pony vs elephant showdown!
---
When you run one of the most popular aftermarket tuning shops in the land like Hennessey Performance, you need to know how your products like the Hennessey Mammoth 900 does against the competition. But when you've taken a Ram TRX and boosted it to 912-bhp as well as 873-lb.-ft. of torque, putting it up against another pickup in a race isn't exactly a fair fight. That's why the Texas tuner decided to pit the super truck against the mighty Camaro ZL1 1LE to see how it fared.
Check out what Hennessey has done to the Lincoln Navigator here.
Thankfully, Hennessey recorded the race and uploaded it to YouTube for all to see. A lot of people are interested in these odd kinds of faceoffs since it's not like anything they'll see at the local dragstrip. After all, who has access to the Hennessey Mammoth 900, considering it comes at a mammoth-sized price?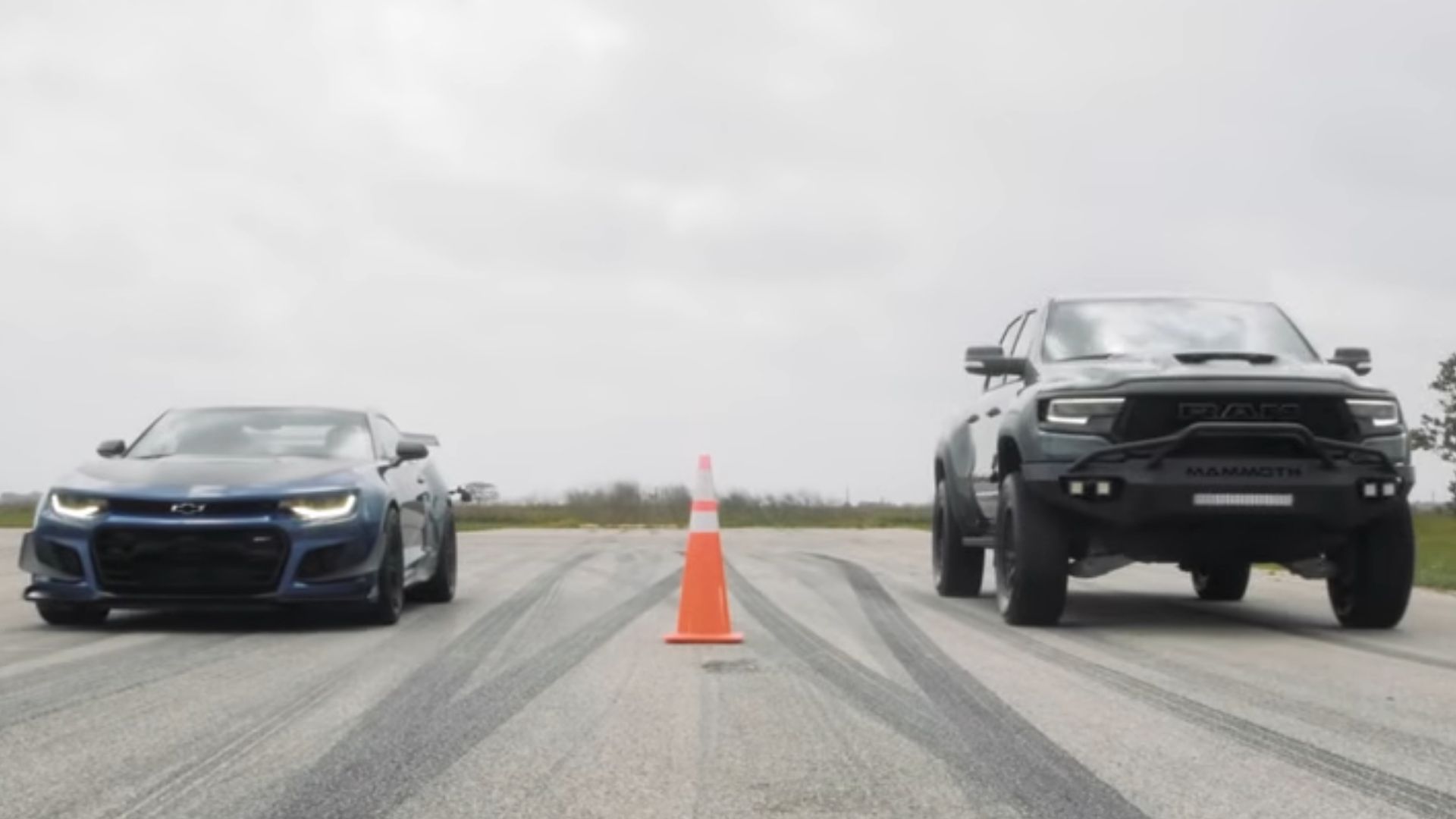 To someone who doesn't know much about Hennessey and their propensity to make what is average fast and what's fast even faster, they might think the Camaro will have an easy time putting away the big, heavy Ram truck. But a whole list of upgrades included in the Mammoth 900 package are geared at getting the pickup to scoot in a hurry. It starts with a ported supercharger snout along with a supercharger drive pulley upgrade and drive hub assembly upgrade to make the most out of the forced induction setup for the Hellcat V8.
Complementing that is an upgraded overdrive crank damper, high-flow fuel injectors, high-flow filtration system, crank case ventilation system, plus a calibration upgrade for the ECM and TCM. The result, s you know, is a ridiculous amount of power and twisty torque. Oh, and keep in mind with power going to all 4 wheels, that can help with a clean launch.
But is that enough to get the massive truck across the line before the Camaro ZL1 1LE? After all, the track-oriented setup from Chevy puts at the driver's command 650-hp with a 10-speed automatic transmission. Lightweighting through the use of carbon-fiber parts and forged-aluminum wheels also help, but it's debatable how useful the aggressive aero elements like the tall rear wing, prominent front splitter, and those dive planes are on a drag strip. Sure, they're great to have on a circuit, but this is about going fast in a straight line, not sticking hairpin turns.
Hennessey didn't do any special prep for the race, and it's not on a real drag strip, so keep that in mind as you watch the video. Before you check it out, which vehicle do you think will win and by how much?