It was all for a good cause…
---
While some consider the first hybrid Corvette, called the E-Ray, to be controversial, there are plenty of people who can't wait to get their hands on one. Someone just dropped $1,100,000 for the privilege of owning the first production model. That might sound crazy considering what kinds of supercars you can buy for that kind of cash, but at least it was to support a good cause.
Watch an E-Ray prototype burn to the ground here.
The first production Chevrolet Corvette E-Ray was auctioned off during the Barrett-Jackson Palm Beach event. Just like other first production run cars auctioned by Barrett-Jackson, the proceeds from the sale go to a charitable cause. For this car that was DonorsChoose that facilitates people donating directly to public school classroom projects.
Not only is the E-Ray the first Corvette to use a gasoline-electric hybrid powertrain, it's the first all-wheel-drive production version of America's sports car. According to GM, the E-Ray can sprint from 0-60 mph in just 2.5 seconds. It can also polish off the quarter mile in just 10.5 seconds.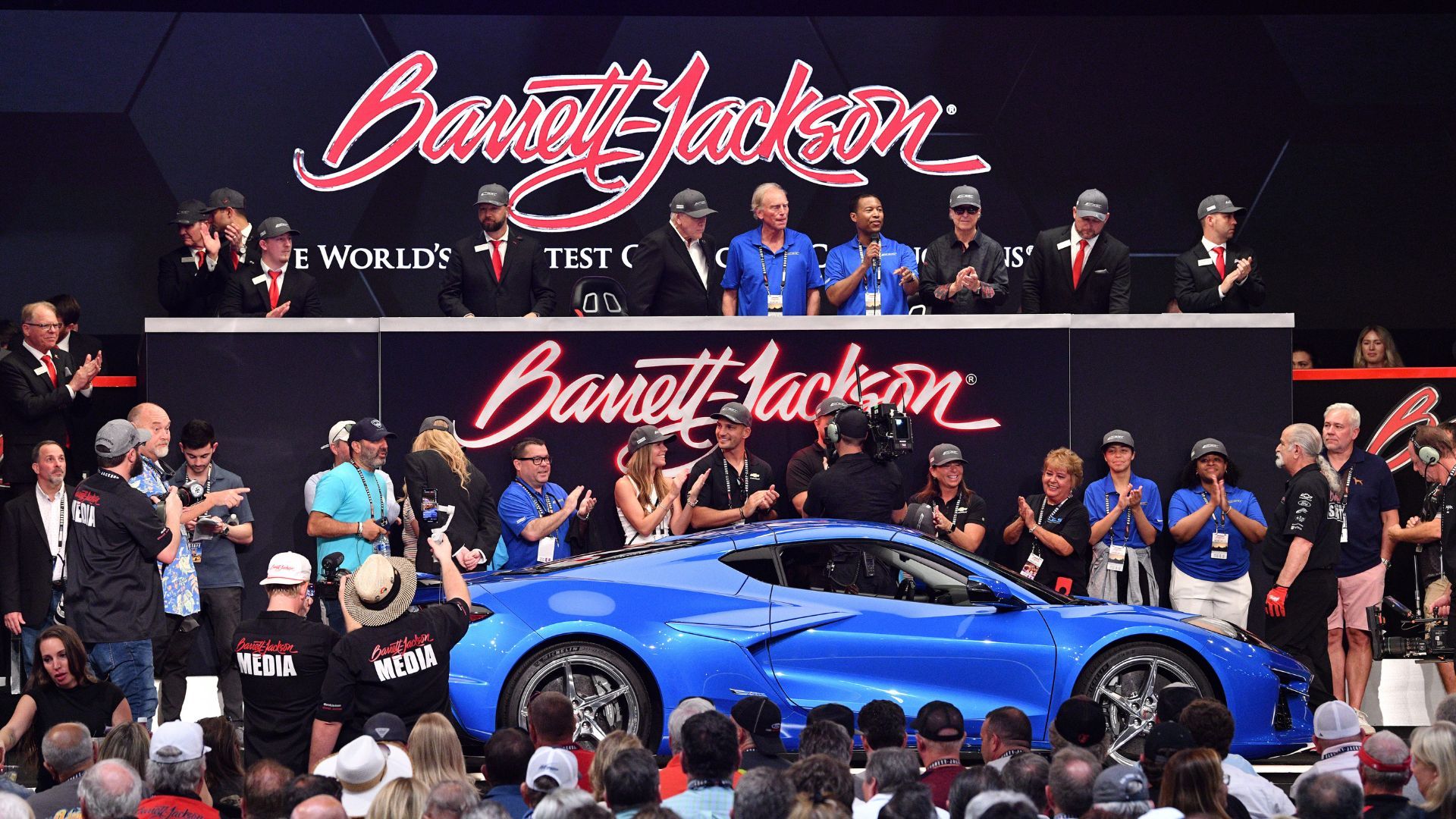 Sitting mid-ship is a 6.2-liter LT2 Small Block V8 that sends 495-horsepower and 470 lb.-ft. of torque to the rear axle. Then there's an electric motor which powers the front wheels with 160-hp and 125 lb.-ft. of torque. The battery pack feeding that electric motor sits between the seats, helping to keep the sports car's balanced handling dynamics intact.
The E-Ray isn't a plug-in hybrid. Instead, the battery is refilled through regenerative braking and coasting. Drivers can activate Stealth Mode where only the electric motor runs, at speeds up to 45 mph, allowing for nearly silent operation. The driver can choose different settings that dictate just how much the electric motor assists the LT2.
According to Chevrolet, the combined auction totals for the first production versions of the 2024 E-Ray, 2020 Stingray, and 2023 Z06 is a whopping $9.1 million.
Images via GM