It's 632 cubic inches of pure glory…
---
You've probably heard over and over from many automotive websites that everything's going electric, so seeing that Chevrolet Performance just dropped a 10.4-liter V8 crate engine might be confusing. While others might try to ignore this juicy development, we're already excitedly awaiting all the builds using what is to date the largest and most powerful crate motor from Chevrolet Performance ever.
Check out the new COPO Camaro here.
Called the ZZ632/1000, this little mill churns out 1,004-horsepower. Call it the Chevy response to Mopar's Hellephant crate engine, only this bad boy is naturally aspirated. It also produces 876 lb.-ft. of torque, which hits at 5,600 rpm. That peak horsepower comes on at 6,600 rpm.
"This is the biggest, baddest crate engine we've ever built," said Russ O'Blenes, GM director of the Performance and Racing Propulsion Team, who likes to state obvious yet awesome things. "The ZZ632 sits at the top of our unparalleled crate engine lineup as the king of performance. It delivers incredible power, and it does it on pump gas."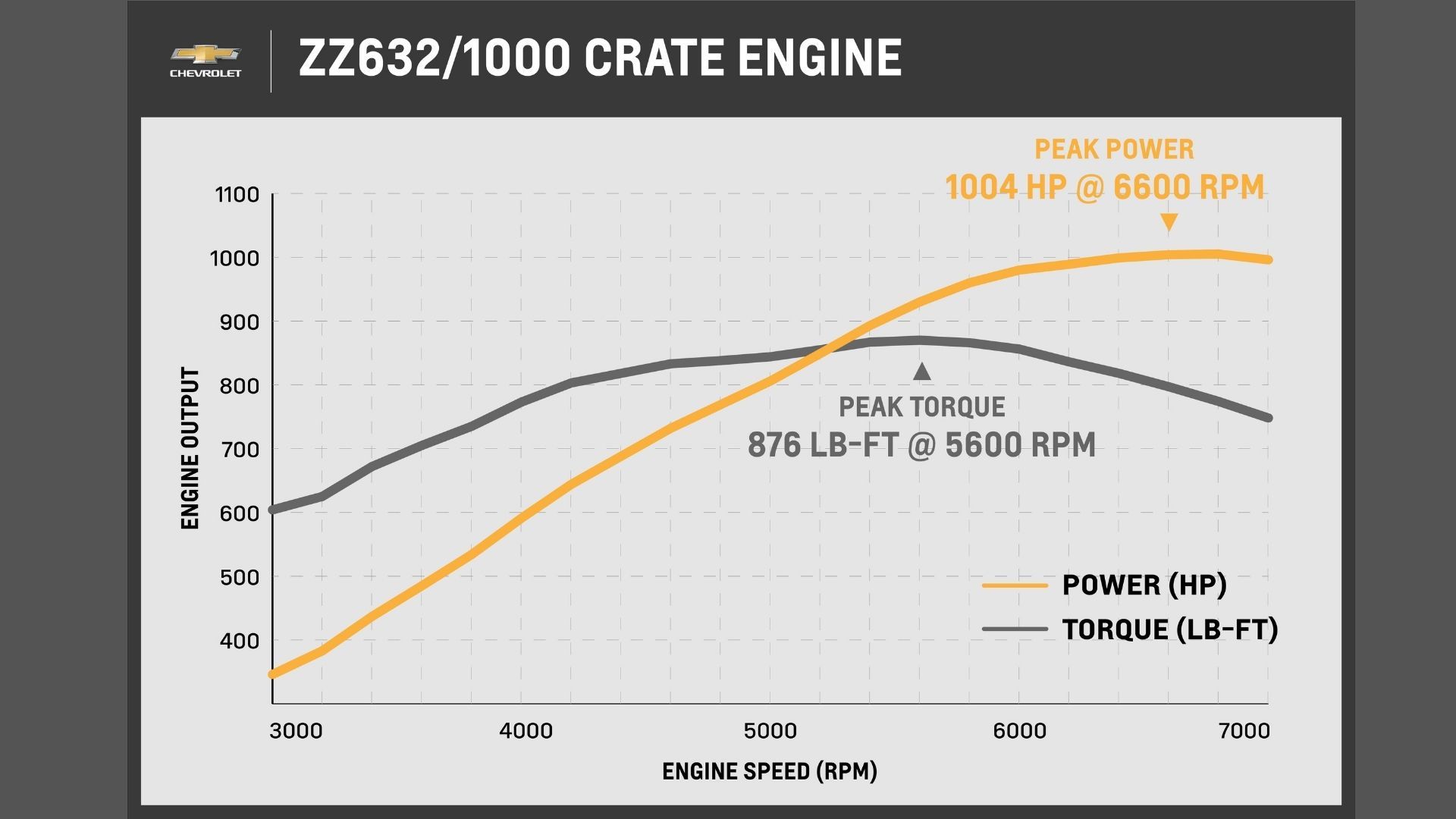 Yep, you read that right, this high-performance engine churns out that kind of power on pump gas. It features port injectors, plus high-flow aluminum cylinder heads with symmetrical ports both on the intake and exhaust side. That's unusual for a Chevy Big Block V8, but the design is to help ensure all 8 cylinders produce about the same power.
As for the iron block for the ZZ632, it shares a mold with the ZZ572, however the castings are machined for the larger displacement. Among the differences is a 0.040-inch larger bore and a stroke that's 0.375 inch longer. The connecting rods and block were modified to accommodate that longer stroke, there's a forged steel crankshaft, forged steel connecting rods, and forged aluminum pistons. Plus, there are 4 main caps and a forged rotating assembly to add strength as well as increase durability. We're curious to see just how well this thing takes to aftermarket modifications, which we'll no doubt get an answer to soon enough.
The first public display of the Chevrolet Performance ZZ632/1000 crate engine will be at the 2021 SEMA Show in Las Vegas in early November. Deliveries will begin in early 2022, so start plotting what you're going to drop this thing into now.