Watch for this classic truck!
---
Des Moines Police Department in Iowa is asking for the public's help in locating a 1950 Chevrolet 3100 pickup truck that was stolen sometime between March 23 and April 4. Since we know stolen cars can be taken far away in an attempt to throw police and the owner off, we're asking everyone to keep an eye out for this Chevy.
Check out where a Dodge Charger thief tried to hide here.
It's not like there are tons of 1950 Chevy 3100s on the road today, so this should stand out immediately. What's more, you can see it's been customized pretty heavily. It's lowered, has a nice orange paint job with red/dark orange stripes, and apparently a number of other customizations. The owner says it's a Pro Street build, so we'll roll with that.
Police say this and another classic vehicle were stolen from an undisclosed location on the south end of Des Moines. The other vehicle, which police haven't specified what it was, has been recovered. However, the trail for this Chevy 3100 has grown cold.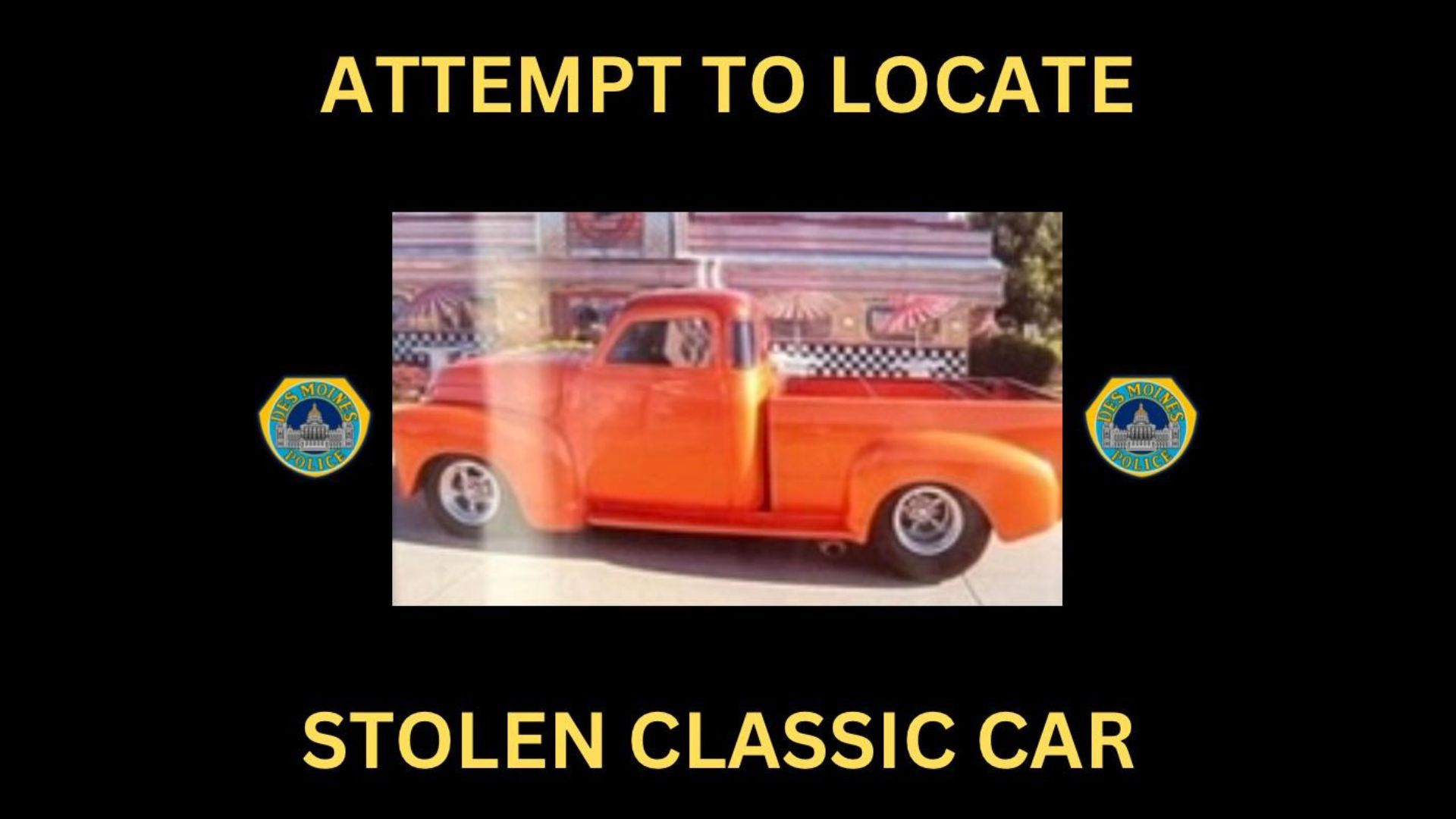 If this truck is still wearing its license plate, it's from Iowa: HZG 466. Or someone might have removed the plates and kept them as souvenirs.
Unfortunately, thieves are actively looking for cars to steal and they're often targeting classic models. With values of many older vehicles climbing quite a bit in recent years, the incentive to go to great lengths to steal classic cars has increased dramatically. This means, unfortunately, that anyone with a classic car needs to do more to secure it against theft.
Installing anti-theft devices, a GPS tracker, and securing the facility where you have your ride stored are all good moves. You might want to consider installing cameras and motion-activated lights, too.
Anyone who has information about this custom 1950 Chevrolet 3100 should call Des Moines Police Department Crimes Against Property detectives at 515-283-4966.
Images via Des Moines Police Department