This factory-built drag racer is now available to order.
---
Dodge may be absent from NASCAR, but the automaker has doubled down in terms of its dedication to drag racing, and that includes everything from professional NHRA teams down to grassroots racers. The 2021 Dodge Challenger Mopar Drag Pak is geared specifically toward the latter providing factory performance and build quality on a track-ready racer, but if you want one, you'd better have a good reaction time getting to your local Dodge dealership as only 50 of these cars are being built. The order books open up on September 9th.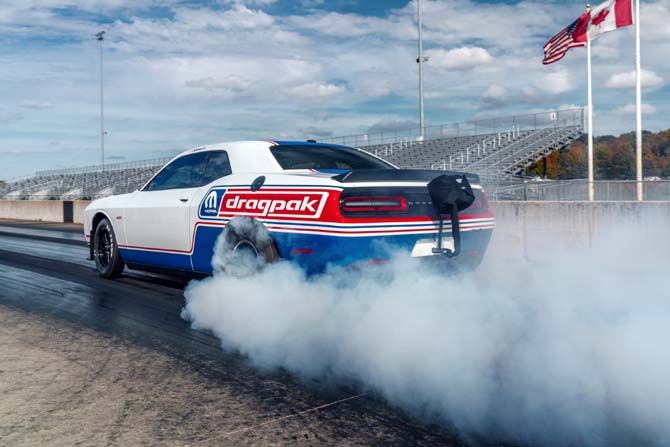 Designed for sportsman racers, this Challenger has been upgraded for the 2021 model year starting with the engine. There's still a supercharged 354 cubic-inch Hemi V8 under the hood, but this engine gets a larger Whipple supercharger, upgraded forged internal components, new front accessory driver and an aluminum ice tank that cools the supercharger's intercooler. There's a new four-link rear suspension with equally new double-adjustable coilovers at all four corners, and all of these upgrades result in the "quickest, fastest and most powerful Dodge Challenger Mopar Drag Pak" that Dodge has ever built.
To ensure these Drag Paks are ready to slay the quarter mile, they are equipped with the latest in safety and performance equipment including an NHRA-certified roll cage and Mickey Thompson drag radials on 15x10-inch wheels (double beadlock wheels are available as an option). These cars also look the part with six available colors – White Knuckle is the standard color and the optional high-impact colors include Hellraisin, Pitch Black, Smoke Show, TorRed and Frostbite – as well as heritage-inspired graphics. To signify the low production numbers, each Challenger Mopar Drag Pak will have a serialized plaque under the hood and on the passenger side of the dash.
The 2021 Dodge Challenger Mopar Drag Pak goes into production early next year, and just like the Mustang Cobra Jet and COPO Camaro, these cars won't last long. Only 50 of these factory drag racers are being built, and each will have a price starting at $143,485, which is a pretty good price considering the level of performance and collectibility this Challenger offers.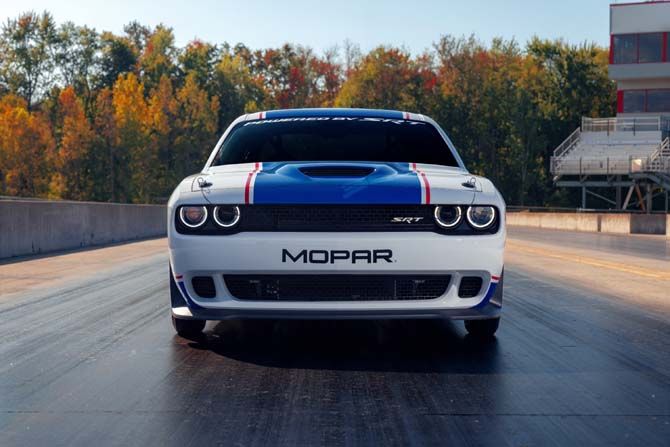 Source: Fiat Chrysler Automobiles