Rick refused to budge on his offer, of course.
---
The 1967 Shelby GT350 is an iconic car, both for its high-performance capabilities and more importantly its portrayal in popular movies and TV shows. Yet another popular cultural phenomenon is the reality TV show Pawn Stars, of course, fans of the show will know that the team at Pawn Stars has obtained some fascinating and weird products. Some of which include a variety of classic cars, these antique automobiles have commanded high prices, at times, for their initial acquisition.
Check out an iconic 1965 GT350 here.
For the most part, these cars have been some extremely interesting and unique vintage vehicles. However, this particular car takes the cake because this vehicle combines the iconic styling of the 1967 'Stang with the incredible content of Pawn Stars.
This Wimbledon White 1967 Shelby GT350 of which only 1175 cars of that specification were made, because of this combined with the fame gained by the 2000 film Gone In 60 Seconds has generated extremely inflated value surrounding these cars. Of course, the incredibly rare car was being sold to gain a whopping $125,000. Rick, the show's star, stated many times that he loved the car with the seller even pointing out that Carroll Shelby himself signed the dash. However, he was unwilling to produce the $125,000 and offered up a lower price of $100,000. Paul, the seller, finally surrendered this beautiful car for the agreed-upon $100,000 price.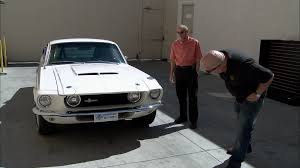 Fortunately, the crew was able to snatch up this fine automobile for an incredibly 'low' price compared to its value. It is quite clear that Rick was infatuated with his new prized car, and this vehicle will live forever as one of the coolest finds ever captured on Pawn Stars. This is an incredible piece for the Pawn Stars to add to their vast collection of antique classic cars and vintage products.