It's a battle of the bowties…
---
For decades, the Chevrolet lineup has been touted as one of the modern muscle car enthusiast culture's best values. For a good reason, cars like the Chevelle and Camaro have a special place in most car lovers' minds. However, the Nova is somewhat underrated compared to some other Chevrolet models, making it a unique classic. That's precisely why the Nova community is so quick to challenge the rank of any fellow bowtie-wearing muscle car that might think it stands a chance. Here's one example of a dedicated racer getting behind the wheel of his own Nova to prove that Chevy made the superior muscle car in their stunning likeness.
Watch a Tahoe race a Hellcat here.
You had the Nova race-ready in one lane and willing to push the performance limits as it rocketed down the drag strip. On the second lane, a stunning 1966 Chevelle sat gleaming in the sunlight with its gorgeous red paint and smooth body design. This generation is a personal favorite of mine though others might prefer the 1968-1970 models because of their arguably border styling. Either way, these cars were set up to be the perfect rivals from the factory, combining great looks, a classy attitude, and high performance. The Chevelle is boastful red and the opposite of humble, while the 1969 Nova is a sleek design with a dark green paint job and the sort of attitude that tells you its driver won't be smug when he wins; he'll just add your name to the list.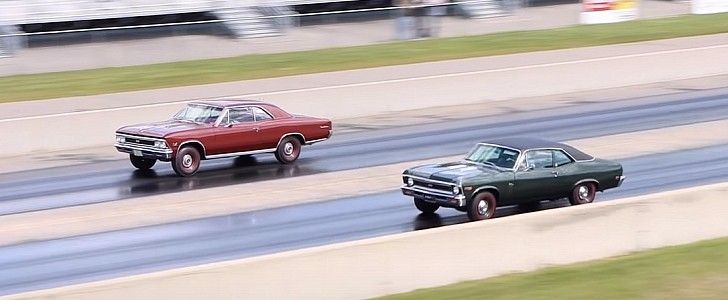 Despite their differences, they have one thing in common, making them stand out in a crowd of similarly specced vintage racers. Under the hood, you'll find a 396 cubic inch V8 for both of these great cars, which combine with a four-speed manual transmission in the Chevelle. The question on everyone's minds has got to be whether the Nova's Turbo 400 has what it takes to defeat this incredible combination. In just 12.3 seconds, the Nova beat the Chevelle with its incredible horsepower and superior drivetrain in the first race. The second race seemed a little unfair to count as the Chevelle apparently missed a gear or something; it's difficult to really say what happened. However, race number three was a win for the Chevelle, showing the audience that these two performance legends may indeed be equals. That being said, the Nova is still better.