The Revitalized Legacy.
---
The 1979 Porsche 930 Turbo stands as a testament to the impeccable craftsmanship and high-performance attributes of the Porsche lineage. Initially rolling out of Bob Lewis Porsche-Audi in Tucson, Arizona, this masterpiece was adorned in Petrol Blue Metallic, complemented by a lavish tan leather interior.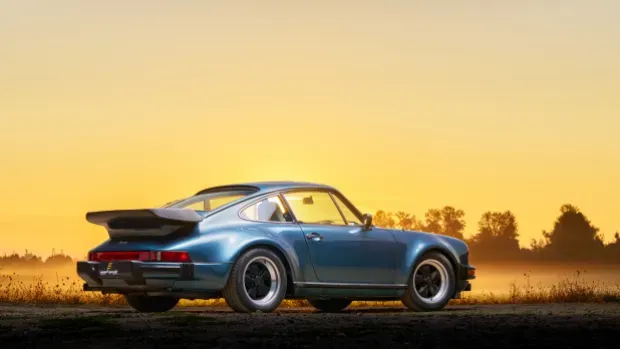 This car, showing a remarkable 41k miles, was customized with a series of premium options, including a limited-slip differential, a power sunroof, sport seats, and a heated right-side mirror. A potent, turbocharged 3.3-liter flat-six powers this automotive icon, integrated seamlessly with a four-speed manual transaxle, delivering an exhilarating driving experience synonymous with the Porsche brand.
The striking Petrol Blue Metallic finish accentuates the unique features of the car, such as the sunroof, front fog lamps, headlight washers, and the distinctive "tea tray" rear spoiler. The dealer points out that a few body panels have experienced refinishing, maintaining the vibrancy of its original aesthetic. The car's exterior also showcases rear fender stone guards, rear bumperettes, and a front spoiler, maintaining the car's athletic stance and refined detailing.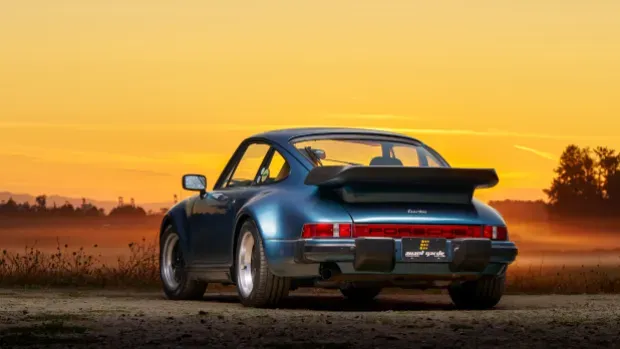 This Porsche rides on staggered-width 16″ Fuchs alloy wheels enveloped in Michelin Pilot Exalto tires, ensuring optimal grip and performance on the road. Power-assisted four-wheel ventilated discs orchestrate the stopping power, providing confidence in every journey. Preparatory maintenance work involved replacing the brake pads and a comprehensive overhaul of the calipers.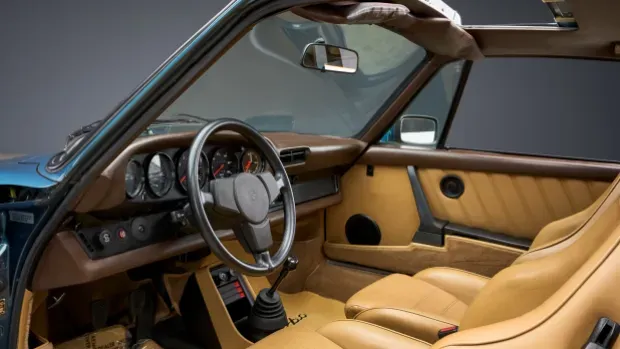 The interior is a harmony of luxury and functionality, with front sport seats enveloped in refined tan leather. The cabin, underscored by a brown dashboard, is equipped with modern conveniences such as a cassette stereo, power windows, and air conditioning, with shifter bushings replaced to maintain optimum driving conditions.
The driver is greeted by a three-spoke leather-wrapped steering wheel, framing a suite of essential instruments including a 180-mph speedometer and a tachometer, emphasizing the car's high-performance capabilities. The meticulously maintained six-digit odometer transparently displays the vehicle's 41k miles.
Beneath the hood, the intercooled 3.3-liter flat-six turbocharged engine, revered for its performance, was factory-rated at a robust 300 horsepower and 291 lb-ft of torque. In anticipation of the sale, the selling dealer undertook a meticulous engine rebuild, which incorporated regrinding the camshafts, adjusting the valves, and renewing various components including the underhood insulation, turbo inlet pipe, fuel return line, battery, air hoses, lid struts, gaskets, and seals.
This revitalized 1979 Porsche 930 Turbo, currently offered on dealer consignment in Oregon, is not just a vehicle; it's a piece of automotive history, a living manifestation of Porsche's enduring commitment to performance, luxury, and meticulous craftsmanship. It comes with a window sticker, service records, and a clean Wyoming title, ready to continue its legacy with a new connoisseur.
Avant-Garde is well-known as an award-winning, top seller (@911r) on Bring a Trailer. We provide turnkey auction management for our clients. Avant-Garde presents cars in an unparalleled fashion, with a comprehensive history, descriptions, photos, and video for each vehicle. We want to put buyers in the virtual driver's seat so they can experience a vehicle as if they were present, giving them confidence in their purchase.