This is number 1 out of 906 of these rare high-performance cars were ever created.
---
Back in 1969, Hurst Performance teamed up with Oldsmobile to turn a limited number of Cutlass 442 models into high-performance machines. The product of this collaboration was the rare '69 Hurst/Olds with a total of 906 examples ever built. Each car featured the limited-edition Hurst conversion package and the required engine and transmission combination, but each car was allowed to be distinct and feature any of the components from the Cutlass 442. This beautifully restored 1969 Hurst/Olds 442 Coupe is the very first one ever built, and there is a chance to call it yours.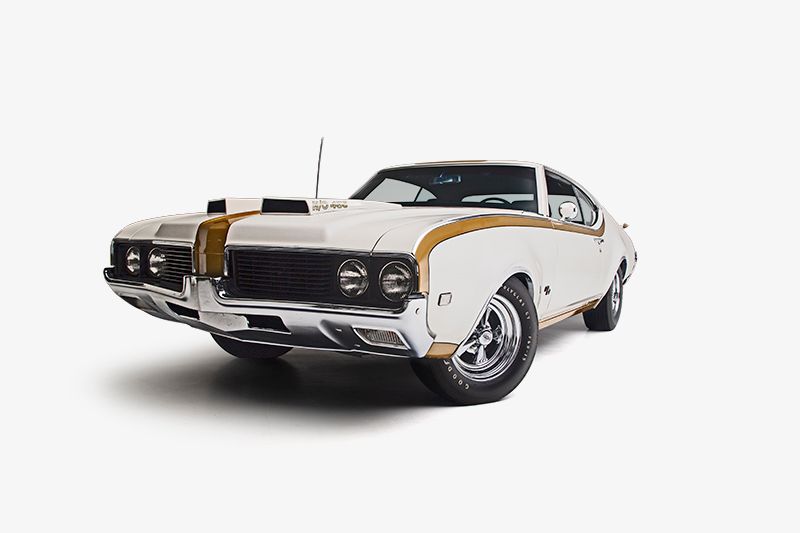 Given a full frame-off restoration with no expensive spared, this '69 Hurst/Olds was sprayed in a Concours-worthy finish in Cameo White and "Hurst Gold" complete with black pinstripes applied by hand. Even more, the car features dual outside racing mirrors, a large rear wing, a flat black-painted grille, and distinctive Hurst/Golds badging. A fiberglass hood with functional Ram Air features twin scoops that force fresh air into the engine bay.
Tucked inside the detailed engine bay is a completely rebuilt numbers-matching W-56 455-cubic-inch big-block V8 engine that generates 380-horsepower and 500 lb/ft of torque. It is safe to say that this rare beauty is no slouch. A Turbo 400 automatic transmission mated to a Hurst dual/gate shifter sends power down to twist a Positraction rear stuffed with 3.23 gears. A dual exhaust adds extra oomph and rumble. More highlights include power brakes, power steering, and an engine cooler upgrade. Even the undercarriage is in fantastic shape.
Behind the doors of this holy grail muscle car is an immaculate interior that features black upholstery with gold-trimmed head restraints and deluxe seat belts. Also, Hurst/Olds emblems can be found throughout. Other goodies include air conditioning, an AM/FM radio that plays through a rear radio speaker, power side windows, tinted windshield and windows, a sport steering wheel, and auxiliary front floor mats. Equipped with the Rally Pac, this beauty features a unique three-pod-dash that combines the tachometer and clock on the right gauge pod, and the left gauge pod indicates the fuel, oil, and temperature gauges. Sitting smack dab in the middle pod is the speedometer.
There is some information regarding its first owner, Ronald M. Martin. After stumbling across an advertisement in Popular Mechanics magazine that introduced this new performance car, he fell in love with it. He then decided that he needed to own of these cars and headed to his local Oldsmobile dealership where he put down a $50 deposit on one. Little did Martin know that he would be the owner of the very first Hurst/Olds finished by Hurst Performance.
Since 1983, the Hurst/Olds Club of America has kept record of these rare old-school muscle cars. One of the most interesting facts is that the whole Hurst/Olds transformation process was kept far from the eyes of General Motors. Demmer Engineering in Lansing kept everything private, and once the special-ordered Cutlass 442s rolled off the line, they were secretly transported to Demmer's parking lot just a few miles away where they were transformed into the rare high-performance machine we all know and love. Another unique fact is that the 442s rolled off the line with sequential VINs, but Demmer would convert them non-consecutively. So, there are Hurst/Olds with lower VINS than this fine example, but this one is the first one to receive the works by Demmer. Owner of Hurst Performance George Hurst didn't receive the very first one, but the 8th completed car.
This stunning '69 Olds/Hurst is extensively documented, and the car will come with the original dealer invoice, a copy of the window sticker, original loan documents, titles, and paperwork from both Hurst Performance Research Corp and Demmer Engineering. In the documents, this car is verified as serial number 1 (Demmer #1). Even more, the car will come with a set of factory manuals, period promotional literature, photographs, specs, press releases, and other paperwork that is Hurst-specific.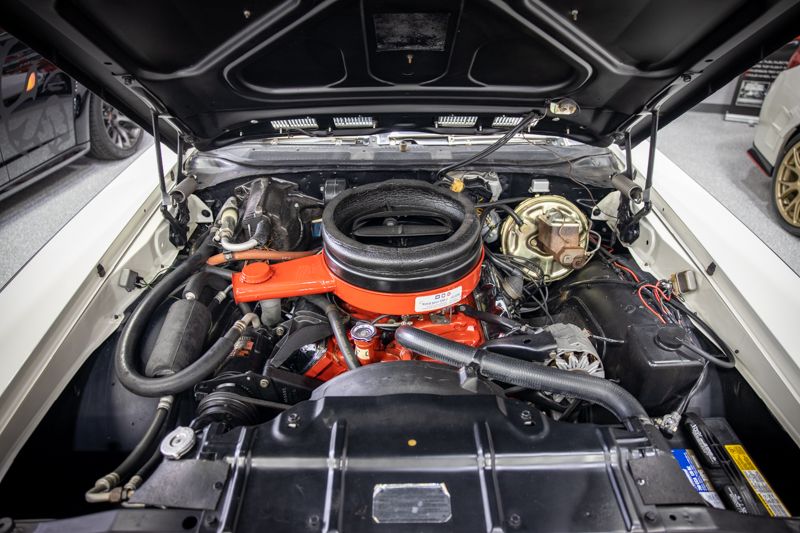 If you are interested in owning a historic car, then check out the very first 1969 Hurst/Olds 442 Coupe. This car is available to win through Dream Giveaway Garage brought to you by Fusick Automotive Products. By making a donation, you will be entered into the drawing for this rare classic. All proceeds benefit children and veterans' charities.