Which of these Hot Rods deserves to win in the segment?
---
The Motorious Online Car Show is heating up, and we've noticed one hobby segment that's a little thin on entries: the Hot Rod segment. This segment is, arguably, one of the coolest classes of cars, but the amount of Hot Rods out there is starting to dwindle. Let's show the world that the Hot Rods are just awesome as ever by filling up the Motorious Online Car Show with these impressive rides.
Here are some of the current entries in the Hot Rod hobby segment:
1932 Ford Custom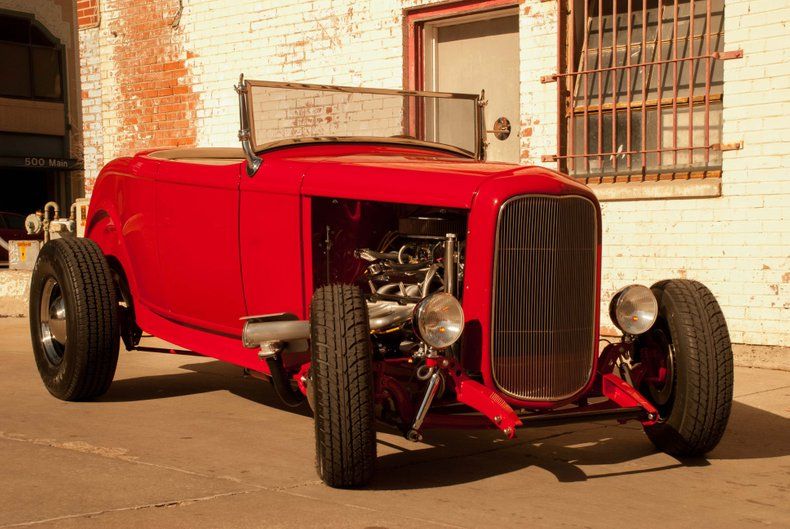 Meticulously crafted and hand built to strict standards, this 1932 Ford Roadster High Boy is a built machine, with show car looks. It's powered by a 350 engine with 700 R4 trans, Edelbrock carburetor and manifold, Sanderson headers, Lokar shifter, and rolls on Coker period correct wheels. Inside, you'll find custom upholstery, storage under seat, great classic sound of Cherry Bomb mufflers, Candy Apple Red with multiple clear coats, shines like glass, great for  show and cruise.
1936 Plymouth P2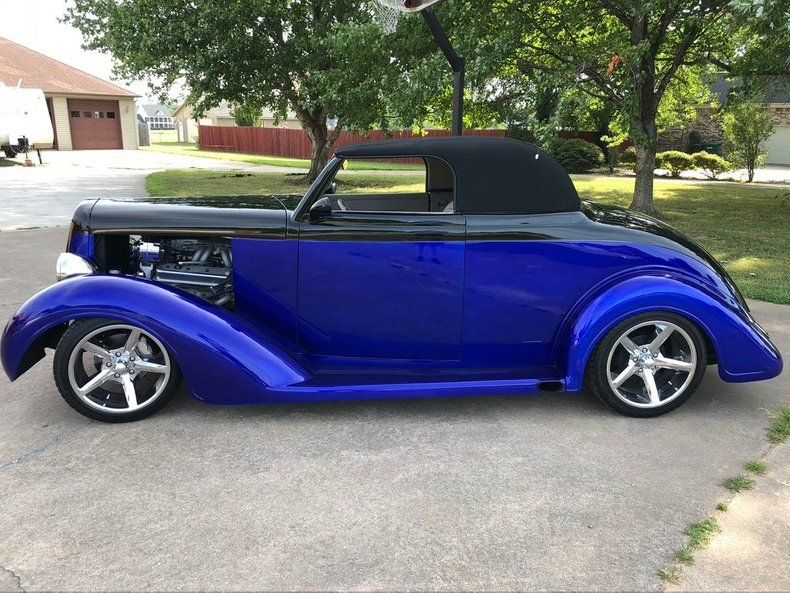 Powering this 1936 Plymouth roadster is a 350TPI engine, mated to a 350 turbo transmission. It also has a a Mustang II power rack and pinion, 9-inch Ford rear, custom lift off top, Dakota Digital, Lokar. It's finished in House of Kolor Cobalt Blue/Black, and has chrome roll bars.
1934 Ford Model 40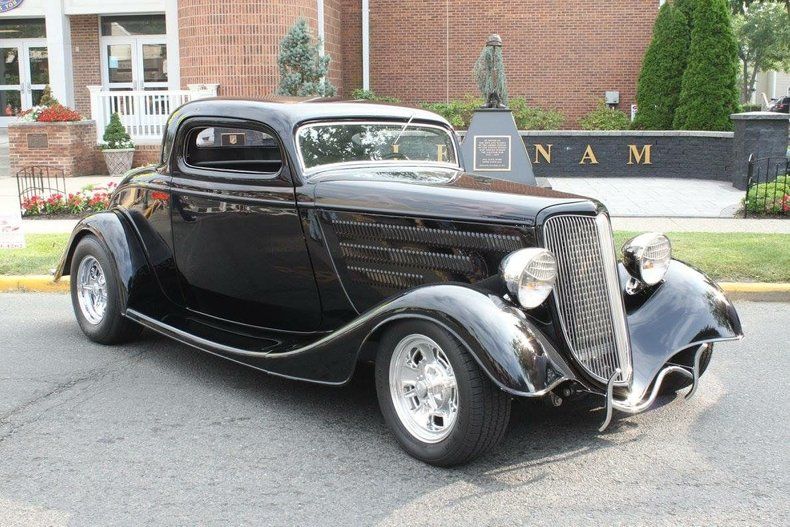 This 3-window coupe is chopped 3-5/8" and painted House of Kolors Black Cherry with Copper Ghost Flames. It's powered by a 383 cubic-inch Small Block Chevy with a 700r4 transmission. The drivetrain feeds into a Ford 9-inch rear with 3:55 gears. It gets stopping power from 4-wheel disc brakes, and cools passengers with a Vintage Air air conditioner. All of the work was done by owner except for welding and paint.
1947 Ford Custom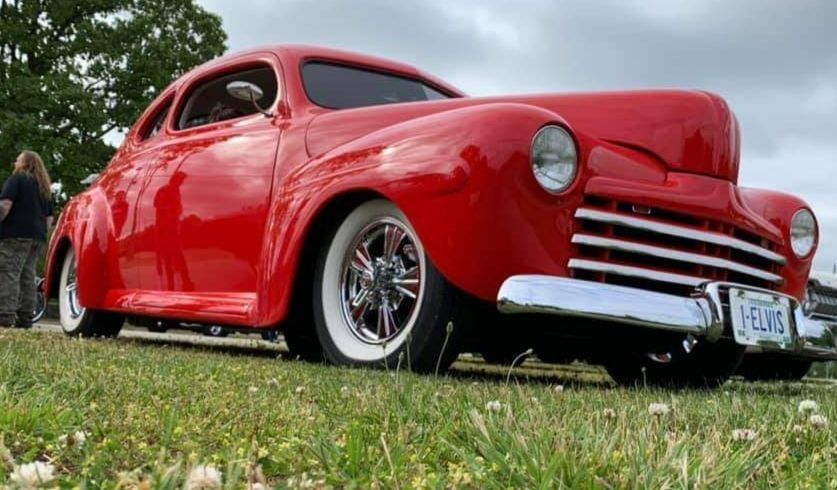 Check out this 1947 ford coupe full custom, chopped 4-inches, with frenched head and taillights, all seems welded, rounded door and trunk corners. All of the bodywork is finished in lead, dodge viper red paint, it has tinted glass, with removed vent windows, and v-butted windshield. The interior has 1951 ford dashboard with custom gauges, tilt wheel, all leather seats, power windows. Powering it is an LT4 350 with tuneport injection, 700r4 transmission, 10-bolt rear, 4-wheel disc brakes stopping power, pand ower steering. It rolls on chrome Radir wheels, wrapped in Coker wide white tires.
1933 Chevrolet Master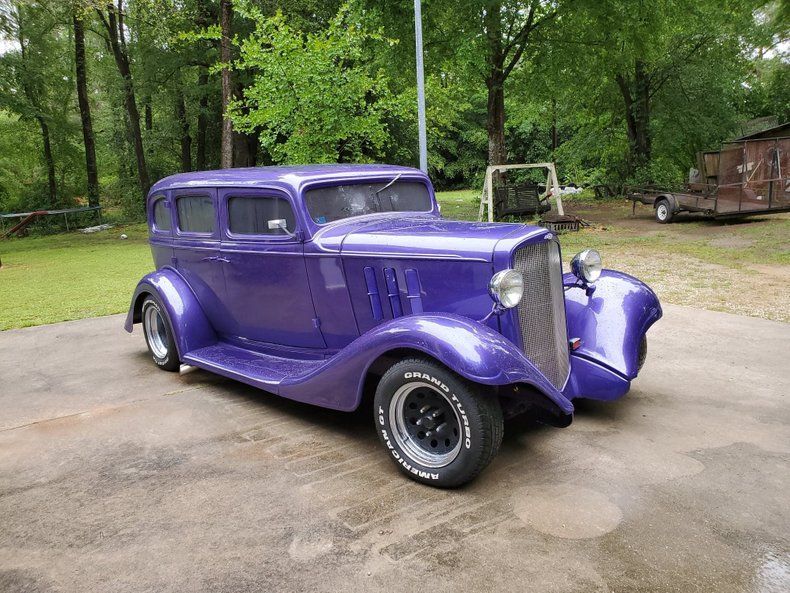 The owner of this Hot Rod bought and restored it, and she is a Master Eagle built in upstate New York. He bought this car because his departed Dad had a stock 1933, which was the year he was born. It has a 383 Stroker, Anderson jeaders, and TH350 transmission.  The Front end is a Mustang II with coilover springs, and the rear end is from a 1972 Corvette.
1948 Chevrolet Stylemaster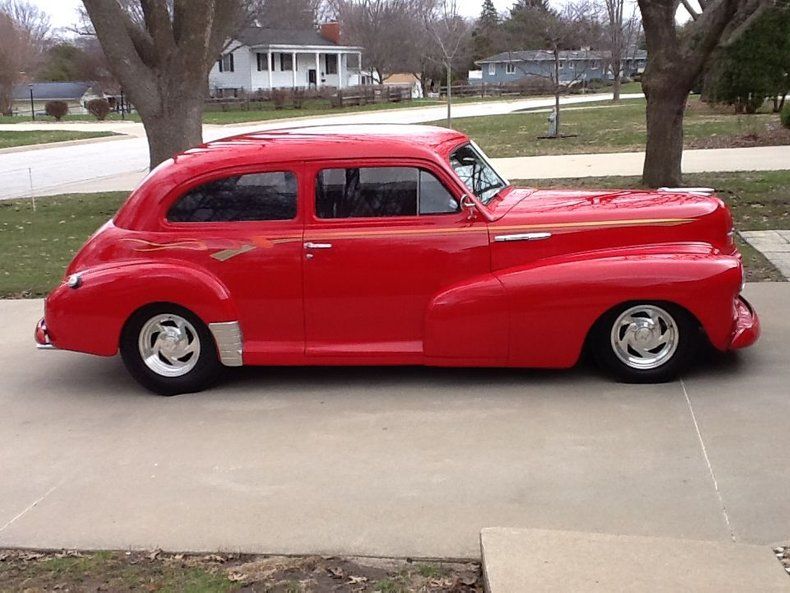 Under the hood of this 1948 Chevy Stylemaster 2 door sedan is a 350 engine/Turbo 350 transmission. A Mustang II power steering and power brake systems are used, as well as cruise control tilt steering wheel. It is a great cruising car that goes everywhere, and turns heads everytime it leaves the house.
1928 Ford Sedan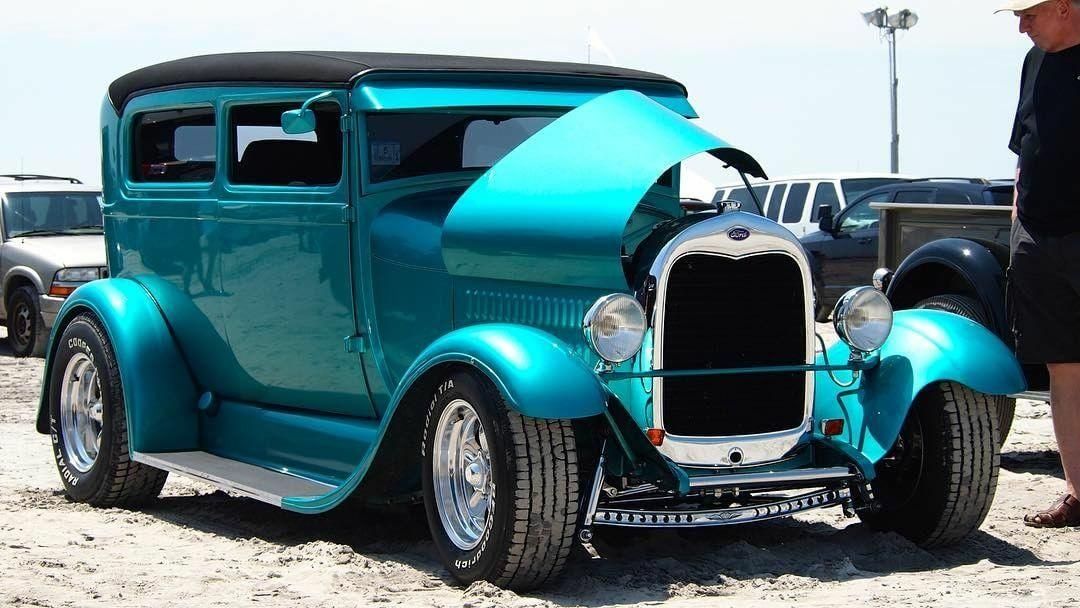 This ride is a 1928 all-steel car, except for rear fenders. The custom Hot Rod has a Jaguar Independent rear, and is chopped. It once had a 302 Ford engine with over twenty years of service on it. The Hot Rod was originally built by Roberts & Sons Toledo Ohio, and the current owner purchased it 6 -7 years back from a broker in Indiana. Once the owner bought it, they replaced the engine, transmission, tires,wheels, fixed some of the trim,  replaced the grille and lights, and running boards. They also installed new carpeting on floor. To top is off, it's signed by Candy Clark & Gene Winfield.
1950 Studebaker Champion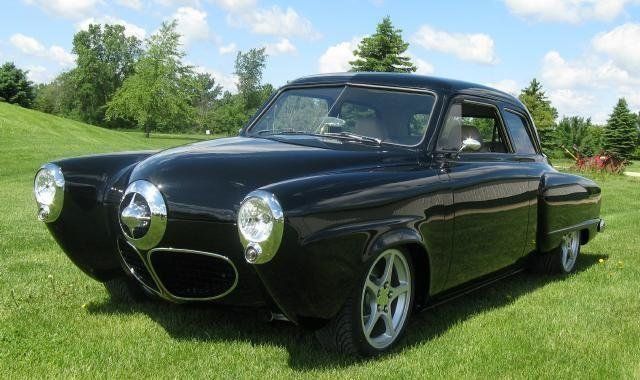 The car show particpant who entered this car said his wife wanted a car that resembled a plane. So he found this Hot Rod in a farmers field in Missouri, brought it to Minnesota, where he began to disassemble it. It was then taken to L&L Custom Carsm where the discussion was had of what they wanted done. After a lot of hours, and much metal work, widened rear fenders, new corvette front and rear suspension, a new Jasper engine, his wife got her car. It is complete with all leather interior, new console, and leather lined trunk.
Vote for your favorite car here: https://digitalconcours.com/entries
Enter your car into the Motorious Car Show here: https://digitalconcours.com/#enter-to-win