The turbo LS-powered wagon left the roadway and struck a pole near Lucas Oil Raceway in Indianapolis
---
Two Top Fuel drivers for the NHRA, Dominick Lagana and Richie Crampton, were both seriously injured in an accident involving a 1957 Chevrolet Station Wagon not far from Lucas Oil Raceway in Indianapolis. The turbocharged LS-powered '57 Chevy Wagon was built by Crampton and his friend Jonnie Lindberg to compete in Hot Rod's Drag Week. On Sunday evening, Lagana, 34, was piloting the '57 Chevy when, for reasons unknown, the car left the road and smashed into a utility pole.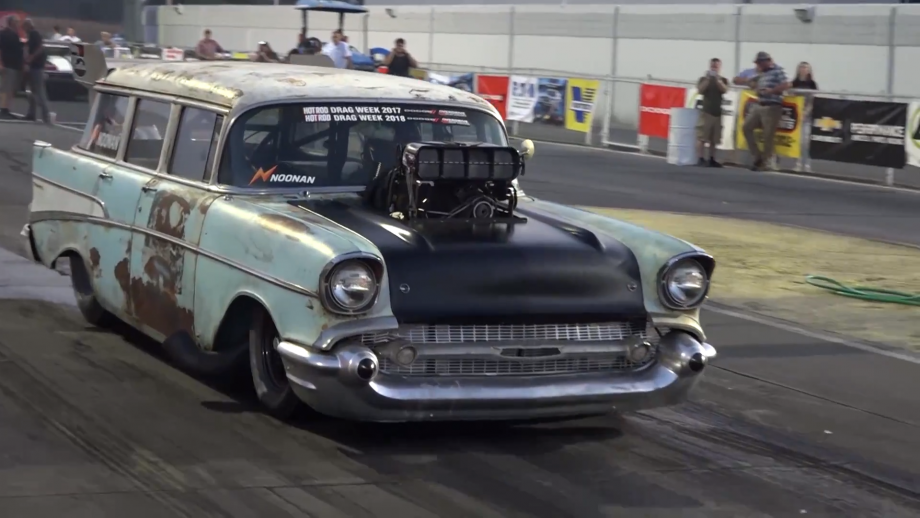 Although unconfirmed, reliable sources say that the three occupants inside the wagon were not wearing seatbelts. Sources also said that Crampton suffered a broken hip after he was ejected from the car, and they said that Lagana is in critical condition after suffering life-threatening injuries from the accident and is currently on a ventilator. There was another person in the vehicle, 30-year-old Jake Sanders, who is being treated at a nearby hospital for his injuries.
Reports say that Lagana was driving the '57 Chevy southbound on County Road 1000 East on a section between the raceway and a campground located west of the track when the accident happened. For reasons unknown, the wagon restomod went off the west side of the road and made contact with a utility pole, as mentioned above. According to Captain Amanda Goings from the Hendricks County Sheriff's Office, the wreck is still being investigated but speed is believed to have been a big factor.
Just this past weekend the '57 Chevy station wagon made an appearance at the NHRA Dodge Indy Nationals where it was towing Lindberg's Top Alcohol Funny Car behind it. Both Lagana and Sanders are crew members Top Fuel dragsters for Steve and Billy Torrence.
Today, Torrence made a statement about the accident:
"We are asking everyone to please pray for my brother Dom Lagana. He and two others were in an awful car accident last night and is currently in critical condition. Please pray for healing as well as peace and comfort for our family."