Each one of these stunning Mustangs is crossing the virtual auction stage.
---
As car enthusiasts, most of us have a certain dream car or two that we would make a reality if we hit those winning numbers or fall into some significant secret inheritance. For the classic Mustang fan, there are plenty of models and options to choose from when picking out that perfect car. Here are three beautiful ponies that would look perfect in any garage or driveway. If you had the choice between a 1967 Ford Mustang California Special Tribute convertible, a 1966 Mustang C Code, or a 1973 Mustang Mach 1, which one would be your pick? The good news is, all three of these classics are up for bids through Awesome Joe's Auctions.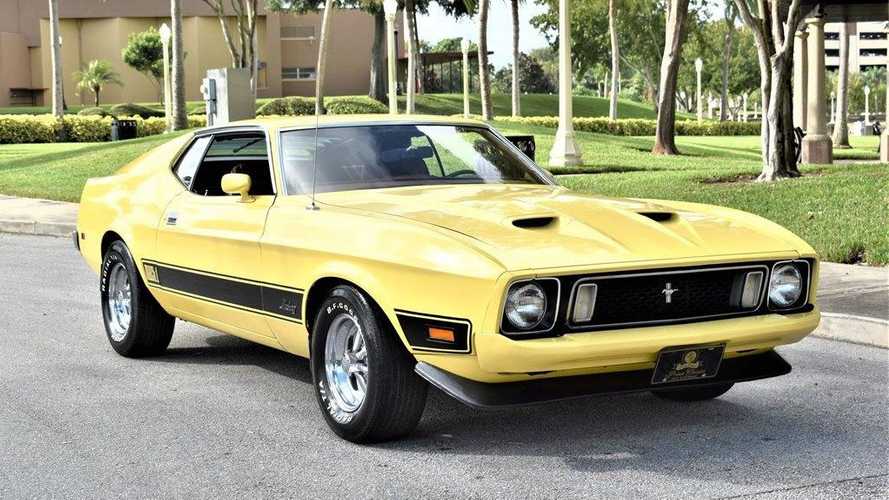 This beautiful 1967 California Special Tribute went under the knife and was given a complete restoration. With that, the car received new paint, chrome, and interior. A newer convertible top also functions flawlessly for those warmer, sunny weekends.
Under the hood sits a 289cui V8 engine topped with a four-barrel carburetor that shifts power down to the rear wheels via an automatic transmission. The car stops flawlessly thanks to a 4-wheel disc brake conversion, and a Flowmaster dual exhaust accompanies the unmistakable V8 soundtrack while adding a bit more oomph.
On the outside, the car features the California Special Taillight panel and side scoops along with the special grille and fog lamps. Open the doors to an immaculate interior with bucket seats and an upgraded center console. This car drives great, and it is available on Awesome Joe's Auction with a current bid of $17,000. If this Mustang Tribute suits your fancy, there are 3 days left of this auction, so go ahead and place your bid so you can look forward to driving this beauty around town.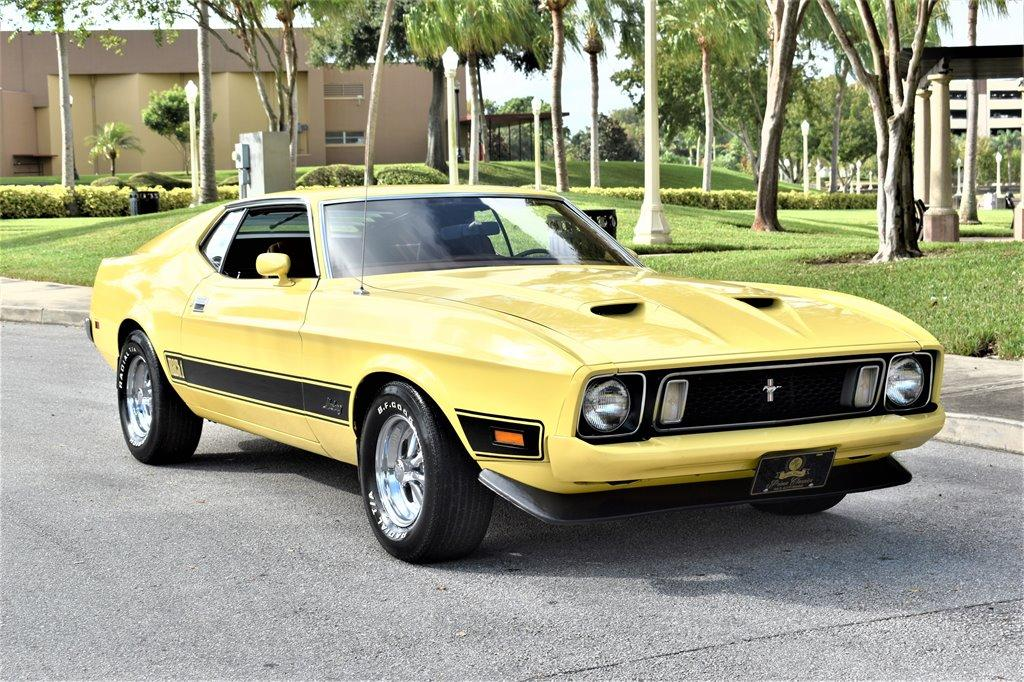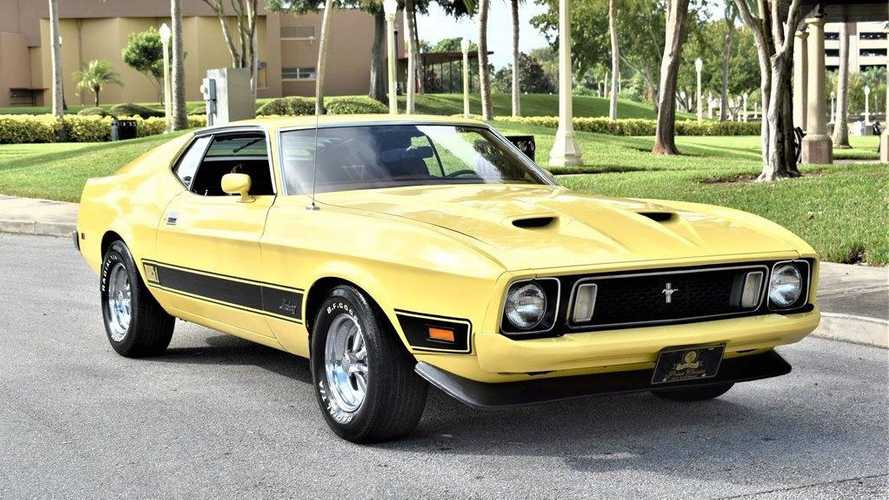 This 1973 Ford Mustang Mach 1 is all original and has only had one owner over its lifetime. In fact, it was stored in a heated garage from September 1984 until August of 2019. Barely driven, this vintage Mach 1 only has 18,906 miles on the clock which is also stated on the title. Cloaked in Medium Bright Yellow, this car is in fantastic condition. This classic Mustang is 1 of 827 with this paint and trim.
Under the hood sits a 351cui Cleveland V8 engine paired with a C6 automatic transmission. Stopping is provided by power disc brakes up front, and power steering allows for easily maneuvering those turns. Open the doors to a Ginger vinyl interior equipped with air conditioning, bucket seats, console, and a Rim-Blow tilt steering wheel.
The car comes with Protect O Plate, a Marti Report, a follow up letter to the original owner from Ford Motor Company, a Vehicle Warranty Identification Card, and a Special Warranty Card. In addition, the sale comes with all the original mechanical parts.
The current bid is at $17,500 with 3 days left to place your bid.
If you're in the market to add that perfect classic Mustang to your life, keep an eye on Awesome Joe's Auction and place your bid. If these won't fit the bill, there are plenty of other cars being offered as well, so go ahead and bid on your next dream car.
Read More: