Too much power, not enough sense…
---
A stolen Dodge Challenger crashed into a tree, splitting in half while reportedly traveling over 100 mph in a Detroit neighborhood. While the back end of the car was left wrapped around that pole, the front end was flung 5 houses away, showing what kind of force was behind the collision.
Watch a Mustang split in half during a street race here.
The violent accident, which took place on the afternoon of October 21, killed one person who was sitting in the muscle car's backseat, which caught on fire. A teenager who was driving the Mopar was left in critical condition. According to local residents interviewed by a reporter, this has been a chronic problem they're tired of dealing with.
Neighbors angrily explained how there regularly are cars speeding through the residential streets at over 100 mph. Many have said close calls have almost lead to disaster, both for children and adults. What city officials have been doing about the problem, which includes installing speed humps, obviously isn't working. Residents want more police patrols, which would require more funding for the police department.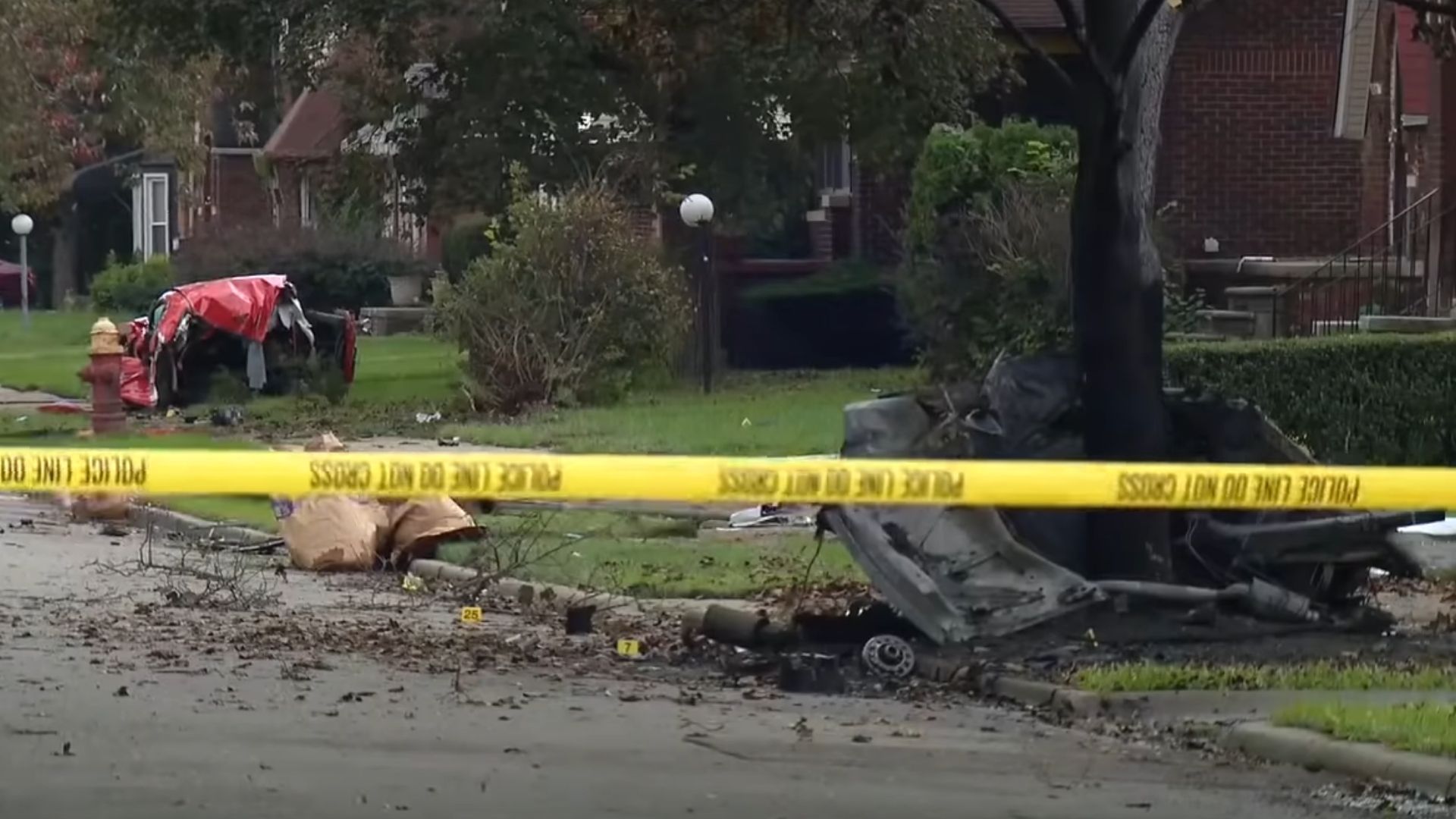 On a larger scale, Detroit is a hotbed for car theft. Dodge muscle cars are prime targets, as are other hot rides, including Jeep Grand Cherokee Trackhawks, Chevy Camaros, and Ford Mustangs. There's been a lot of talk about why this is such a problem in Motor City, however all that talk hasn't led to a solution. People in the city are tired not only of their cars being stolen but also of how those vehicles are used in crimes, stripped, and dumped all over, if not violently crashed like this one.
It appears this was just a joyriding situation and not a street race. Police initially thought the Dodge crashed while doing donuts in the road. As the teenage driver was racing through the residential area at over 100 mph he clipped an SUV, sending the Challenger into a spin. It appears the backseat passenger wasn't wearing a seatbelt since they were thrown clear of the wreck. Thankfully, nobody from the neighborhood was hit by the car, but the situation could have easily been far worse.
"This is a shame, we gotta stop this," one man said to a reporter. "You fly like lightning, you crash like thunder."
Source: Fox 2 Detroit