While this vehicle never saw true production, it's still badass!
---
Jeep people are pretty weird, I think we can all agree. Now that I've got the attention of all of you wrangler lovers and Cherokee  adventurers, let me tell you about a  vehicle that will  leave your jaw on the floor. In fact, this is something that even non-jeep fans can  agree  is pretty awesome as we all dig  a little extra  performance in our cars. In essence whether you like Jeeps, Dodges, RAMs, or Chryslers we are all Mopar people which is what makes this Wrangler so appealing. Rather than the typical V6 or even the more exciting 392, this Jeep  sports a 6.2-liter supercharged V8 from the Hellcat lineup.
Watch the latest Motorious Podcast here.
Fans of the brand have asked for something like this for years with some of the loud enthusiasts getting through somewhat. If they hadn't, then Chrysler wouldn't have pushed for this particular car to be made, even if it didn't make production. Thiscar  would have been something  similar to the SRT Track Hawk boasting the name "Trailcat '' which is a pretty iconic sounding moniker. Personally, I think the Hellcat name has been used and stretched out to the point of feeling like a marketing scheme because they use it for literally everything with the Hellcat engine. However, even I can appreciate the Trailcat name as it is an accurate depiction of  what the vehicle was supposed to be; fast,  wild, and a trail-blazing monster.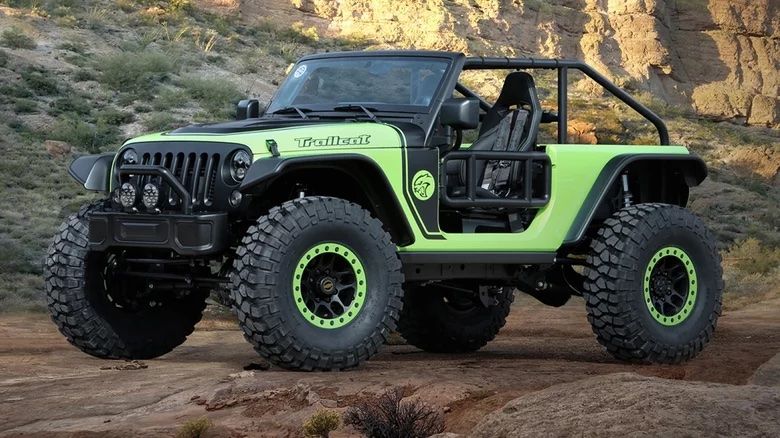 While this Jeep Wrangler would be an eighty competitor in racing and dirt track situations, it would likely never see the production floor. Jeeps already have a problem with tipping over and if  given this kind of power it might develop the stature of a drunken teenager after a week-long party binge. Essentially, the Jeep was deemed too dangerous because of the high ride-height and offroad nature of the vehicle. So it seems we might not be able to  get behind the wheel of a factory WranglerTrailcat but that hasn't stopped custom car builders from making their own.