The 1947 Lincoln went in for work and was found in abandoned in a field 3 years later missing its engine and transmission.
---
After exchanging a vintage 1972 Ford truck to get about $10,000 worth of work performed on his 1947 Lincoln Sedan, Denis Quinn, 73, sought out help from a mechanic named Suede Barganski back in 2016. Three years later, this same car was found in a field in Penngrove now about 3 months ago missing both its engine and transmission. Barganski, the mechanic who agreed to do the work, has now been arrested.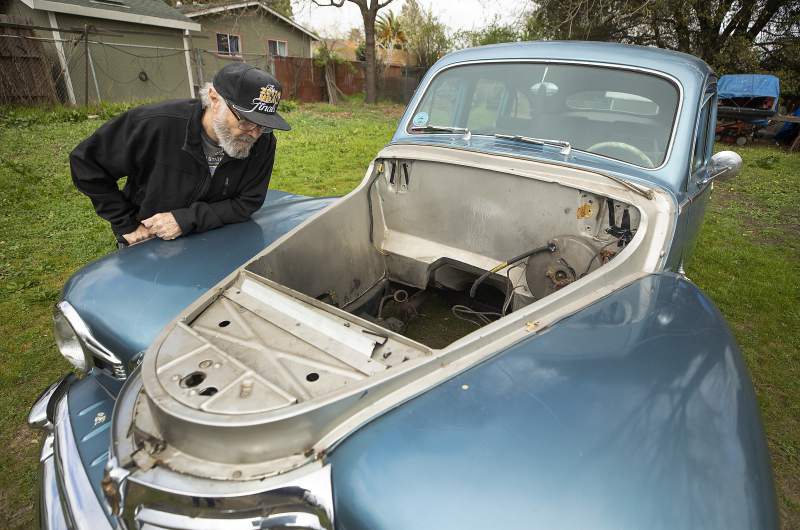 Quinn has a huge passion for automobiles, and his daughter Kami Dyer has spent countless hours at Sonoma Raceway with her father as he raced his modified 1939 Chevrolet.
Using the money made from their mobile park in Rohnert Park, Quinn purchased the light blue '47 Lincoln sedan in 2015. With no other means of savings, this car was to be his daughter's inheritance, but visiting the auto shop where some minor repairs to the Lincoln were to be performed would be the last time Quinn would be behind the wheel of the car.
The work to the Lincoln was never completed after Quinn exchanged the truck for the $10,000 worth of repairs and upgrades needed to get his Lincoln back in tip-top shape. That never happened despite the amount of calls to Barganski who promised that work was being done to the classic. To make matters worse, Quinn was battling dementia and bladder cancer. Three years later, his daughter Dyer received a call that the car was found on private property in a field.
Thinking the car was going to be worse for wear, the Lincoln was actually in better shape than she imagined, but the engine and transmission were both missing. Barganski has now been arrested for three dozen felony charges including grand theft, embezzling, and forgery, as well as theft from an elderly person. All of these charges date all the way back from 2014, and Quinn is one of 20 named in the complaint.
Source: Petaluma360.com
Read More Car News Here...