It sounds like these kids were completely out of control!
---
Just after 3 am on June 22, four juveniles were traveling in a stolen 2018 Audi S5, which would be plenty of car for the average adult with experience, when they caused a fatal accident. It all started when the stolen vehicle's Bosch system automatically reported it was involved in an accident. When officers arrived they found the Audi had fled the scene.
Watch our interview with a car detailer here.
A parent contacted Abilene Police at about 3:40 am to report their son was livestreaming driving with friends in the stolen Audi. That parent believed they were headed to the Dallas area. Obviously, this kid and the friends was completely out of control.
About 10 minutes later the owner of the stolen Audi called to report the car was missing. Then seven minutes later, there was a report from the Callahan County Sheriff's Department of a convenience store theft involving the juveniles in the stolen Audi. Witnesses believed the car was traveling west toward Abilene.
Finally, at 4:07 am police officers from Abilene caught up with the Audi and the kids were still inside it in a hotel parking lot on the north side of the city, near Highway 351 and I-20. We're guessing the kids panicked at seeing police, because they hit a patrol car, which thankfully wasn't occupied at the time. That's when a second officer turned on his emergency lights to pull the Audi over, but that's when the driver tore out of the hotel parking lot.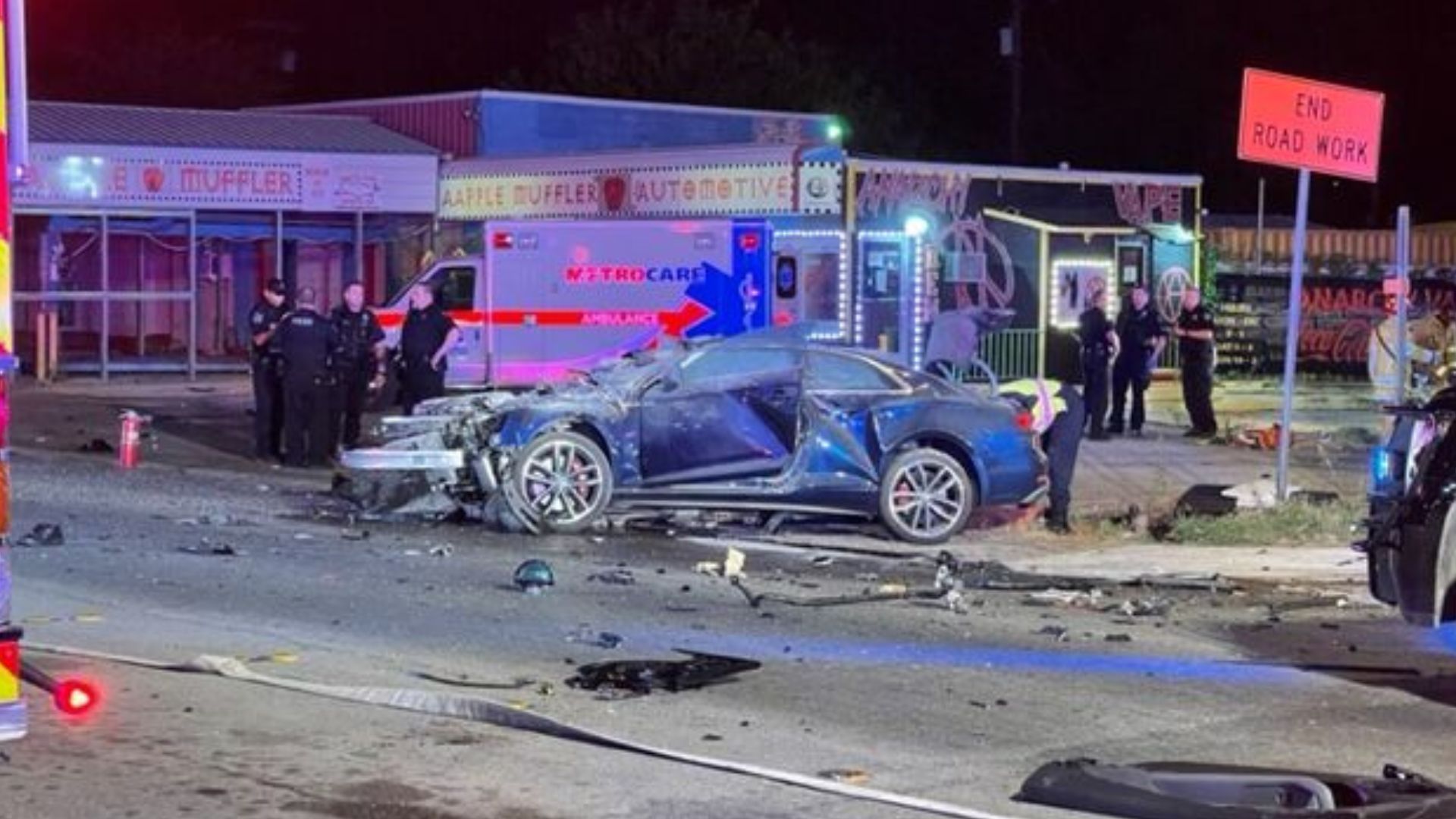 The Audi S5 rocketed down Highway 351 even though officers didn't give pursuit, probably because they knew the kids had crashed twice and would probably do it again. The last reported location of the vehicle was westbound on Ambler Avenue.
At around 4:09 am the S5 was in a horrific collision at the intersection of Ambler Avenue and Treadaway Boulevard. When the Audi crashed it was going fast, hitting a traffic pole. When officers and a nearby MetroCare ambulance showed up, they immediately set about putting out a fire and giving aid to the injured.
All occupants of the car were male. It turns out a 13-year-old was driving the Audi S5. Another 13-year-old was ejected from the crash and died from injuries. That juvenile was reported as a runaway before, as was a 15-year-old passenger. There was also a 14-year-old passenger in the vehicle.
According to Abilene Police, the 13-year-old is facing multiple felony charges, with possibly more charges coming. As parents, we find this situation absolutely horrible. We don't know why these kids decided to do such stupid things, but it sounds like they had a history of chronically making poor choices. Now, one paid with his life and at least one other is facing the possibility of spending a long time incarcerated.
Photos via KCBY