In one windshield, out the other…
---
Car crashes can really be a devastating event for everyone involved whether it's financially, mentally, or god forbid physically. However, every now and then an accident occurs with an outcome that might only be described as a miracle. That was exactly the case as firefighters, police, and good samaritans rushed to pull to men from the scene of a violent crash. Much to the suprise and joy to rescuers, these people had somehow survived and beat the odds.
Watch the latest Motorious Podcast here.
Driving around in slippery ice is always a gamble but for these guys, it was a reminder of the hands of chance. As the driver lost control of his Dodge Charger, the car began barreling toward a guard rail. "We thought it was just going to hit" said one of the men in the car. However, it was going to do a lot more and as the rail punctured through the front windshield, the car came to a violent stop.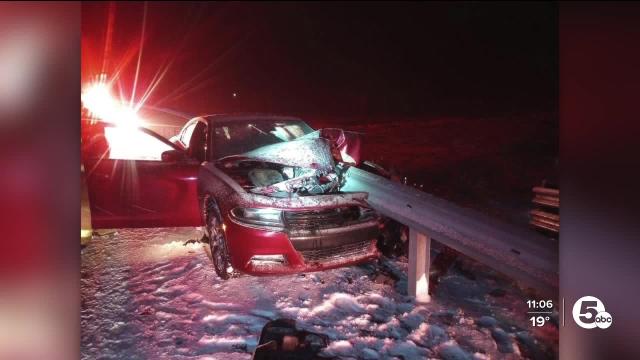 It must've taken a moment for the truth to set in but miraculously, the rail narrowly missed everyone in the car. One man was pinned under the metal piece but eventually moved the guard rail off of his chest enough to breathe. Finally, a gathering of civilians, police, and the men's parents arrived to pull the driver and passenger out of the car safely. Amazingly, no one was harmed as the thick metal barrier made its way ripping through the vehicle's interior. These guys will be home with their families soon and they might even wear the title of the luckiest men on earth.