Further proof the Dodge Charger is the official car of the Wild West…
---
We already thought we'd seen the worst of the damage criminals in Dodge Chargers were capable of inflicting, then we ran across this story out of Houston. It's truly wild stuff, especially when you see the dashcam/bodycam footage of the entire incident as it unfolded.
Check out the Motorious Podcast's latest episode here.
Every went down on January 27 when the suspect, Roland Caballero, 31, got into a fight with his girlfriend. Someone called 911 and officers were on the lookout for the suspect's Dodge Charger. When they spotted it, officers tried to perform a traffic stop, but the man seemed to think making a run for it was a better idea.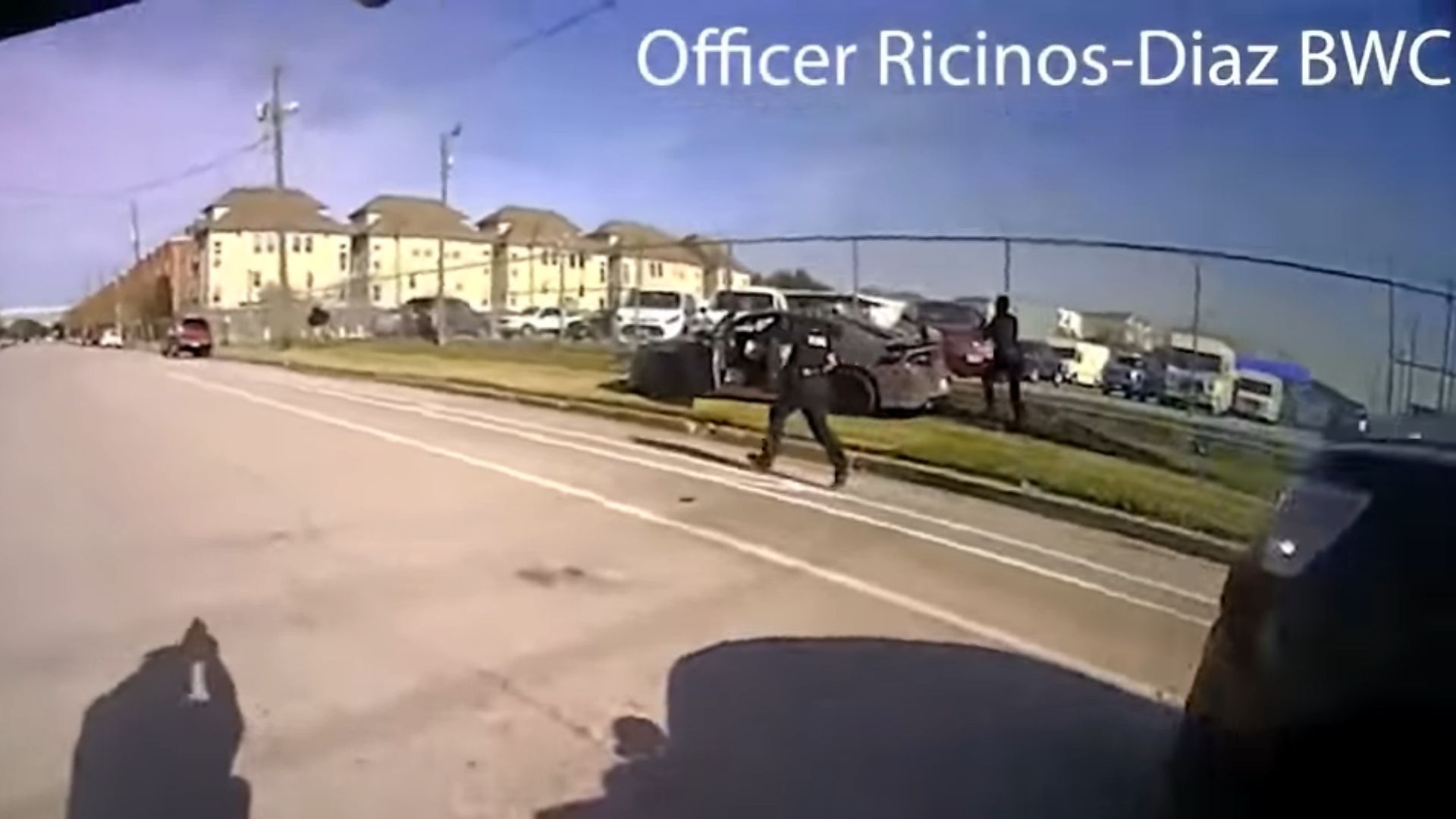 As we see happen so often, Caballero grossly overestimated his driving abilities and crashed his Mopar. Without a vehicle and with four officers pulling up in two vehicles, the man could have just laid down on the ground and surrendered. Instead, he pulled out a handgun and opened fire before police could stop their cars.
You'll see in the short dashcam footage at the beginning of the video as several bullets struck the windshield in the first police vehicle, disabling the camera. Wisely, the officers jumped out of their car quickly since in a shooting those become coffins on wheels, then they returned fire.
Officer Gadson's bodycam footage appears next. Understandably, he seems pretty amped up as the bullets start flying. Unfortunately, he ejects two magazines before emptying them, likely from squeezing the gun too hard, accidentally pressing the ejection button. It's easy to say you'd keep your cool in a life-or-death situation, but reality is something different. Gadson has to recover one of his magazines after more calmly expending all the rounds in his third one, then advances on Caballero as the man retreats further from the crashed Dodge Charger.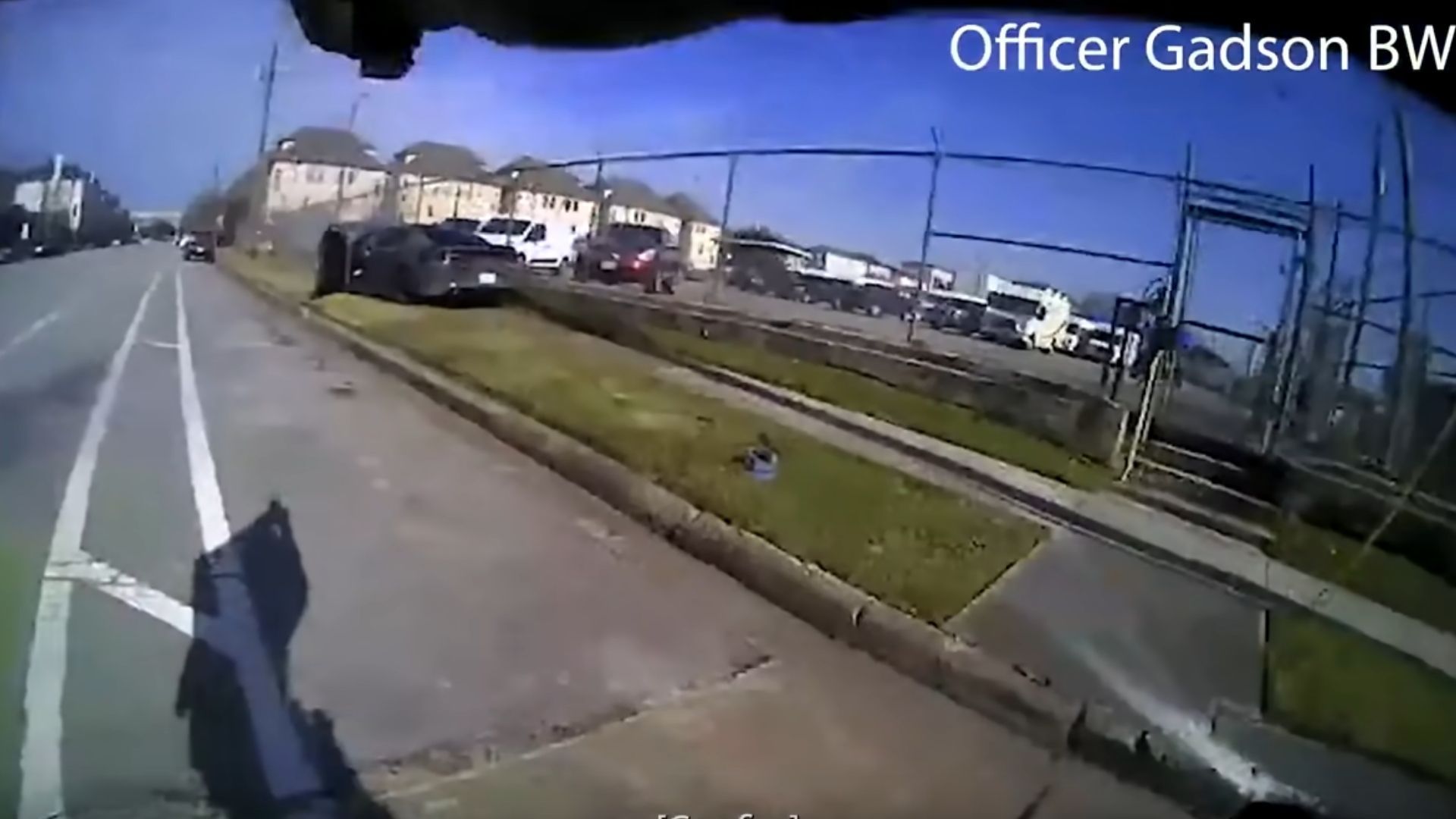 Officer Hayden was driving the police car which was shot up at the beginning of the video. He immediately took a bullet to his right forearm, which meant he was out of the fight. Fortunately, a worker at a nearby building was able to help him tighten a tourniquet as he called dispatch for help.
Officer Alvarez, who was driving the second squad car on the scene (not the one shot up with the dashcam footage) lost his bodycam after exiting his vehicle, but he was able to pursue Caballero up the street. Unfortunately, you see him in Gadson's footage take cover behind a Mercedes parked on the side of the road before getting shot in the leg.
Officer Ricinos-Diaz was not injured. While it's not evident when it happened in the video, reports indicate Officer Gadson was injured in the firefight. All three injured officers are recovering.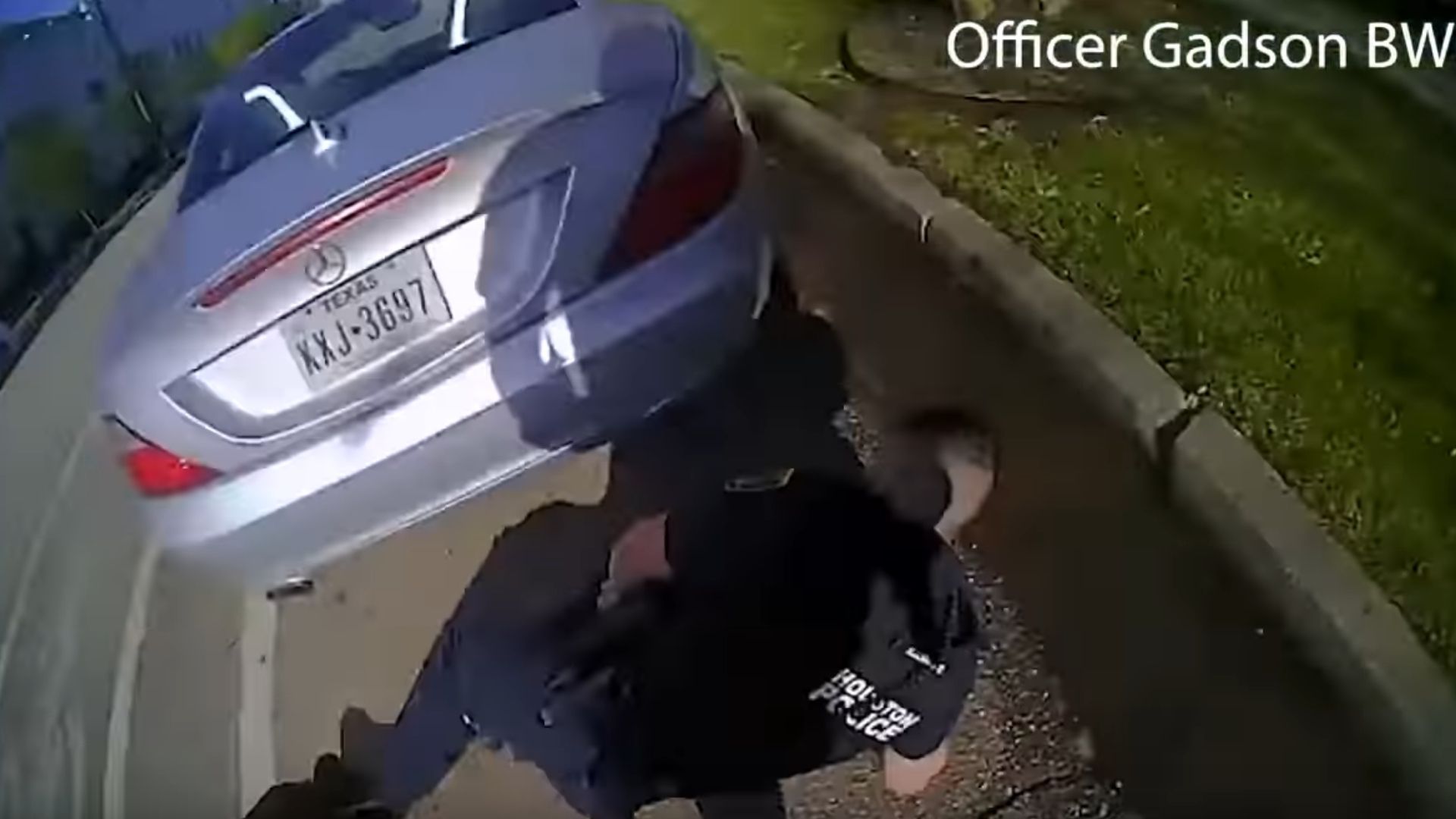 Caballero was able to successfully carjack a Mercedes from a woman down the street. This is the unfortunate reality we live in today and is an excellent reminder to everyone to keep your doors locked, especially if you're sitting in a car that's parked.
Later, Houston Police SWAT showed up at Caballero's house, where the stolen Mercedes was parked outside. Caballero fired at the officers. They retreated and used two Bearcats for cover while the suspect hunkered down for two hours. After Caballero surrendered, investigators say they found several firearms, ammunition, and machine gun parts in the house. Also, Caballero only had a flesh wound to the neck. He was hospitalized reportedly in stable condition.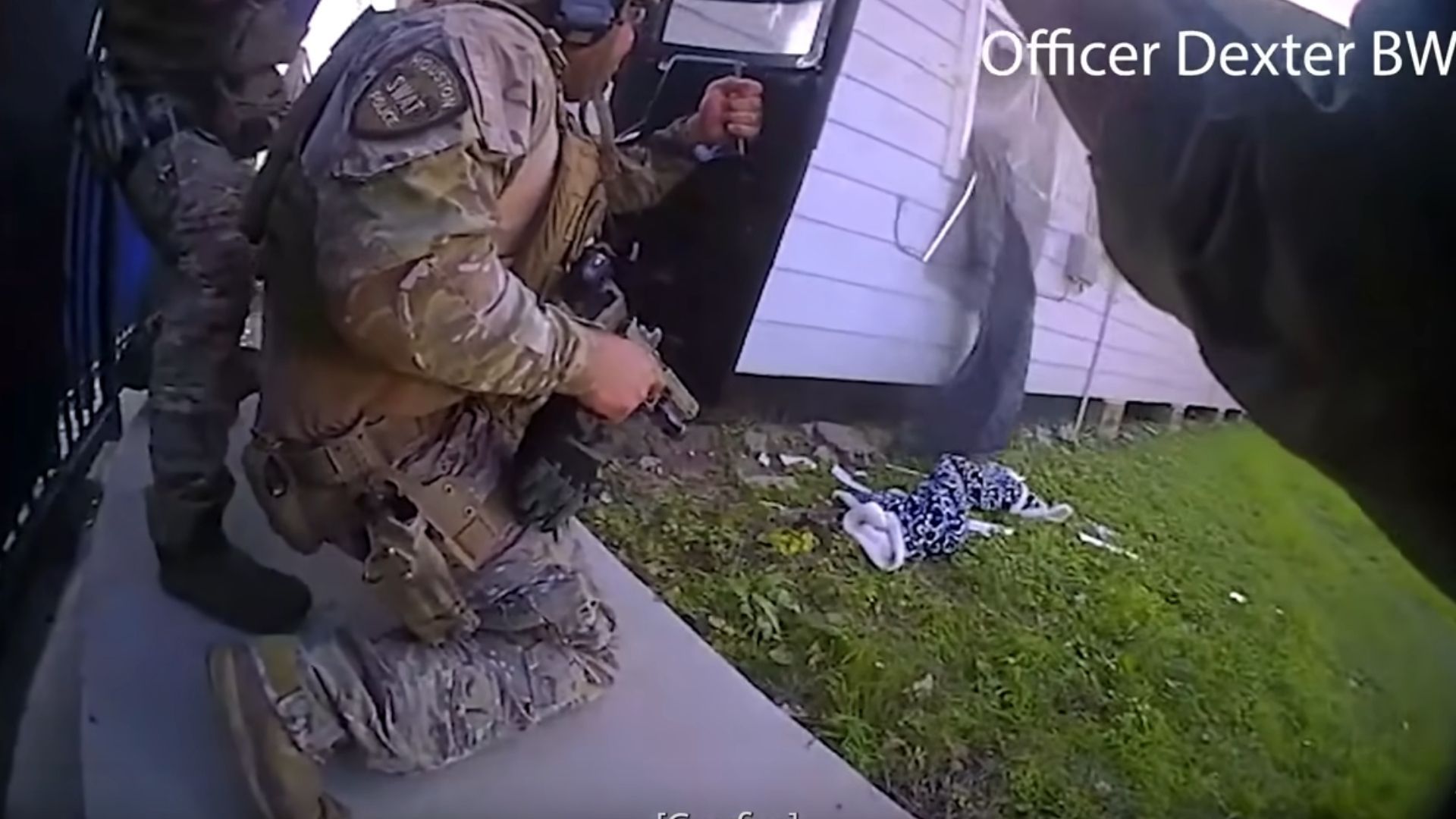 Authorities say Caballero had modified his handgun to make it fully automatic instead of semi-automatic. Apparently, the feds were already investigating his possessing "Glock switches." We're guessing that modification was how he laid down so much fire on four officers quickly, wounding three of them.
According to the United States Department of Justice, Caballero is facing multiple federal charges including carjacking, firearm during a crime of violence, possession of a machine gun, and being a felon in possession of a firearm.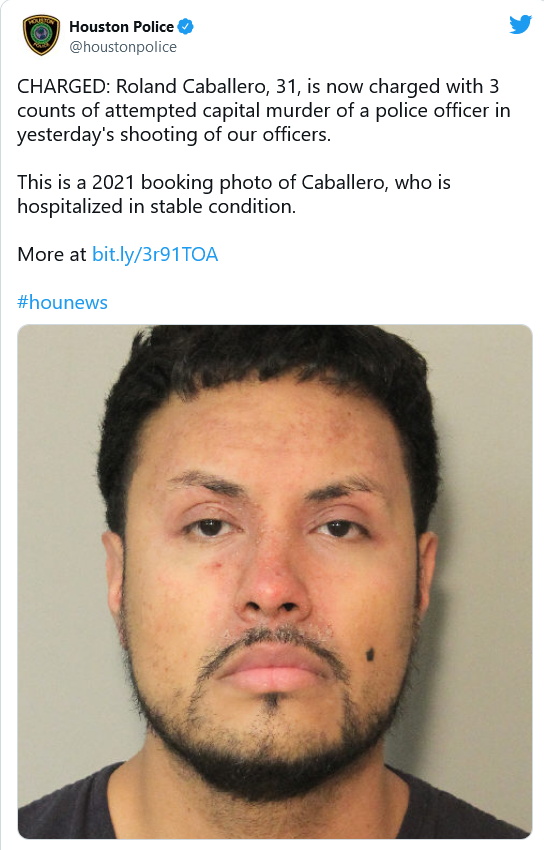 Check out the dashcam/bodycam footage for yourself. Warning, it is graphic and there is language.
Source: Fox News