Here's what the newest Motorious hosted online auction has in store.
---
Classic Auto Mall is hosting a boutique online auction of fine classic and collector cars, right here on Motorious. The auction begins on Starts Sep 26, 2020 at 12 PM EDT and ends Oct 3, 2020 12 PM EDT, so register now to make sure you don't miss out on the selection of amazing cars. Here are some of the highlights of what you have to look forward to.
1964 LeGrand Mark II Sports Racer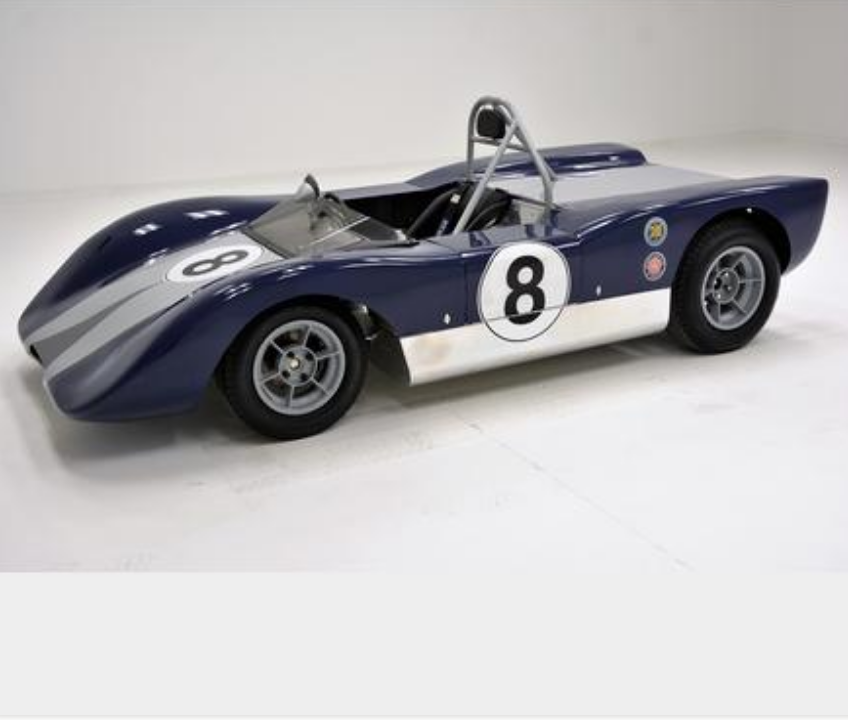 Aldin "Red" LeGrand was the founder, constructor and designer of the LeGrand Racing Car Company.  Partnering with Bruce Eglington, a young engineer and promising racing car driver, the LeGrand racing Marque would flourish in the production of formula and sports racing categories from 1962 through 1991. Based and derived from the highly competitive Mark I formula F4 model. The new Mark II was introduced in 1964 as an H modified sports racer. The Mark II was basically a widened Mark F4 with a sports car body and could accommodate engines from the BMW and Saab two stroke 3-cylinder engines.
Many H modified records were set at the hands of Eglington and wins were regular on road racing circuits around the United States. Offered is a totally restored 1964 LeGrand Mark II sports racer. This beautiful Mark II is powered by a Cosworth 1300 CC 4-cylinder engine through a Hewland 4 speed gearbox. The fiberglass "Warren" bodied sports racer has just one hill climb since rebuild.  The LeGrand Mark II Cosworth would be a fantastic participant in both SVRA and HSR vintage racing events.
1974 Oldsmobile 442 Pace Car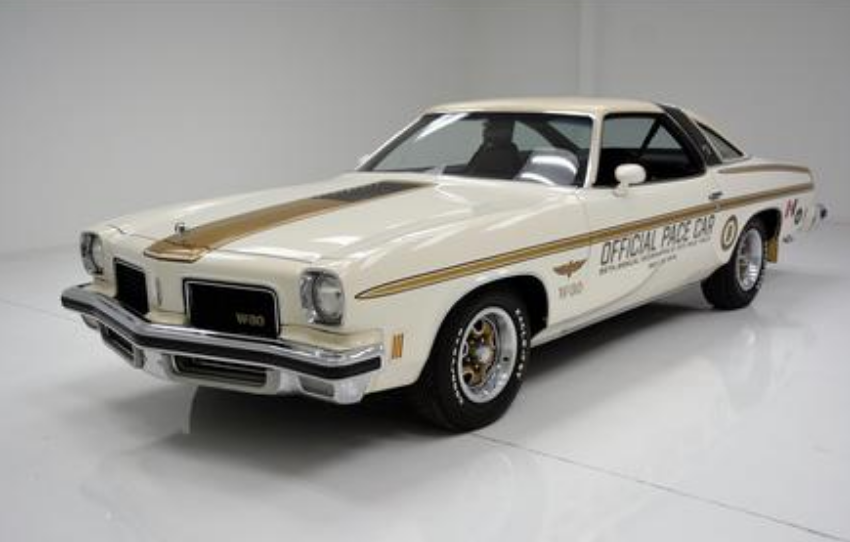 1974 Oldsmobile 442 Indy Pace Car Olds returned to the Brickyard again in 1974, for the third time in five years. And for the second time in three years as a Hurst/Olds. For the first time, a 350 V8 could be ordered, and was mandatory for California-bound cars. The 455 was still available, but emissions and fuel economy concerns were taking their toll. White and black were again the two color choices, and a roof band split the vinyl top in two at the B pillar to simulate the targa top on the actual pace car. Production was up some, with 1851 produced: 1800 coupes (46 were used at the track), 42 Delta 88's, 1 Cutlass 4-door, 2 Official Pace Cars, 6 Custom Cruisers for Press, Track Photographer, Medical Director and Day Care. The Delta 88 convertible track cars were all basically stock cars with white paint and H/O trim, but they are a striking vehicle and quite rare today. In addition, Speedway owner Tony Hulman requested a specially modified Cutlass Salon 4-door sedan for his own personal use, and it was built by Oldsmobile, but appeared at the track with H/O graphics applied. 1974 was indeed an unusual year for H/O watchers.
Offered for sale is an all original 39,890 mile Oldsmobile 442 Indy Pace Car. Powered by the optional Rocket W-30 code 455 cu in engine that produces 230hp through a 3 speed Hurst dual-gate transmission. The 455 cu in engine was in only 380 of the 1,800 built. Available in either black or as this example, white, the Hurst Olds sports the optional swiveling black vinyl bucket seats.
Sold new at Doucas Oldsmobile in Greenfield, Wisconsin on June 28, 1974. Comes with the original window sticker, warranty card, pre-purchase inspection and other factory paperwork. An odometer statement from 1991 shows just 39,767 miles. The Hurst Olds represents a great opportunity to own an original unrestored Pace Car and as we all know, "they're only original once."
1963 Plymouth Savoy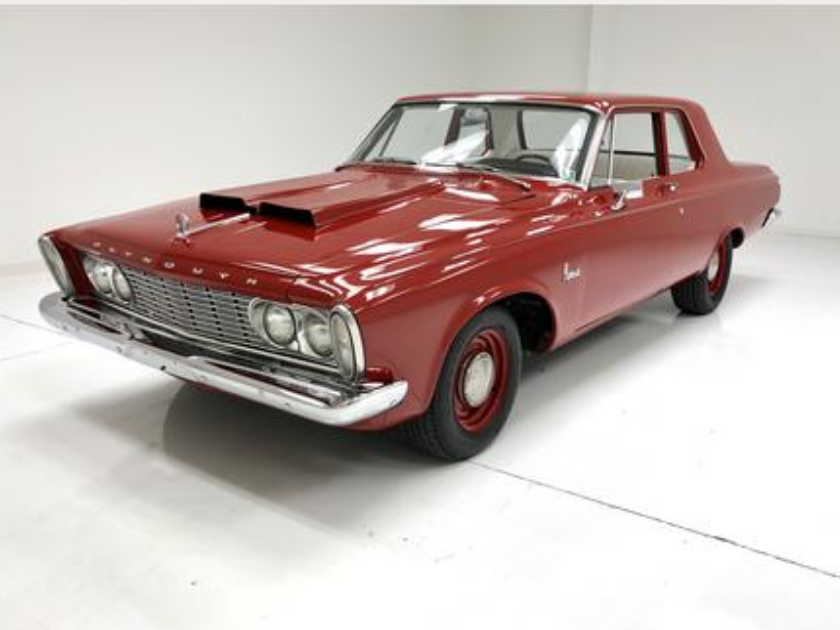 1963 Plymouth Savoy Mopar's factory drag racing program escalated in 1963 on two fronts, first introducing lightweight versions of their already trimmed-down competition models and then enlarging the Max Wedge engine from 413ci to 426ci. The Max Wedge was made available in three levels of tune, beginning with the 11.1:1 compression, 415-hp Stage 1 engine. Special aluminum body pieces shaved approximately 150 pounds off the front of the car and included a dual scooped hood that delivered fresh air to the engine. It was a potent package, and it made the 1963 Dodge and Plymouth factory racers very tough to beat. Born as a slant 6 cylinder, with radio and heater delete, the consigner set out to create a clone of a Plymouth Max Wedge. Sans aluminum front end, and wedge engine, the transformation began. Exterior Stock steel wheels in red match the exterior of this car. A hood scoop is added which emulates the original Max Wedge.
This "clone" harkens back to the earliest of muscle cars which were essentially a "B" chassis (midsize car) that was stripped down, lightened, and had a large engine dropped in. This combination made the Savoy a particularly difficult car to beat on the drag strip, and Chrysler's competitors were caught with their pants down, per se, as it took them a couple of years to catch up. The car presents well and moves well too. It mirrors the saying "Win on Sunday, Sell on Monday."
1958 Chevrolet Corvette Roadster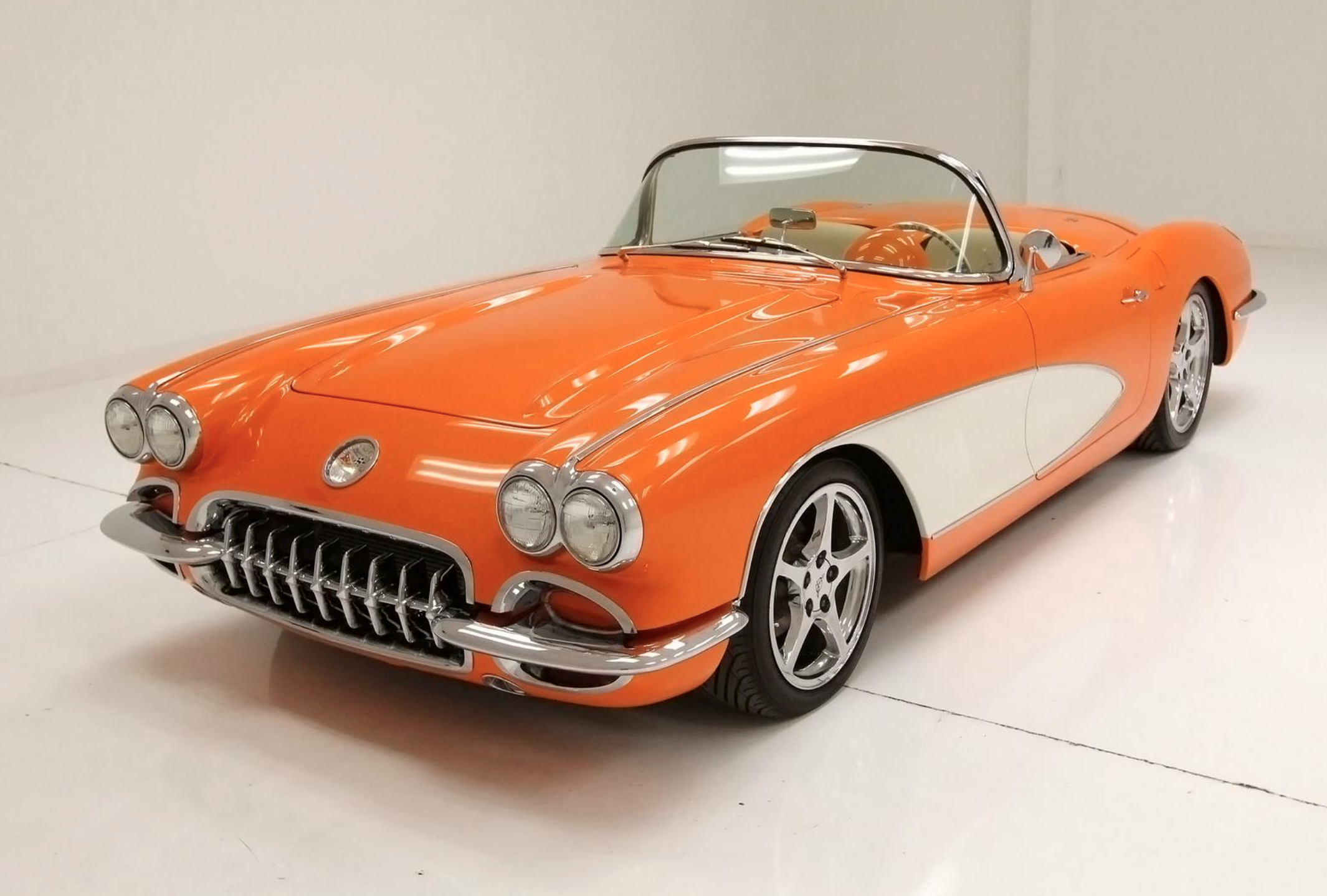 Benefitting from a comprehensive restoration by Mike Walker's Street Rods Only shop in Decatur, Illinois, this sports car's time-tested looks are backed by an impressive list of hardware that includes a 350ci Chevy ram jet mill coupled with and 700R 4-speed automatic transmission, this resto build is a wolf in sheep's clothing. Exterior Virtually showroom new, a pristine frame, bodied with a 58 Corvette (some old, some new, mostly new), sprayed with 2 tone bright orange and sporting slightly off white coves, is truly a sight to behold.  Eye catching yet tasteful, loud but soft spoken, ostentatious yet elegant, this Vette shows many sides.  Custom five spoke C5 oversized chromed wheels and radial rubber bands are on all four corners. Interior Two tone tan interior leather featuring cream insides and tan bolsters occupy a cozy passenger space.  An exterior matching dash wraps around the front of the buckets and stretches from door to door.  
The curved instrument cluster is highlighted by a circular machined aluminum panel and features all new Walker's gauges with orange numbering within a white field.  Fronting the dash is a matching off white 3 spoke rally steering wheel.  Door panels are custom designed and power window switches are imbedded within the panels.  Also seen is air conditioning, power steering, AM/FM/CD radio with a sound system, and an electric hood opener.  Flooding the floor is pristine cut pile brown carpeting. Please note that there is not a convertible top installed on this car, and the rear space it occupied, it is now a flip up storage area. Drivetrain The 350ci Chevrolet Ram Jet fuel injected, cast-iron engine block is matched with a durable rotating assembly that delivers a pump-gas-friendly 9.0:1 compression ratio, as well as a smooth hydraulic roller camshaft that complements power delivery with a great idle quality.
This power plant has a retro look, but all modern engineering. A 700R 4-speed transmission is attached to the back of the engine. Undercarriage Looking carefully one can really see the quality of the frame-off restoration and forethought that took place for this build.  Everything is virtually new from the 4-wheel disc brakes, to the C4 front and rear suspension, chromed coil over springs, and a stainless exhaust system. Overall a new creation with 1958 style. Get in, turn the key and feel the power of the crate engine, and 4-speed transmission push you down the road in style.  Prepare to be ogled!  Orange you glad I did not say stared at?
1953 Bentley R Type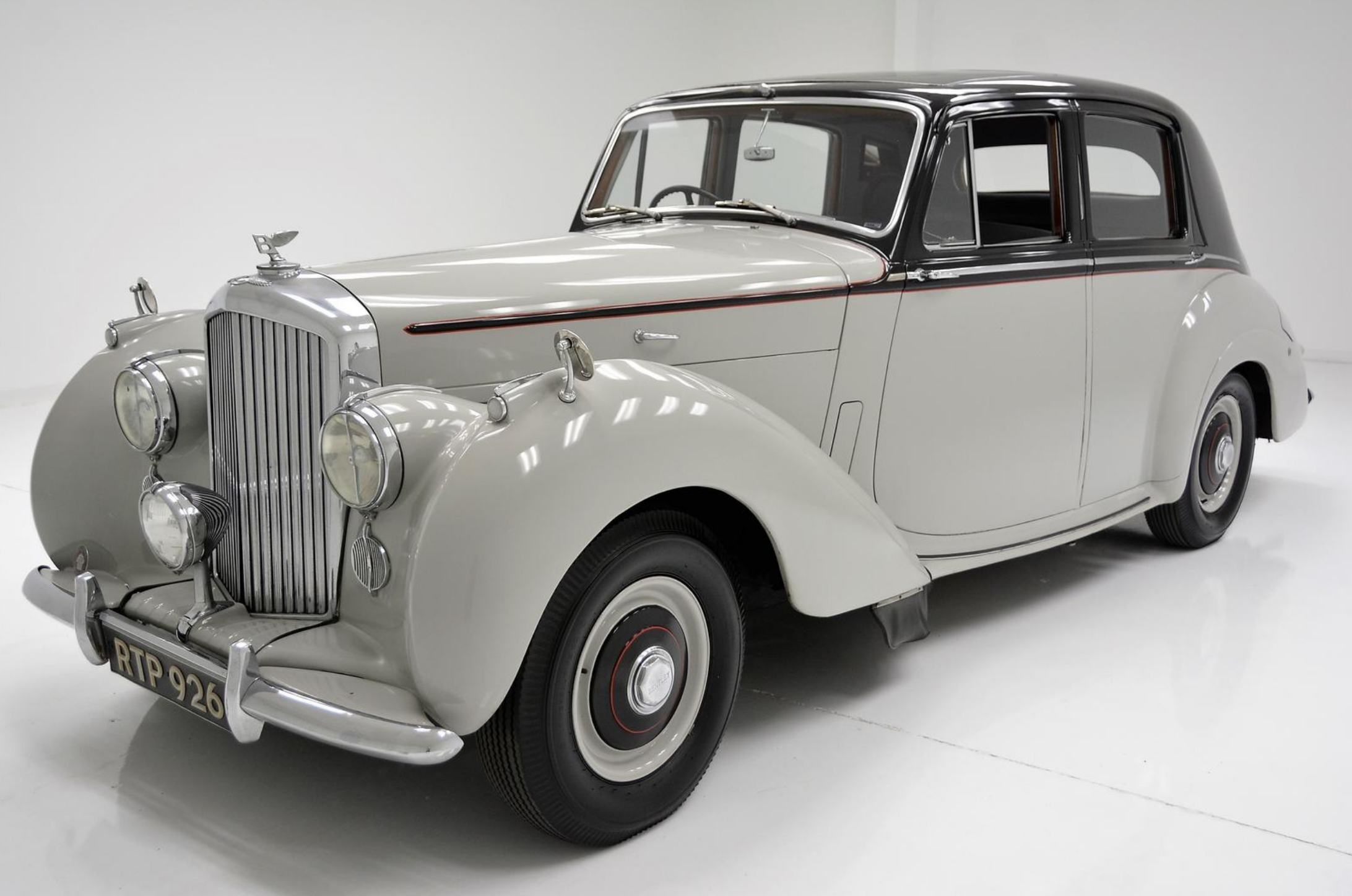 1953 Bentley R Type Saloon The Bentley R Type is the second series of post-war Bentley automobiles, replacing the Mark VI. Essentially a larger-boot version of the Mk VI, the R type is regarded by some as a stop-gap before the introduction of the S series cars in 1955. As with its predecessor, a standard body was available as well as coachbuilt versions by firms including H. J. Mulliner & Co., Park Ward, Harold Radford, Freestone and Webb, Carrosserie Worblaufen and others. Other than the radiator grilles and the carburation, there was little difference between the standard Bentley R Type and the Rolls-Royce Silver Dawn.
The R Type was the more popular marque, with some 2,500 units manufactured during its run to the Silver Dawn's 760. Offered is a beautiful 1953 Bentley R Type in traditional British Gray and Black two-tone paint with matching Gray leather interior. The Bentley is powered by an iron-block/aluminum-head straight-6 engine that fires immediately and runs quietly and smoothly.  The transmission is a 4-speed manual that engages without struggle or hesitation.  The suspension is independent at front with elliptic leaf springs at the rear. Brakes are mechanical drums at both front and rear. The odometer shows 67,190 miles with no evidence of any rust or repair. The leather and carpets are nearly flawless. The Bentley is out of a large and local Pennsylvania collection of fine automobiles. With a top speed of nearly 103 mph, the Bentley Saloon was the high-performance luxury sedan of its time.
1969 Pontiac GTO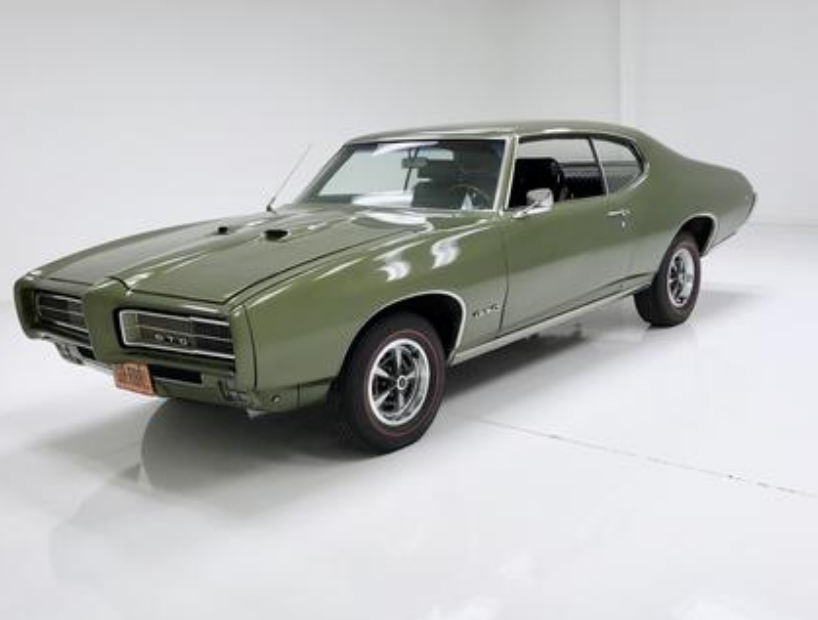 1969 Pontiac GTO Coupe In early 1963 a team of engineers and designers got together at Pontiac and decided to focus more on street racing and power. The Tempest had been in production for a bit and a more "muscular" powerful car was needed. Hence the acronym GTO or Grand Tempest Option became the code for the secret new development that would take place. John DeLorean actually claims the GTO came from the Italian Gran Turismo Omologato or Grand Touring Homologated (certified) which in reality the car was never meant for grand touring, but to be the fastest straight-line Pontiac produced.
This code 73 color (Verdoro Green Metallic) GTO or tongue-in-cheek "Goat" supposedly because it would EAT anything (i.e. the competition) or "Tiger" (voracious) is a fair example of the American Muscle Car in its heyday. 51,994 miles (not known if original) sports rally wheels and redline tires, as well as a short sport shifter, and rally steering wheel. Exterior Repainted to color Match Verdoro Green Metallic, shows some blistering on the hood, as well as rear quarter panel repairs with slightly noticeable imperfections. Rust is showing on left door and appears to be surface variety. Fit and finish is not perfect, but typical of a car from 1969.
Chrome bumpers are in fair condition, and other trim is pitted, or slightly dulled. Grille is in good condition, and hiding headlights are working. A thorough studying of the underside photos is recommended, as there appears to be possible issues with front suspension and steering, as well as brake hoses. The body mount bushings appear to be nonexistent on all 4 corners. Some "wet" areas are present around transmission seals, and floor pans showing areas of rust as well. Interior Black vinyl bucket seating in front and a bench seat in back, show very little wear and use, and appear to be original to the car. Black carpeting is found in good condition in front and rear of passenger compartment. Center console black vinyl lid to storage is worn on sides and rubber boot on shifter is cracked on driver's side. Vinyl peeling and rusting is present around ashtray area on dash, otherwise dash is in good condition, with gauges working as well as switches and knobs. An AM radio is inserted, and heat and venting controls are working as well. Drivetrain A 400ci V8 engine with headers, and performance exhaust with a Quadrajet carburetor make up the power plant. A 4-speed manual transmission is seen, and A-arm independent front suspension with coil spring rear suspension which came standard on this car from the dealership. 4-wheel drum brakes stop the car quickly and efficiently.
1970 Chevrolet Corvette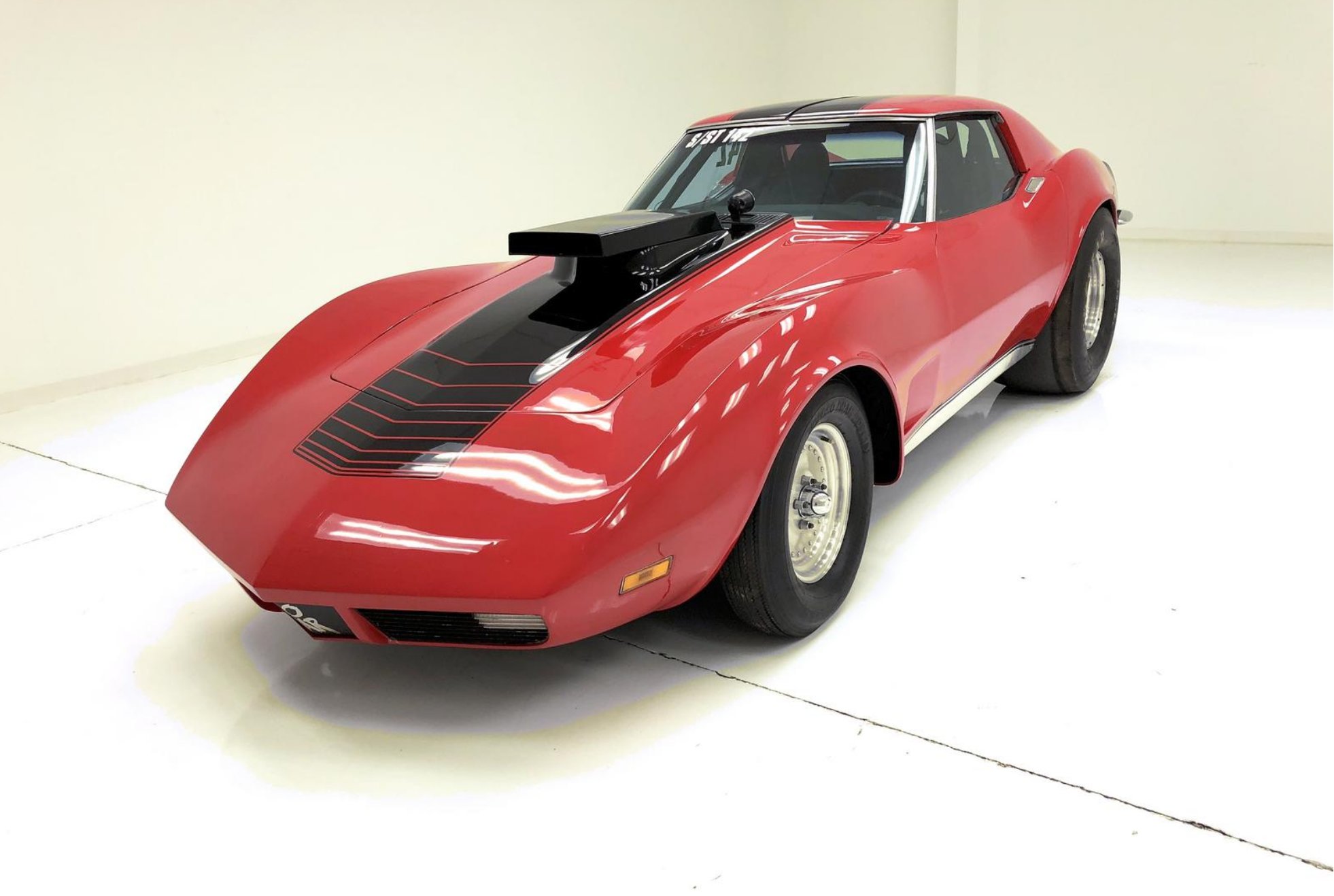 1970 Chevrolet Corvette Drag Car Say Corvette and immediately one harkens back to the 1960's and 1970's when the Corvette was in its heyday with design, and power going through several iterations. It was not uncommon to snag one of these examples, and with a need for speed, modify it for the strip. Since the invention of the automobile, some tinkerer, shade tree mechanic, or custom shop has been trying to make it go faster.
This 1970 straight liner has been modified to run down the 1/4 mile and make a very specific time. It has been outfitted with the tools to do so, for timing and safety. Consigner states the car is available as is, or can be purchased without motor and tranny, and the original seats, dash, steering wheel, and core support is available.
A 1973 Fiberglass front end for better aerodynamics, and a daunting hood scoop. The original 1970 rear has been modified to accommodate a racing fuel cell. All wrapped up in racing red, with a massive black center stripe, which runs from bow to stern, and covers the back-lighting area. On the rear are deep dish aluminum racing wheels wrapped by Goodyear drag slicks and in front Moroso Drag Special small tires frame shallow dish aluminum wheels. Interior A complete redux to shed weight, and help with obtaining a low ET, is seen in the interior. All wrapped in a frame mounted roll cage, the dash, and any comforts have been stripped, and replaced with fabricated aluminum.
The quarter mile calls, and this car has an answer. Well thought out and constructed to perform within a specific bracket of time, consistently. Great performance, and great looking exterior will create the red and black blur, and push you into your seat...a lot!
1984 Chevrolet Corvette Jet Funny Car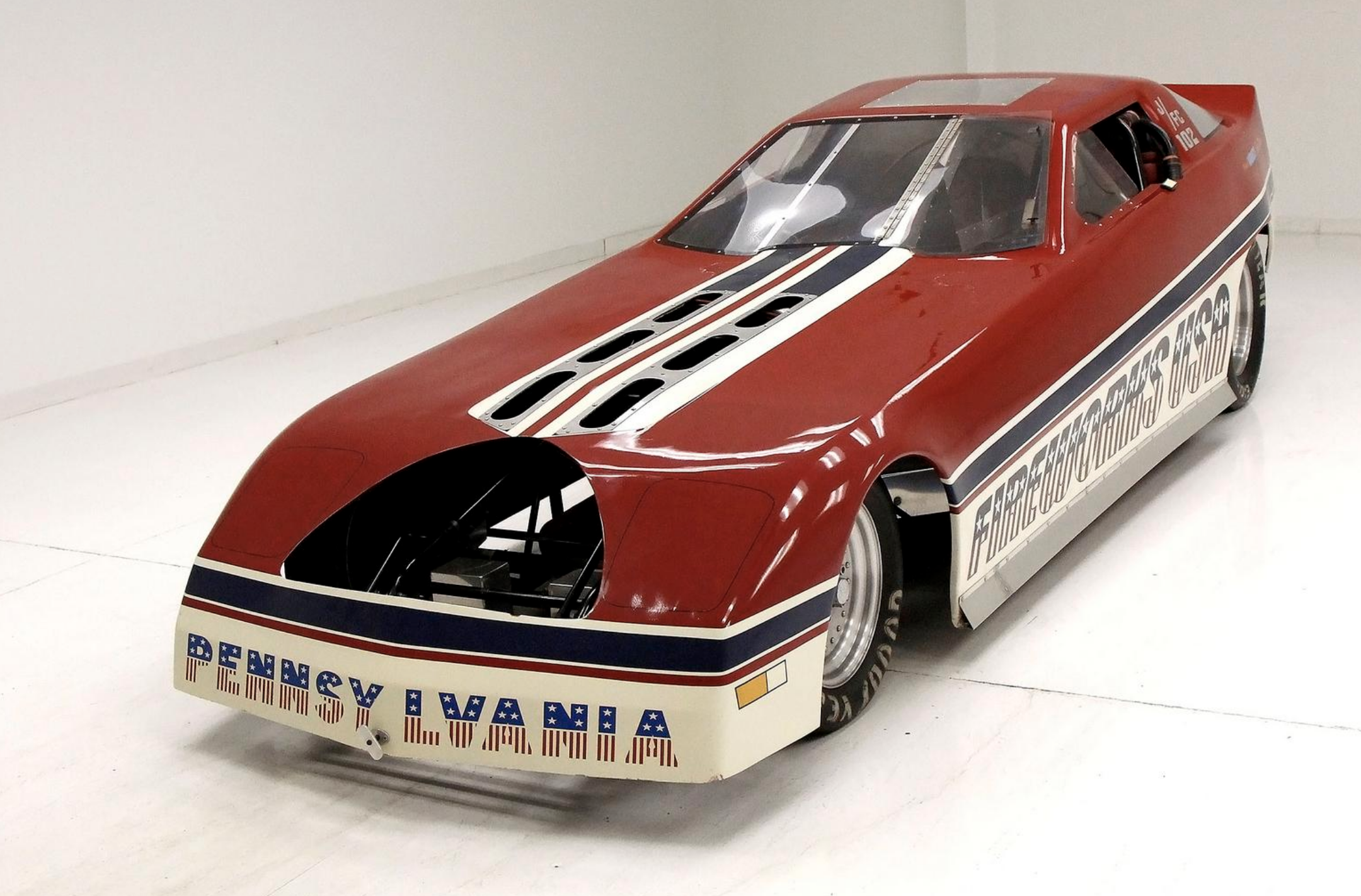 This incredible Jet Turbine powered Funny Car was built for Fred Spezio and based on a 1984 Corvette. It was named Fireworks USA and is patriotically painted red, white and blue.  The chassis is a Meng Race Specialties and it was painted by Harners Auto Body.
The power is provided by a J34/34-A Westinghouse Turbo-Jet engine that was originally built in 1951 for use in the North American T2 "Buckeye", Lockheed P2V "Neptune", the Douglas F3D "Skyknight" and the McDonnell F2H "Banshee". This turbo jet produces a maximum thrust of 3,600 pounds…7,000hp in afterburner mode, and is capable of a top speed of 250 mph in the quarter mile. It raced in the Jet Exhibition Jet Funny Car 102 class. It was originally built in Texas and raced there for 1 year before heading to Arizona for 1 year and finally Pennsylvania. The owner and driver both retired due to illness and the car would need to be recertified by the NHRA, which it has been in the past.
The original cost to build was over $150,000. It comes with a complete starting system and a 100-gallon auxiliary aluminum refueling tank. It runs on jet fuel and its nickname is "The Weapon". The dimensions are 20' long x 46" high and the total weight is only 2,400 pounds. It features torsion and coil-over suspension, Airheart and Strange dual disc brakes, Fire Dex fire system, Goodyear tires, Centerline wheels, and Ring Slot drag Chutes. This is an opportunity to own a rare and historically significant vehicle that would be difficult to duplicate. Comes with complete starting instructions and any help needed from the owner.