As they entered the 1960's, America's big three auto manufacturers grasped the need to produce compact cars. Ford and Chrysler offered shrunken versions of their staid sedans. Chevrolet boldly led with the revolutionary rear engine, air-cooled, uniquely styled Corvair. The name hearkened back to a GM styling exercise, the Corvette Corvair; which debuted at the 1954 GM Motorama. Some believe the moniker an amalgamation of Chevy nameplates, Corvette and Bel Air.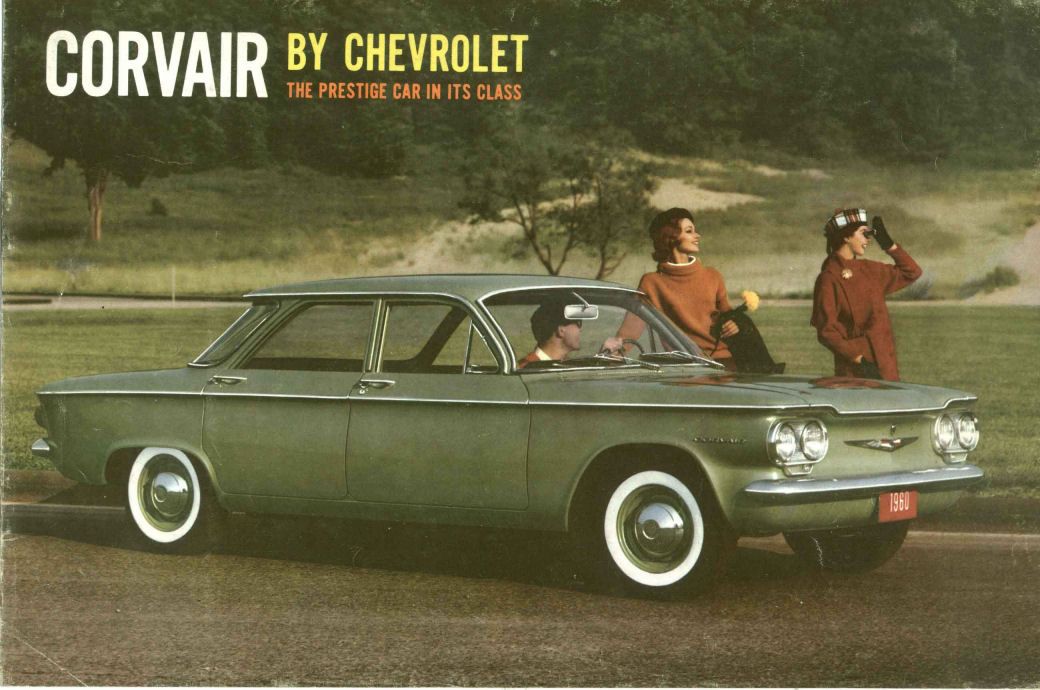 The initial (1960) models were introduced as economy cars and carried an 80 hp horizontally opposed flat six-cylinder powerplant mated to a three speed manual or two speed automatic.  The late year debut of the more upscale Monza trim excited buyers and the higher end models subsequently dominated Corvair sales.

In 1962 Chevrolet introduced the Spyder, an appellation typically used to designate a convertible. The Corvair Monza Spyder option package was distinguished by the addition of a turbocharger which boosted horsepower from 102 to 150!  A host of engine upgrades including a forged crank, heavier duty pistons and connecting rods and an improved camshaft were integral with the package as was a far more complete gauge set which added a 120-mph speedometer.  Coincidentally a Corvair convertible was introduced that same year. Far more Spyder coupes than convertibles were sold.

Safety issues and especially handling problems dogged the reputation of the early Corvairs. A rigid steering column could impale drivers (it was one of the most rigid structures in the front end of this rear engine car). The Corvair's rear "swing axles" articulated at the differential.  Dramatic changes in the contact patch occurred under cornering and in extreme circumstances often accompanied by an irregular road surface, the Corvair's rear wheels could fold under and cause the car to flip (as did my sister's 1963 Corvair).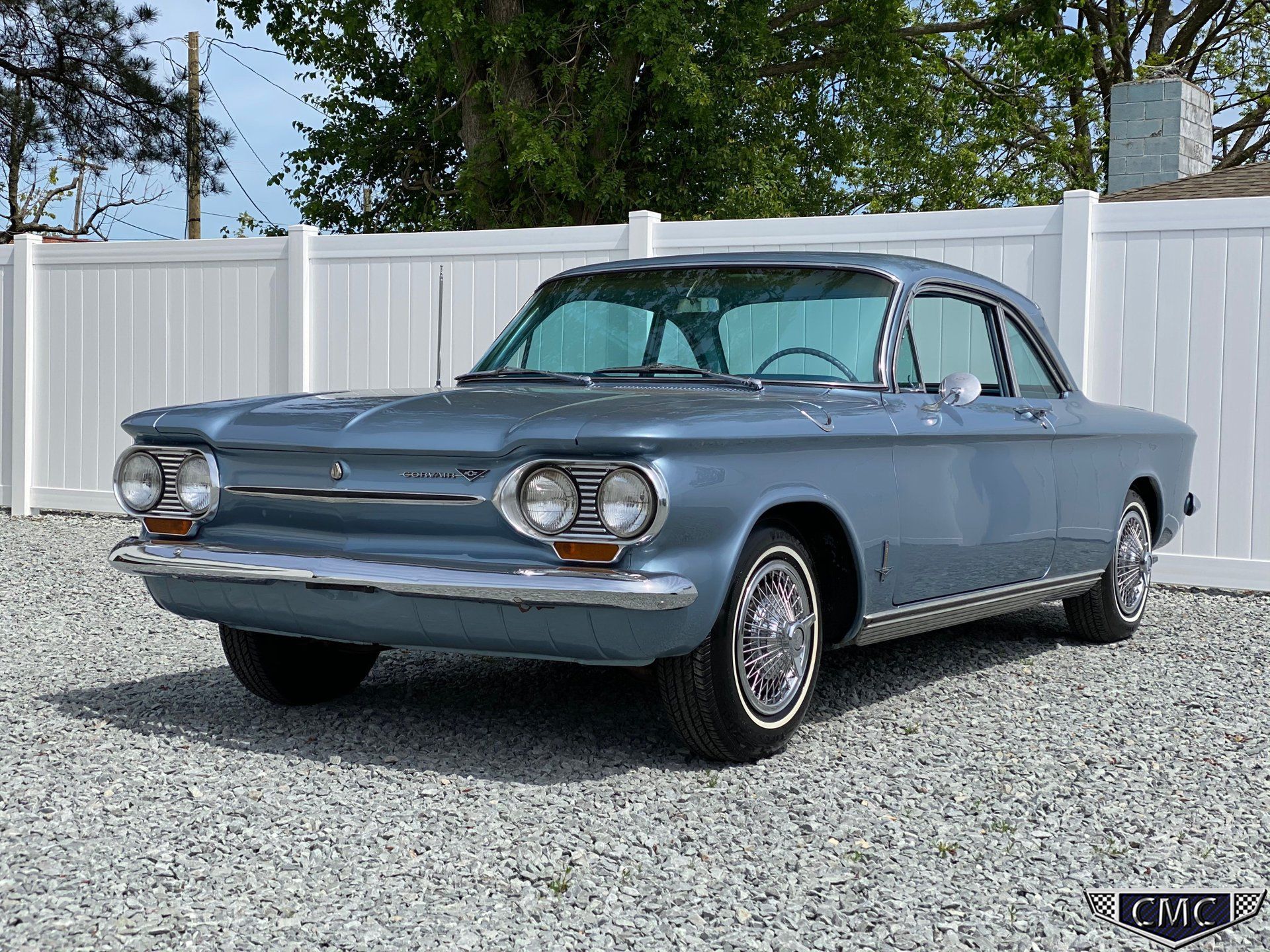 Chevrolet specified staggered air pressures (26 psi in the rear and 15 psi in the front) to counteract the problem. Many were unaware of the recommendations,

Axle straps, commonly used to limit axle travel in early carriages and  European cars of the period, were soon offered as part of option RPO 696.  Shorter springs and a front stabilizer bar were part of the package. Other mods followed and marked improvement was achieved in 1964 with a transverse rear spring and a now standard on all models front anti-roll bar.

Dramatic changes occurred in the 1965 model year.  Fully independent suspension and coil springs contributed to predictable and "sporty" handling; and the new body style was considered America's most beautiful post war design by Car and Driver. The top of the line Corsa could be distinguished by its silver rear cove.  Bigger brakes, a better heater and an alternator were part of the 1965 package.  The Corsa came standard with a 140 hp powerplant topped by four one barrel carburetors.  A turbocharged version claimed 180 hp.

The sporting crowd loved the Corvair. John Fitch, endurance racing champion and one of the few P-51 pilots to down a German ME-262 fighter jet, created his own version – the Sprint. Famed Chevy tuner Don Yenko's conversion was dubbed "the Stinger".  The latter brought Corvair fame with an SCCA national championship in 1967.

All the while external factors were contributing to the Corvair's demise.  The fresh face of the Mustang provided real marketplace competition and the 1965 publication of Ralph Nader's Unsafe at Any Speed sullied the Corvair's reputation.  Sales plummeted. The product lines were thinned and production ended with the 1969 model.

Though not a rare car (over 1.8 million examples were produced), the Corvair has broad appeal.  Sports Car Market auction analyst and classic car collector Jeff Trepel recently purchased a Danube Blue 1965 Monza from Tom Mack Auctions. Attractive was the rare combination of a 4-speed, a convertible top and air conditioning.  He shared: "Corvairs were technologically advanced and looked like no other cars of their time…. They are a blast to drive and compared to most other appreciating classics, they're affordable."

This author has driven several over extended periods of time.  What to buy? Though a variety of aftermarket add-ons can improve the less expensive early models, the 1964 Spyder represents the zenith of gen one production and features its classic style.  Heavily optioned 1965-1966 Monzas and Corsas have solid sports car like handling and higher horsepower possibilities. It will not come as a surprise that these command loftier prices than base models.  As always it is worth it to pay up for the best examples.
Several great Corvairs exist in the classic car showrooms featured on this website and three desirable convertibles can be purchased through Motorious during the upcoming Tom Mack Auction.