Donate to this classic car museum for your chance to win this sporty roadster.
---
Everyone has their own favorite types of cars, but it doesn't matter if you like big off-roaders or high-powered muscle cars, there's still no beating the pure joy that you get from driving a sporty little roadster. The 2019 Mercedes-Benz SLC 300 is a perfect example of a modern roadster, and this one is being given away to support the Saratoga Auto Museum.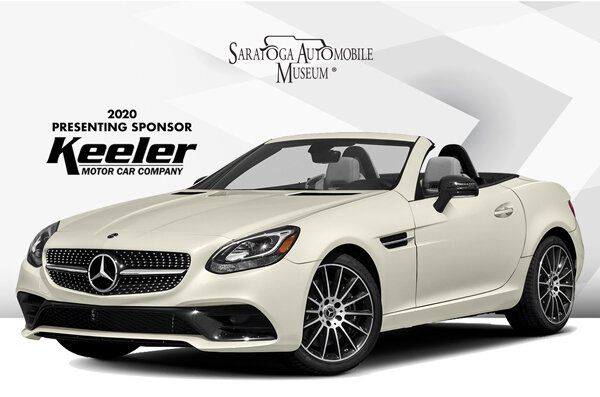 The Mercedes-Benz SLC combines the attributes of a typical European roadster with all of the performance and luxury expected from Mercedes-Benz. A retractable hardtop makes it easy to enjoy open-air motoring, while the SLC 300's 241-horsepower engine provides plenty of excitement for this small roadster.
Buying tickets to this sweepstakes gets you a chance at winning a 2019 Mercedes-Benz SLC 300 painted in Polar White with a Sahara Beige interior. This particular car will also be optioned up with an AMG body styling and the Premium Package that includes Mercedes' Airscarf – a neck-level heating system built into the seats to make chilly top-down drives a little more comfortable – and this grand prize is worth $61,000.
The 2019 Mercedes-Benz SLC 300 Giveaway ends on December 29, 2020 with single ticket prices starting at $20 and ticket bundles dropping the price from there. All of the proceeds raised will go to support the Saratoga Auto Museum and the creation of future exhibits and educational programs.
Based in Saratoga Springs, New York, the Saratoga Auto Museum features several exhibits that celebrate the automotive history of New York. This includes a history of New York-based automakers, Racing in New York, the New York State Stock Car Hall of Fame as well as a private collection on display from Dyson Racing and a special exhibit celebrating six women drivers from 1900-1920 – a time when less than 10 percent of women were licensed drivers.