This is quite the selection.
---
It's not just an auction – it's an event steeped in automotive history and elegance. We are thrilled to present to the world an impeccable collection of Chevrolet Corvettes and a Camaro that have been meticulously maintained and stored within a climate-controlled sanctuary. These classic beauties, totaling seven, are all set to go under the hammer, giving enthusiasts a chance to own a piece of automotive legacy.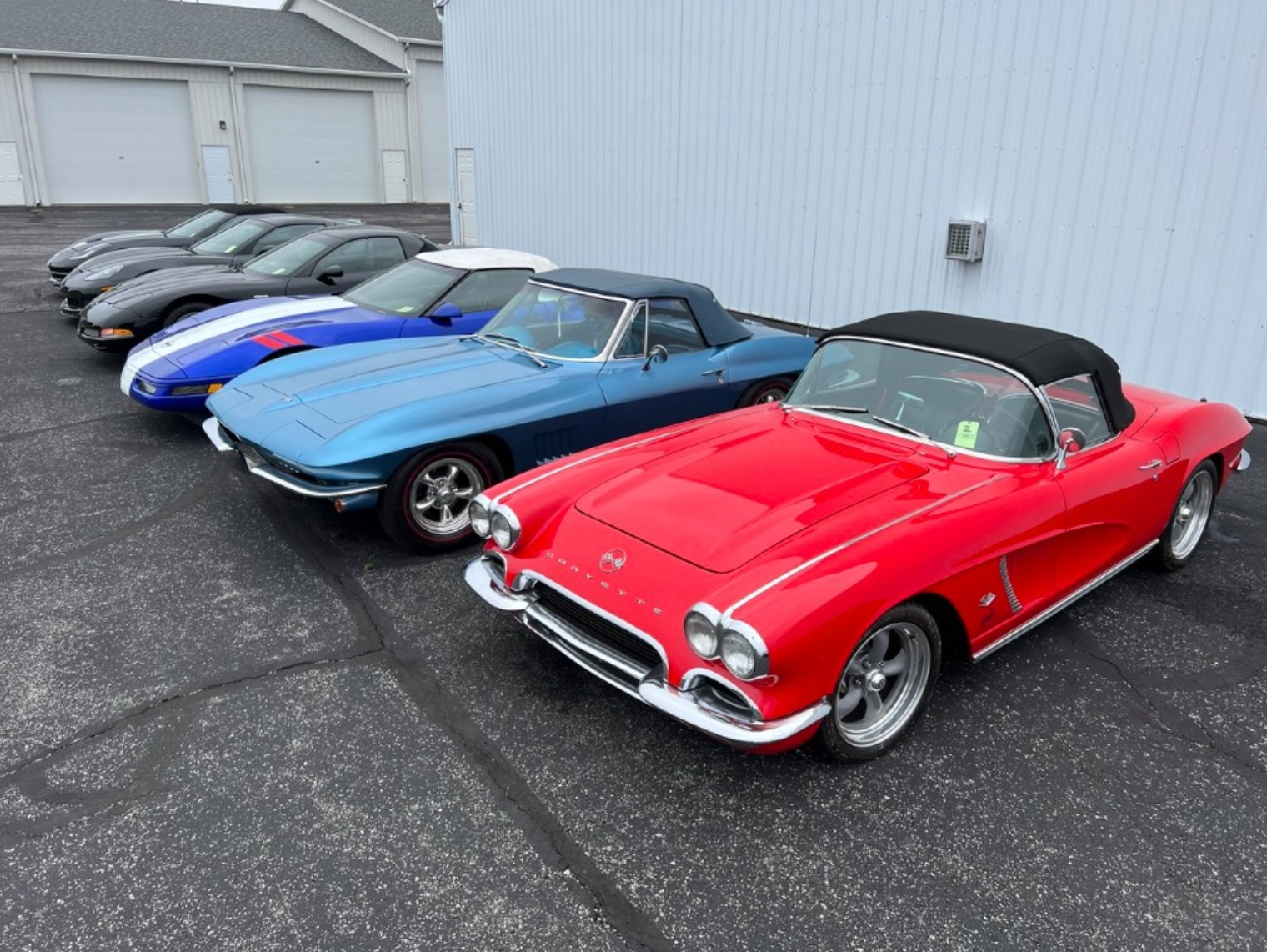 For those who wish to gaze upon these mechanical masterpieces, they are currently housed at the esteemed Liberty Aviation Museum. While the KIKO open house offers a dedicated viewing, if you're unable to attend, the museum graciously allows visitors during its operational hours. Fancy a tour? Drop by between 10:00 AM to 4:00 PM on Mondays, Thursdays, and Fridays. The weekends stretch the viewing time till 5:00 PM. However, if you're looking at a Tuesday or Wednesday visit, ensure you dial 419-732-0234 to make an appointment.
Diving deeper into the specifics of some standouts:
Lot #2 – The 1962 Corvette Restomod: This isn't just a car; it's a testament to passion and dedication. While the heart of this vehicle is a 1962 frame, its rhythm is far modern, equipped with 4-wheel Wilwood disc brakes and lowered stature. Engineered with a Chevrolet 350ci small block, the handiwork of Hutter Performance, its uniqueness is further accentuated with 4 Weber carburetors. With an odometer displaying a mere 748 miles, its impeccable basecoat/clearcoat paint job and interiors make it a jewel of a find.
Lot #3 – The 1967 Corvette Classic: Sporting the VIN 194677S119496, this pristine Marina Blue beauty underwent an immaculate restoration under the watchful eyes of ProTeam Corvettes. A true classic with its 300hp, 327ci engine, and 4-speed gearbox, it retains its original allure with rally style wheels, complemented by red line tires. Pictures do some justice, but seeing its VIN and trim tags up close is an experience in itself.
Lot #8 – The Majestic 1969 Corvette T-top coupe: VIN 194379S724901 for the aficionados, this big block 427ci, 435hp L-71 is a dream for many. A seamless blend of power and aesthetics, its maroon paint gracefully syncs with its chrome trims and interiors. A true testament to the late '60s vehicular prowess.
So, whether you're an ardent Chevrolet fan, a classic car enthusiast, or someone looking to own a slice of automotive history, this auction promises to be an unforgettable experience. The countdown begins; may the best bidder win!