Product of a frame-off restoration with plenty of original components, this Sting Ray is a NCRS, Bloomington, and Triple Diamond recipient.
---
The 1967 Corvette Sting Ray was the last model of the second-generation, and it is undoubtedly the most refined. This stunning example is what we should imagine when somebody mentions a '67 Sting Ray because it just screams perfection. Verrillo Motor Cars is excited to offer this pristine and meticulously restored 1967 Chevrolet Corvette Convertible L71 that is the recipient of many prestigious awards.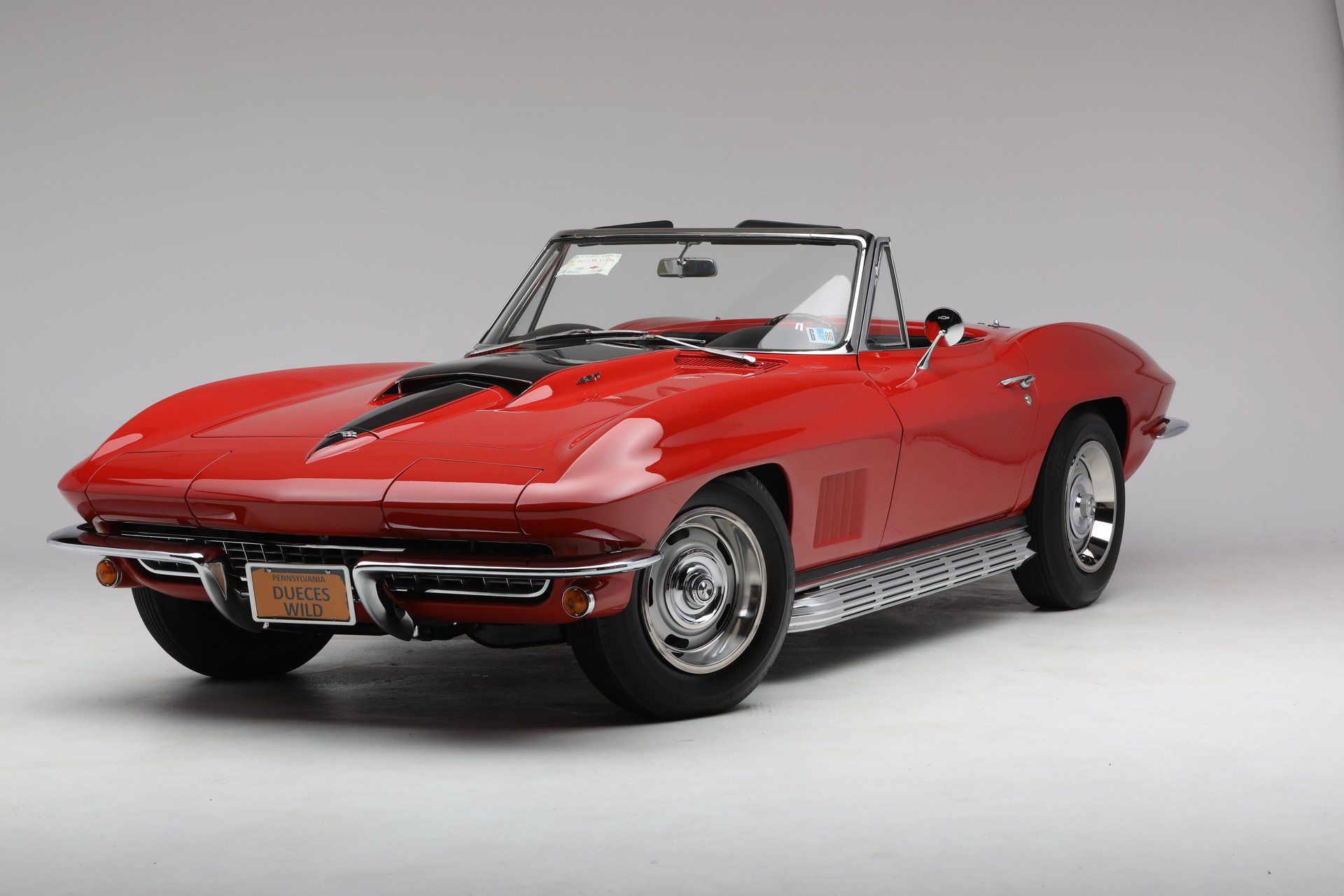 Joe Verrillo acquired this unrestored survivor in 2005 with all-original Rally Red paint, and now shows the end product of a frame-off restoration performed at Verillo Motor Car (VMC). This 'Vette L71 was purchased new in December of 1966 from Marhefka Chevrolet in Windber, Pennsylvania.
This stunning Corvette is finished in brilliant Rally Red over an immaculate black factory original interior. The fiberglass body panels are all-original, and this Corvette features the original white convertible top. In addition, this Corvette also comes with the black vinyl auxiliary hardtop.
Under the hood is the highly coveted 427-cubic-inch L71 V8 engine topped with a Holley triple two-barrel carburetor called Tri-Power. Backed by a 4-speed manual transmission, this setup generated 435-horsepower from the factory. This Corvette is equipped with a 4:11 rear gear ratio, and spent gases flow through the side-exit dual exhaust.
As mentioned above, the car received several prestigious awards including the 2017 Bloomington Gold OEM Certified, 2017 NCRS Regional Top Flight, 2017 MCACN Gold Spinner, 2017 MCACN Triple Diamond, and the 2018 NCRS Dutov Mark of Excellence. This classic beauty was published in the January 2018 Hemmings Muscle Machines for a feature article and in the same publication in the Restoration Profile.
Not only did this Corvette Sting Ray receive top honors at high-profile events, it also made many trips down the quarter-mile drag strip. Swapping out the wheels to American Racing Mags with M&H Racemaster rubber, it consistently ran the quarter-mile in the low 11-second range where it did bring home many trophies.
The sale of this '67 Corvette includes plenty of original documentation such as the Bill of Sale, tank sticker, warranty booklet with the Protect-O-Plate, Corvette owner card, owner's manual, original radio operating instructions, wheel trim instruction sheet, and optional accessories pamphlet. Also included with the car is the original gas tank with the original sticker.
For 1967, a few modest revisions were made including the replacement of the three larger front fender vents with five smaller vents, and a single backup light was mounted above the license plate frame. The rockers were given a flat finish, and the wheel cover design was updated. Inside, the upholstery received some alterations, and the handbrake was moved between the two front seats from beneath the dash.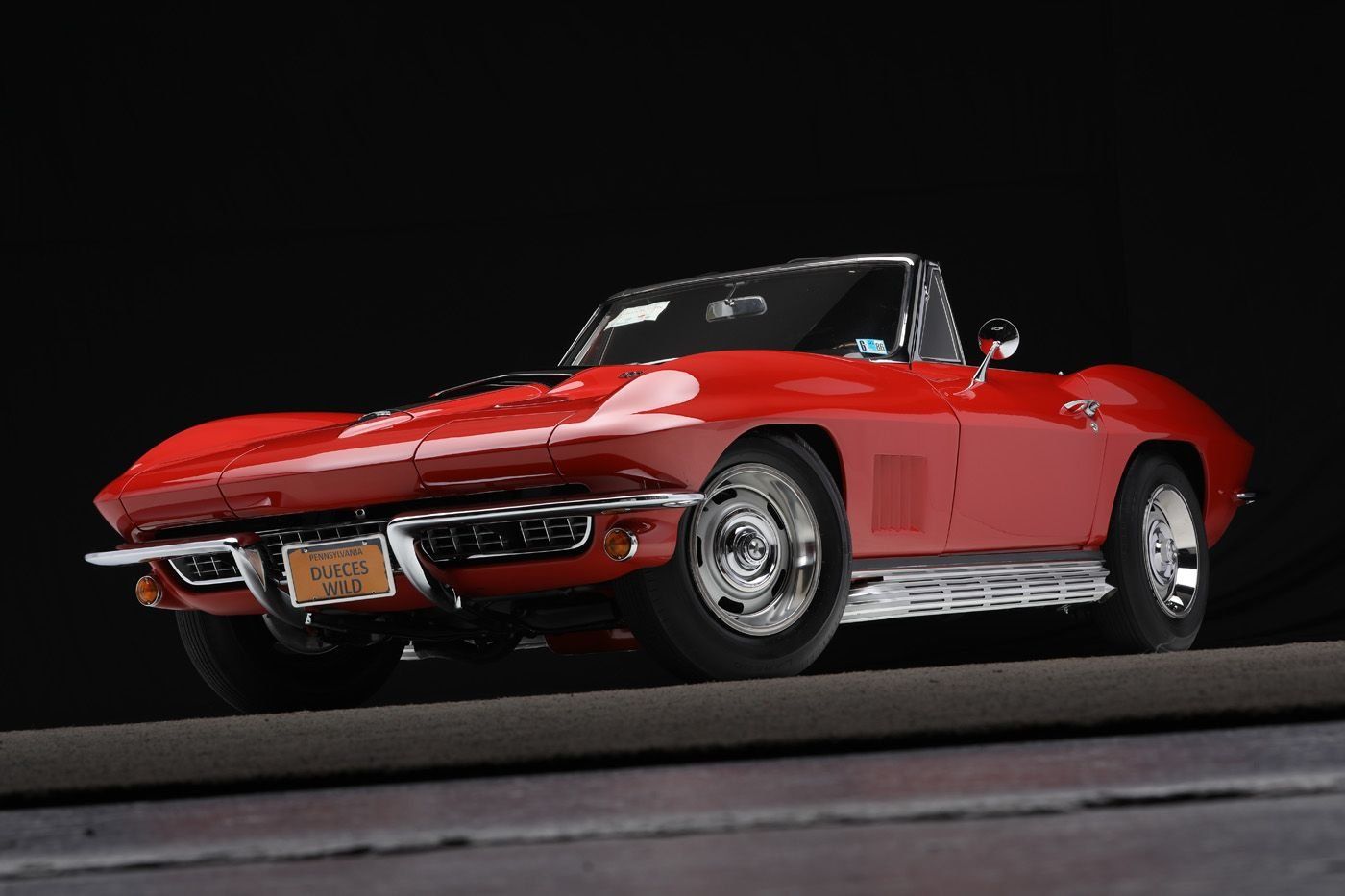 If this stunning 1967 Chevrolet Corvette Convertible L71 would make your days much brighter, then go ahead and contact Verillo Motor Cars today. This award-winning classic Sting Ray is listed for $395,000.