Sure, it's not a classic, but we dare you to not ogle over this Suburban.
---
If we've learned anything from the growing Radwood culture, it's that a car doesn't always have to be classic, exotic or somehow collectible to be appreciated. That is most certainly the case with this 2005 Chevrolet Suburban Z71 that is up for sale through Motorgroup Auto Gallery.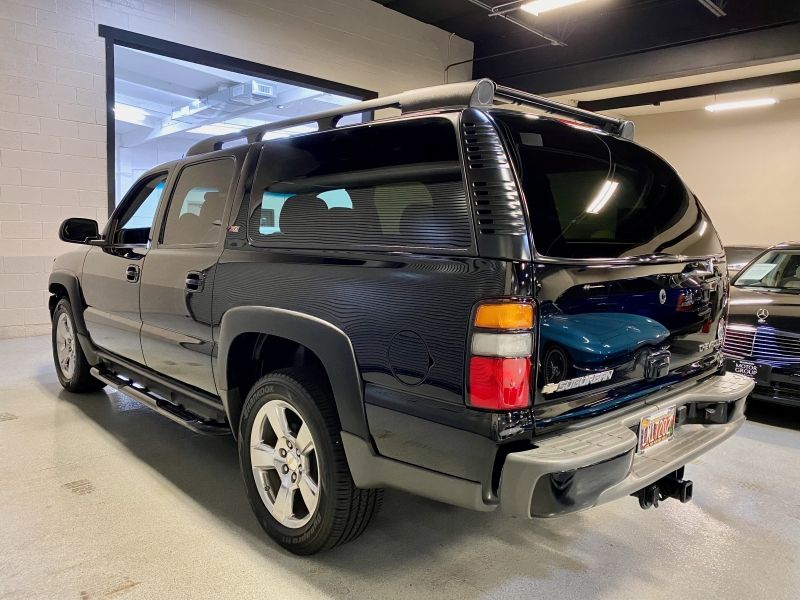 There's a reason why cars from the Southwestern U.S. are so desirable, and looking at the condition of this Suburban is a prime example. Black paint is extremely hard to care for, but this big Chevy glistens like it did back in 2005 thanks to a life spent in Texas and Arizona. The wheels, exterior trim and leather interior are all in incredible condition as well. While its life in the arid climate can be given some of the credit, there's no doubt this SUV was well cared for, which is backed up the extremely low odometer reading of just 46,000 miles.
In addition to the overall quality of this 15-year-old SUV, it's also impressive how original it has remained over the years. On the outside, this 2005 Chevrolet Suburban still wear its original chrome wheels, while the inside reveals how well-equipped this 'Burb was back in the day with a factory navigation head unit and a rear-seat DVD entertainment system. Being a Z71 model, the Suburban has a handful of upgrades to tackle rugged terrain, but this SUV has obviously never been taken too far off the pavement. Under the hood, you'll find the 5.3-liter V8 with 270 horsepower and a tow rating of over 7,000 pounds.
With that in mind, this super-clean 2005 Chevrolet Suburban Z71 would be a perfect vehicle for family road trips or hauling cars to or from the auction, so contact Motorgroup Auto Gallery for more information on this SUV or any of the other cool and unique vehicles in their inventory.