Chevrolet has always done a good with the Corvette, but in 1965 they almost out-did themselves.
---
Chevrolet really started to ramp up the Corvette's performance after the successes of the 327-cid engine and had it not been for a ridiculous GM rule limiting displacement based on vehicle size, the 1965 Corvettes high-performance option probably would have been a 427-cid engine.
However, thanks to the specially tuned 425-horsepower 396-cid big block engine, nobody missed the 427 engine option that didn't exist for the 1965 Corvette. In fact, this single year only option produced almost as much horsepower as the following year's 427 engine. Unfortunately, this beastly 396 was wiped from the options list with the introduction of the 427.
In all, just 2,157 1965 L78 Corvettes were made including both convertible and coupe body styles. Additionally, an overwhelming majority of Corvettes made in 1965 were convertibles making this Burgundy L-78 Coupe being offered at GAAs upcoming April auction one of only 618 produced. Other options include a 4-speed transmission, knock-off wheels with Gold Line tires, dual side exhaust, a woodgrain steering wheel, power brakes, a transistor ignition, and an AM/FM radio. The car's history has been traced by NCRS back to a New Jersey based Chevrolet dealer. It features its original trim & VIN tags that have been matched to the cars drive train and the car has allegedly only been repainted once since it was new.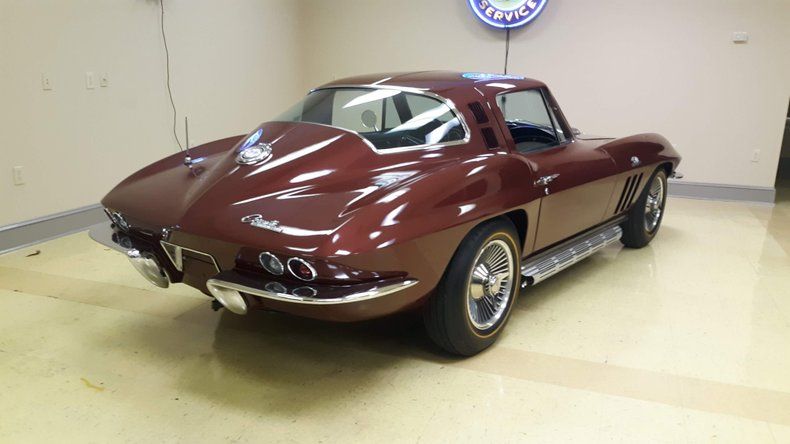 This is a great opportunity to add this rare Corvette to your collection. Included in the sale are two binders of service records and information, a window sticker, and a collection of Corvette literature. Don't miss out on this L-78 Corvette.