This classic station wagon will definitely haul!
---
There are plenty of Bel Airs, Biscaynes and Impalas out there, so if you want to really stand out at car shows, check out this custom 1960 Chevrolet Parkwood. Garage Kept Motors is selling this one-of-a-kind station wagon that is sure to turn heads wherever it is parked.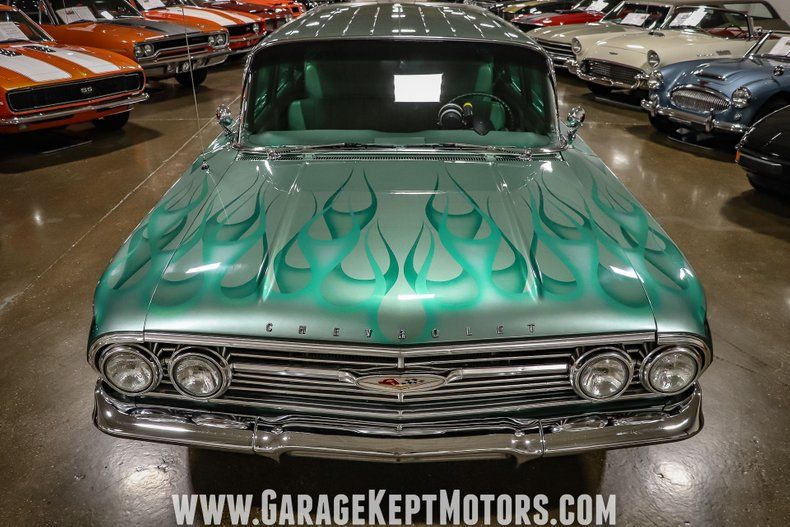 While this Parkwood started life painted in Cascade Green, it has since been painted in a darker, two-tone metallic green color with beautiful flames, and even with the custom paint job, it still retains a factory look with the original trim and badges still in place. To really leave other show cars green with envy, this 1960 Chevrolet Parkwood finishes off the look with green-tinted windows.
Of course, the biggest tell of this Parkwood's customization are the fat rear Mickey Thompson slicks, which is even more obvious when you open the tailgate and see the massively tubbed rear fenders. Despite the wheel tubs and a handful of other custom touches, the rest of this cabin looks surprisingly stock thanks to an impressive reupholstery using materials, patterns and even piping to match the look of the original interior.
The custom gauges, fat rear tires and floor-mounted Hurst Pro-Matic shifter hint at the performance this station wagon is capable of. That's thanks to the monster V8 under the hood that started with a 454 CI displacement and was stroked to 468 cubic inches. Add on the electronic fuel injection, performance heads, cam and MSD ignition, and this big block is cranking out 550 horsepower!
Garage Kept Motors is selling this custom Chevy wagon for $27,500, which is an impressive price considering the level of performance and detail put into this unique build.