They'll forget Nomads and Bel Airs when you roll up in this bad boy.
---
The Tri-Five Chevy is one of the most iconic classic cars thanks to its cool looks and various models including the Nomad and Bel Air, but if you've never heard of the Handyman, then you're missing out. Although this two-door station wagon doesn't have the aggressive rake of the Nomad, it still looks incredible, and this 1957 Chevrolet Handyman restomod is proof.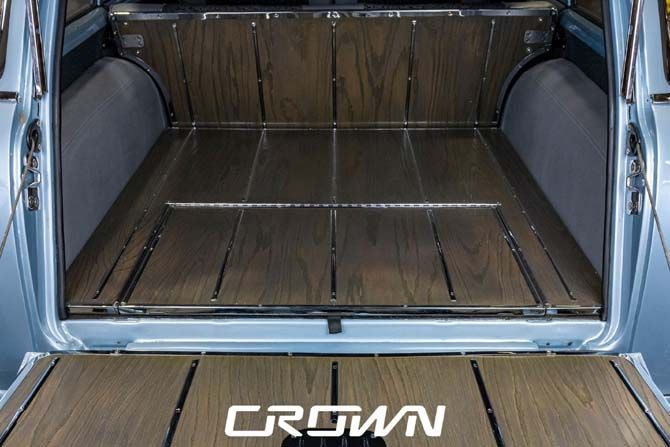 There's no doubt this restomod is a beautiful build thanks to its complete nut-and-bolt restoration, but at the same time, all of the modifications are subtle giving this Handyman a restrained look. From the outside, if it wasn't for the five-spoke wheels you might not even know this wagon is a custom vehicle, while the light blue paint and Bel Air-style fin trim make this car a true head turner.
Just like the exterior, the inside of this build shows restrained customization that makes it clear this is not your ordinary Tri-Five while staying true to the car's original design. A billet steering wheel and aftermarket gauges are about the only clues this isn't a stock car, and the custom upholstery and gorgeous wood cargo lining blend classic elegance with modern materials.
What really makes a restomod is a modern suspension and drivetrain, and this Handyman delivers there, too. Under the hood is a carbureted 350 cubic-inch LT1 V8 backed by a four-speed 4L80-E automatic transmission, and the car rides on a modified, lowered suspension. To make sure this 1957 Chevrolet Handyman is as fun to drive as it is to show off, it is equipped with four-wheel disc brakes, power steering and air conditioning.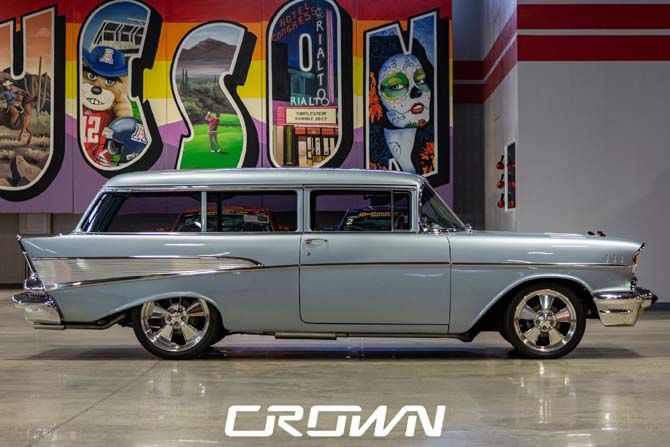 Crown Concepts has this 1957 Chevrolet Handyman restomod listed for $64,929, which is a steal when you consider the overall quality of this car as well as the current asking prices of Bel Airs and Nomads.