Overview
---
Dodge shook up the automotive landscape with the introduction of the Viper.
---
"The Viper is an audacious car and its introduction was an audacious move" (Mike McNessor, Hemmings).
The first prototype was tested in January 1989. It debuted in 1991 with two pre-production models as the pace car for the Indianapolis 500 when Dodge was forced to substitute it in place of the Japanese-built Stealth because of complaints from the United Auto Workers, and went on sale in January 1992 as the RT/10 Roadster.
"You have to hand it to Bob Lutz: he's a bold guy and his Viper was a bold move, brilliantly executed. As the oft-told story goes, in 1988, Lutz, then president of Chrysler, was driving his 1985 MK IV Autokraft Cobra and decided that the Dodge lineup could use just such a bare-bones hot rod/sports car. As preposterous as it seemed, it was doable, and Lutz found willing accomplices in Chrysler design chief Tom Gale and head of engineering Francois Castaing" (Mike McNessor, Hemmings).
The centerpiece of the car was its engine. It was based on the Chrysler LA design, which was mostly used as a truck engine at the time. The original configuration made it too heavy for sports car use, so Lamborghini, then owned by Chrysler Corporation, revamped Dodge's cast-iron block V10 for the Viper by recasting the block and heads in aluminum alloy. Some within Chrysler felt the pushrod two-valve design, while adequate for the truck application, was unsuitable for a performance car and suggested a more comprehensive redesign which would have included four valves per cylinder. Chrysler, however, was uncertain about the Viper's production costs and sales potential and so declined to provide the budget for the modification.
The engine weighed 711 lb (323 kg) and produced 400 bhp (300 kW) at 4600 rpm and 465 lb·ft (630 N·m) at 3600 rpm, and thanks to the long-gearing allowed by the engine, provided fuel economy at a United States Environmental Protection Agency-rated 12 mpg-US (20 L/100 km; 14 mpg-imp) city and 20 mpg-US (12 L/100 km; 24 mpg-imp) highway. The body was a tubular steel frame with resin transfer molding (RTM) fiberglass panels. Some small bits of the suspension, (tie-rod ends and parts of the front wheel hubs) following the manufacturer's "engine first" mantra, were sourced from the Dodge Dakota pickup. It had a curb weight of 3,284 lb (1,490 kg) and lacked all modern driver aids such as traction control or anti-lock brakes. Car and Driver magazine referred to this generation as "the world's biggest Fat Boy Harley", and likened driving it to "playing ping pong with a Louisville Slugger baseball bat." Despite this, in straight line performance, it completed a quarter mile (402 m) in 12.6 seconds and had a maximum speed of over 150 mph (240 km/h). Its large tires allowed the car to average close to 1 lateral g in corners, placing it among the elite cars of its day. However, the car proved tricky to drive at high speeds, particularly for the unskilled.
The car was spartan, although it featured inflatable lumbar support and adjustable seats. Along with the absence of exterior door handles, the vehicle lacked side windows and a roof. Although a soft top cover was available, it was designed primarily for indoor vehicle storage. Side curtains of fabric and clear plastic operated by zippers could be inserted into the door and hand-bolted when needed. All of these decisions were made to reduce weight. The battery is located in the sealed compartment over the rear wheel well to increase rear-end weight and traction. The car shipped with a tonneau cover and video tape on soft-top assembly (the soft top is removable and folds to fit in the trunk). In 1994 A/C was added as an option.
Production Numbers
---
| | |
| --- | --- |
| SRT/10 Roadster | 285 |
| Total Production | 285 |
---
Performance Specs
---
| Engine | Size | Transmission | HP | Torque | 0 to 60 | Quarter mile |
| --- | --- | --- | --- | --- | --- | --- |
| V10 | 8.0 l, 488ci | 6-speed manual | 400 | 480 lb-ft | 4.6 sec | 13.1 sec |
Transmissions
---
Paint & Colors
---
Exterior
Interior
OEM Brochures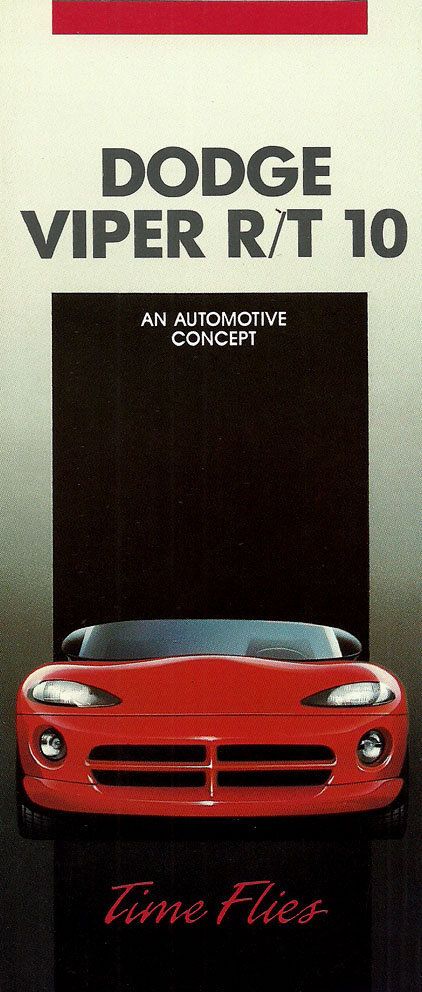 About the Knowledge Base
---
The Motorious Knowledge Base provides a comprehensive vehicle overview for the 1992 Dodge Viper including production numbers, performance specs, factory colors, and OEM brochures. Check out additional model years or related content linked to this article or view other Makes and Models in our Research center.
If you have any interesting facts about the 1992 Dodge Viper to add, want to tell us how we did covering the Viper, or want to tell us about yours, please leave a comment below.