Overview
---
All good things come to an end, and Buick decided to go out with a bang for its final Grand National.
---
All good things come to an end, and Buick decided to go out with a bang for its final Grand National. New for 1987 was the GNX produced by McLaren Performance Technologies/ASC. It was created as "the Grand National to end all Grand Nationals." Given a conservative rating of 276hp (most experts agree that number is more like 300hp) and 360 lb-ft of torque, the GNX would be the fastest Grand National ever.
The GNX received a new intercooler, a new Garrett turbo with lightweight ceramic impeller. It also received a revised rear suspension, bigger wheels, a new Stewart-Warner instrument cluster, and some minor trim changes including louvers in the front fenders.
The new car was extremely fast. 4.7 sec 0-60 and 13.5 sec @ 102 mph in the quarter-mile. It was fearful of nothing on the street except the most exotic or heavily modified cars. The entry price for speed was steep with the GNX being almost twice as much as the Grand National. As you'll see in the Kenne Bell brochure, Grand National owners could buy performance additions for less than the GNX and surpass its performance. Sales of the GNX were limited to 547 cars. Production for the Grand National lasted 5 months longer than planned due to increased demand.
The Grand National would not be overshadowed by its faster counterpart. It too received some upgrades and now boasted 245hp and 355 lb-ft of torque. Visually, Buick freshened up the grille and made a few minor changes to the interior.
Production Numbers
---
| | |
| --- | --- |
| Grand National | 20,193 |
| GNX | 547 |
Performance Specs
---
Engine
Size
HP
Torque
0 to 60
Quarter mile
Turbocharged Intercooled
3.8L V6
231ci
235 at 4000 rpm
330 lb-ft at 2400
6.1 sec
13.9 sec at 100 mph
GNX 3.8L V6
231ci
276 at 4000 rpm
360 lb-ft at 3000
5.5 sec
13.4 sec at 103 mph
Transmission
---
Turbo Hydra-Matic 4-Speed Auto
Paint & Colors
---
Exterior
Interior
OEM Brochures
---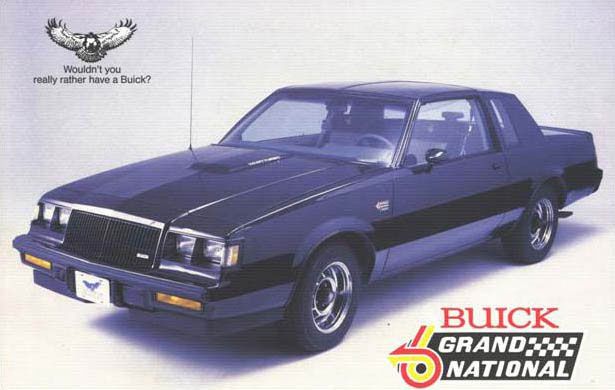 About the Knowledge Base
---
The Motorious Knowledge Base provides a comprehensive vehicle overview for the 1987 Buick Grand National including production numbers, performance specs, factory colors, and OEM brochures. Check out additional model years or related content linked to this article or view other Makes and Models in our Research center.
If you have any interesting facts about the 1987 Buick Grand National to add, want to tell us how we did covering the Grand National, or want to tell us about yours, please leave a comment below.