Overview
---
As Porsche's fastest road car to that point, the RS 2.7 was best described by Britain's Autocar as "sensational – even by Porsche standards."
---

The 1973 model year consisted of the same models as the previous year, but with a new, larger 2341 cc (142 in) engine. This is universally known as the "2.4 L" engine, despite its displacement being closer to 2.3 litres. The 911E and 911S used Bosch mechanical fuel injection (MFI) in all markets. Early in the year the 911T's had that MFI, but in January, 1973, US 911Ts were switched to the new K-Jetronic CIS (Continuous Fuel Injection) system from Bosch.
With the power and torque increases, the 2.4 L cars also got a newer, stronger transmission, identified by its Porsche type number 915. Derived from the transmission in the Porsche 908 race car, the 915 did away with the 901/911 transmission's "dog-leg" style first gear arrangement, opting for a traditional H pattern with first gear up to the left, second gear underneath first, etc.
911S models also gained a discreet spoiler under the front bumper to improve high-speed stability. With the cars weighing only 2315 lb, these are often regarded as the best classic mainstream 911s. For racing at this time, the 911 ST was produced in limited numbers (the production run for the ST only lasted from 1970 to 1971). The cars were available with engines of either 2466 cc or 2492 cc, producing 266 hp at 8000 rpm. Weight was down to 2166 lb. The cars had success at the Daytona 6 Hours, the Sebring 12 Hours, the 1000 km Nürburgring and the Targa Florio.
The 911 Carrera RS was listed in 1973 and these models, valued by collectors, are considered by many to be the greatest classic 911s of all-time. RS stands for Rennsport in German, meaning race sport in English. The Carrera name was reintroduced from the 356 Carrera which had itself been named after Porsche's class victories in the Carrera Panamericana races in Mexico in the 1950s. The RS was built so that Porsche could enter racing formulae that demanded that a certain minimum number of production cars were made. Compared with a standard 911S, the Carrera 2.7 RS had a larger engine (2687 cc) developing 210 hp with Bosch MFI, revised and stiffened suspension, a "ducktail" rear spoiler, larger brakes, wider rear wheels and rear fenders. In RS Touring form it weighed 2370 lb, in Sport Lightweight form it was about 220 lb lighter, the saving coming from the thin-gauge steel used for parts of the body shell and also the use of thinner glass. In total, 1580 were made, comfortably exceeding the 500 that had to be made to qualify for the vital FIA Group 4 class.

In the early 1970s, Porsche took over in sports car racing where Ferrari left off, encouraged by the FIA's shift from exotic sports prototypes to production-based machinery. Accordingly, in 1972, Porsche homologated the 911 for Group 4 competition, taking the 2.4-litre 911S and subjecting it to myriad improvements, creating the RS 2.7 Carrera. As Porsche's fastest road car to that point, the RS 2.7 was best described by Britain's Autocar as "sensational – even by Porsche standards."
The next evolution was the radical RSR Carrera, developed to meet new Group 5 regulations. Using a twin-plug 2.8-litre engine with enhanced fuel injection, revised camshaft timing and higher compression, the RSR Carrera delivered some 300 hp. It also included nine-inch front wheels, 11-inch rear wheels, an integral roll cage, large adjustable ventilated disc brakes and 15-inch light-alloy BBS wheels. A 29-gallon fuel cell, fibreglass body components and a revised suspension completed the package.
Peter Gregg and Hurley Haywood solidified the RSR's reputation, charging to victory in the 24 Hours of Daytona, the first race of the 1973 World Manufacturers Championship. This victory was only the beginning; by season's end, the Carrera RSR had won the European championship for Grand Touring Cars, the Camel GT Challenge Cup (IMSA), the Targa Florio and numerous races in the Trans Am Championship series.
Some of the features of these RSR cars included air-cooled, horizontally opposed, rear-mounted six-cylinder engine with fuel injection, five-speed Type 915/08 manual gearbox in rear transaxle, fully adjustable four-wheel independent suspension with coil-over shock absorbers and adjustable anti-sway bars, and four-wheel hydraulic disc brakes.
Production Numbers
---
| | |
| --- | --- |
| 911S Coupe | 3,160 |
| 911S Targa | 1,894 |
| Homologation | 17 |
| M471 Lightweight | 200 |
| M472 Touring | 1,300 |
| Carrera RSR 2.8 | 57 |
Performance Specs
---
| Engine | Size | Carb. | HP | Torque | 0 to 60 | Quarter mile |
| --- | --- | --- | --- | --- | --- | --- |
| 911T | 2.4L | MFI | 135 hp at 5600 rpm | 140 lb-ft at 4000 | 9.2 sec | 15.5 sec |
| 911E | 2.4L | MFI | 165 hp at 6200 rpm | 147 lb-ft at 4500 | 7.9 sec | 15.2 sec |
| 911S | 2.4L | MFI | 190 hp at 6500 rpm | 154 lb-ft at 5200 | 7.0 sec | 14.9 sec |
| 911 RS | 2.7L | MFI | 210 hp at 6300 rpm | 188 lb-ft at 5100 | 5.8 sec | 14.5 sec |
| 911 RSR | 2.8L | EFI | 308 hp at 8000 rpm | 214 lb-ft at 6300 | - | - |
Transmission
---
5-Speed Manual
Special Order Automatic
Paint & Colors
---
Exterior
Interior
OEM Brochures
---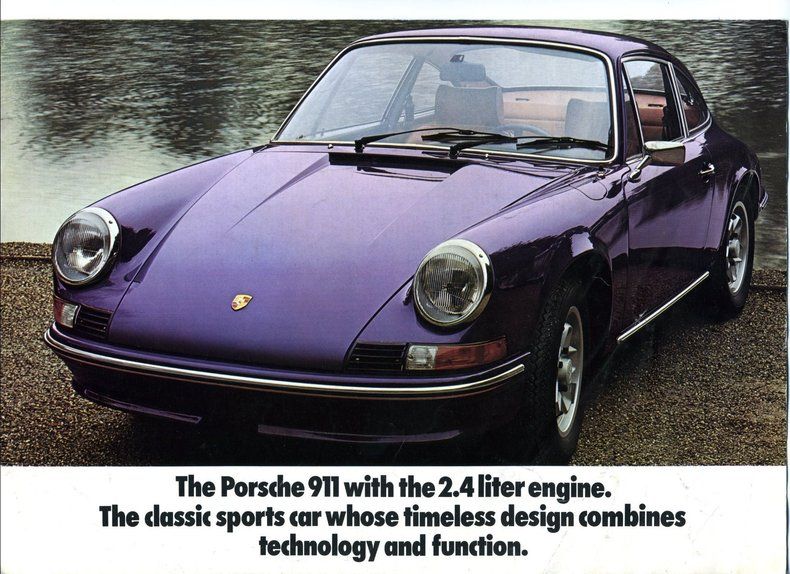 About the Knowledge Base
---
The Motorious Knowledge Base provides a comprehensive vehicle overview for the 1973 Porsche 911 including production numbers, performance specs, factory colors, and OEM brochures. Check out additional model years or related content linked to this article or view other Makes and Models in our Research center.
If you have any interesting facts about the 1973 Porsche 911 to add, want to tell us how we did covering the Porsche 911, or want to tell us about yours, please leave a comment below.