Overview
---
Many changes were made to the '69 Firebird over the last year, even though GM was planning a full restyle in 1970 for the Camaro and Firebird.
---
The risk paid off however, because both cars were still selling relatively well.
The most notable change was the front of the car where the headlights were now separated from the grill, and the use of a new bumper. The broader fenders and wider look gave the car a more muscular look.
The biggest news was the introduction of the performance and appearance package; the Trans Am. They weren't more powerful than the standard Firebirds, but they did have beefed up suspension and tires enabling a better handling car than the Firebirds. The car featured a special hood scoop, deck spoiler, and fender vents.
Production Numbers
---
| | |
| --- | --- |
| 2-Dr Hardtop | 90,152 |
| 2-Dr Convertible | 11,657 |
| 2-Dr Coupe Trans Am | 689 |
| 2-Dr Convertible Trans Am | 8 |
Performance Specs
---
Engine
Size
Carb.
HP
Torque
0 to 60
Quarter mile
I6-Firebird
250ci
1x1bbl
175 hp
240 lb-ft
-
-
I6-Firebird Sprint
250ci
1x4bbl
215 hp
255 lb-ft
-
-
Firebird 350
350ci
1x2bbl
265 hp
355 lb-ft
-
-
Firebird HO
350ci
1x4bbl
325 hp
380 lb-ft
-
-
Firebird 400
400ci
1x4bbl
330 hp
430 lb-ft
-
-
Firebird 400
400ci
1x4bbl
335 hp
430 lb-ft
-
-
Firebird 400
400ci
1x4bbl
345 hp
430 lb-ft
5.6 sec
14.1 sec @ 100.8 mph
Transmission
---
3-Speed Manual
4-Speed Manual
2-Speed Auto (not 400 model)
3-Speed Turbo Hydra-Matic
Paint & Colors
---
Exterior
Interior
OEM Brochures
---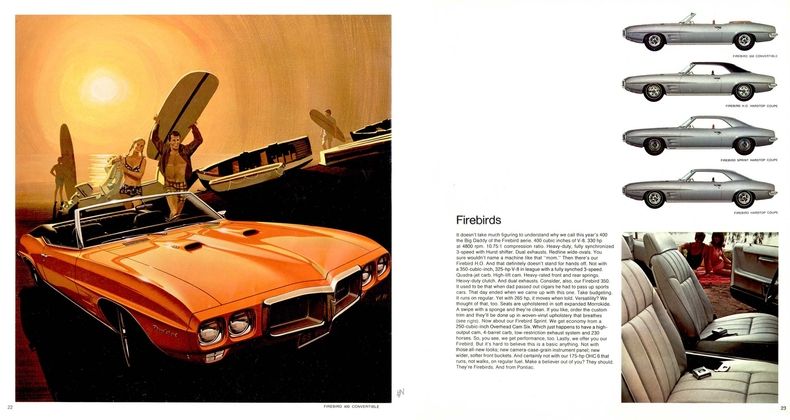 About the Knowledge Base
---
The Motorious Knowledge Base provides a comprehensive vehicle overview for the 1969 Pontiac Firebird including production numbers, performance specs, factory colors, and OEM brochures. Check out additional model years or related content linked to this article or view other Makes and Models in our Research center.
If you have any interesting facts about the 1969 Pontiac Firebird to add, want to tell us how we did covering the Firebird, or want to tell us about yours, please leave a comment below.