Overview
---
Pontiac ushered in a new sports car in 1967-the Firebird.
---
Pontiac ushered in a new sports car in 1967-the Firebird. It shared the same F-body styling and other elements with its General Motors cousin, the Camaro. Much of the sheet metal is shared, but Pontiac made sure to differentiate themselves from family.
The front end was very much still Pontiac with enclosed taillights that very much resembled the GTO. Under the hood was all Pontiac, offering five different engines to throw in the bay of this Pony car.
Pontiac offered many options with the Firebird so that customers could truly own a unique sports car, different from other cars, even Pontiac drivers.
The Firebird would never catch up to the sales and popularity of the first Pony car, the Mustang, but it was still successful, nevertheless.
Production Numbers
---
| | |
| --- | --- |
| 2-Dr Hardtop | 90,152 |
| 2-Dr Convertible | 9,980 |
Performance Specs
---
Engine
Size
Carb.
HP
Torque
0 to 60
Quarter mile
I6-Firebird
230ci
1x1bbl
165 hp
216 lb-ft
-
-
I6-Firebird Sprint
230ci
1x4bbl
215 hp
240 lb-ft
-
-
Firebird 326 V8
326ci
1x2bbl
250 hp
333 lb-ft
-
-
Firebird HO
326ci
1x4bbl
285 hp
359 lb-ft
-
-
Firebird 400
400ci
1x4bbl
325 hp
410 lb-ft
5.8 sec
14.4 sec @ 100 mph
Transmission
---
2-Speed Auto (not 400 model)
4-Speed Manual
3-Speed Turbo Hydra-Matic (400 only)
3-Speed Manual
Paint & Colors
---
Exterior
Mariner Turquoise Metallic
Interior
OEM Brochures
---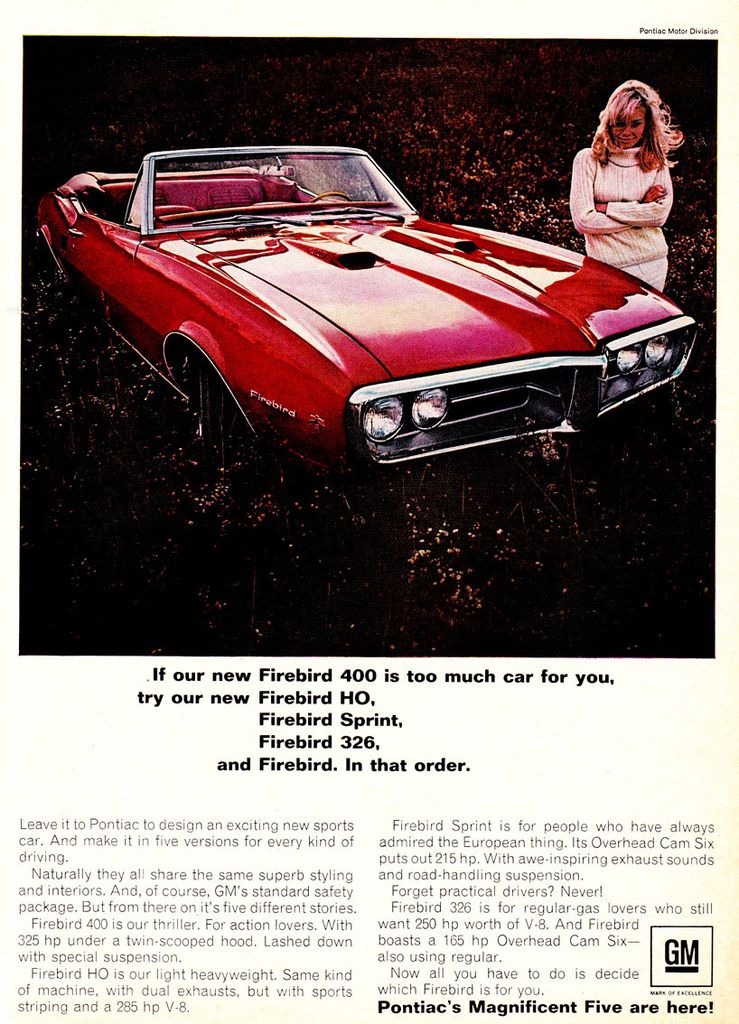 About the Knowledge Base
---
The Motorious Knowledge Base provides a comprehensive vehicle overview for the 1967 Pontiac Firebird including production numbers, performance specs, factory colors, and OEM brochures. Check out additional model years or related content linked to this article or view other Makes and Models in our Research center.
If you have any interesting facts about the 1967 Pontiac Firebird to add, want to tell us how we did covering the Firebird, or want to tell us about yours, please leave a comment below.