Overview
---
The 1962 Skylark became a model in its own right, instead of being a sub-series of the Special.
---
The 1962 Skylark became a model in its own right, instead of being a sub-series of the Special. The 1962 model used the same basic sheet metal as the 1961 models, but was available in two new body styles: a two-door convertible coupe (shared with the Special and Special Deluxe models) and a two-door (pillarless) hardtop that was unique to the Skylark. The 215 cubic-inch V8 saw a compression ratio increase to 11.0:1 and increased power to 190 hp (140 kW) at 4800 rpm.
The prototype for the 1962, which only two were made each with their own body type. One being a Convertible, and the other being a hard top. The Prototypes came directly from Buick Engineering, both had been gifted by the engineers 2 4-barrel carburetors. Thus increasing the two prototype cars by a little more than 80 hp. A unique feature of the prototypes were that they had features from the '61, '62, and the '63. Some features like the 2 4-barrel carburetors were left out of the production line Skylarks. The prototype cars also were two inches longer, and wider than the production line models. Of the two prototypes, only one is known to still be in existence, which is the hard top version of the prototype which resides with its owner in Michigan. When the owner of the hard top model had gotten his prototype from Engineering they were planning on crushing one and possibly put the other one in a museum. It is not known what museum the convertible Prototype is in if it even still exists. It is possible the prototype sill exists in the Sloan Museum.
Production Numbers
---
| | |
| --- | --- |
| Skylark Hardtop Coupe | 34,060 |
| Skylark Convertible CPE | 8,913 |
Performance Specs
---
| Engine | Size | Carb. | HP | 0 to 60 | Quarter mile |
| --- | --- | --- | --- | --- | --- |
| V8 | 215ci | 1x4bbl | 190 | 9.0 sec | 17 sec |
Transmission
---
3-Speed Auto
4-speed
3-speed
Paint & Colors
---
Exterior
Interior
OEM Brochures
---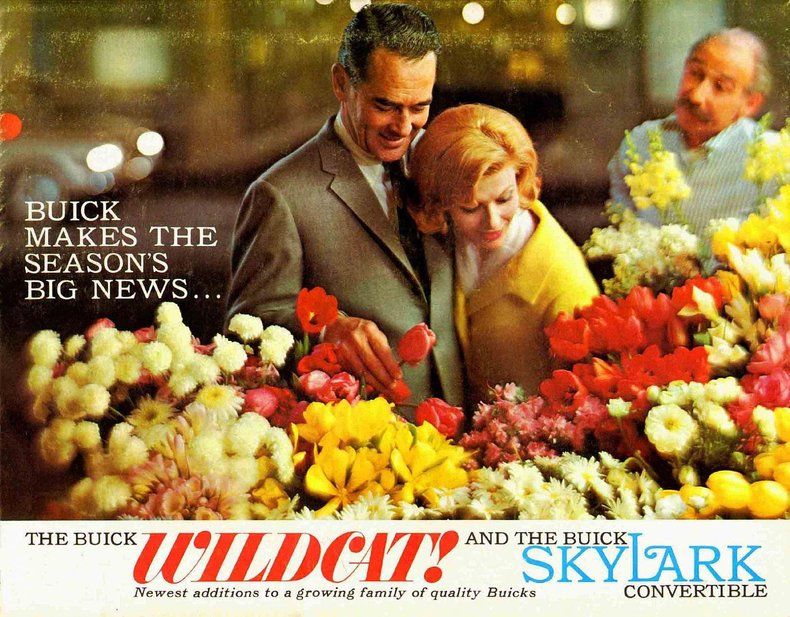 About the Knowledge Base
---
The Motorious Knowledge Base provides a comprehensive vehicle overview for the 1962 Buick Skylark including production numbers, performance specs, factory colors, and OEM brochures. Check out additional model years or related content linked to this article or view other Makes and Models in our Research center.
If you have any interesting facts about the 1962 Buick Skylark to add, want to tell us how we did covering the Skylark, or want to tell us about yours, please leave a comment below.