Overview
---
Chevrolet decided to produce a two-seater sports car to meet a small, but very demanding interest.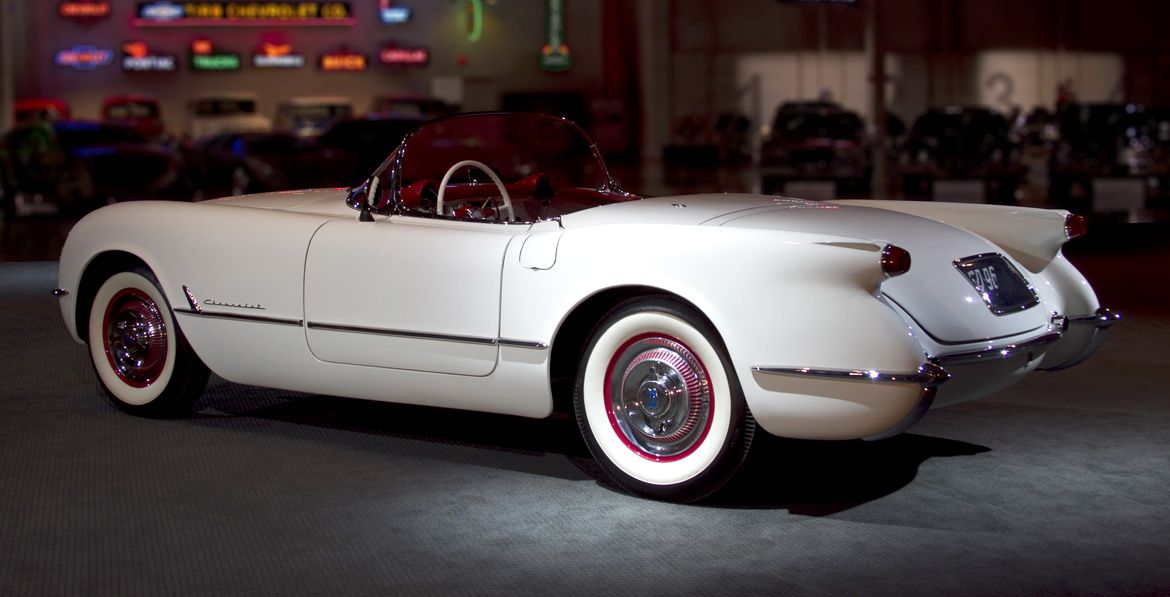 ---
Chevrolet decided to produce a two-seater sports car to meet a small, but very demanding interest. Sporting legendary GM Styling Chief Harley Earl's design, the first Corvette drove away from the assembly line on June 30, 1953, only six months after the debut of the concept car at the GM Motorama. It was only available in Polo White with red interior and the exterior was constructed out of fiberglass, rather than the traditional steel. Only two options were available, AM radio and heat. It offered excellent handling and exceptional looks.
The Vette basically had the suspension from the '52 sedan, a hopped up 150 hp 235ci inline 6 (Blue Flame), a two-speed auto Powerglide transmission to handle the "massive power", and of course the modern fiberglass body.
Contrary to the popular belief that fiberglass is fragile and dangerous in accidents, GM stuck with the material after rolling over the test Vette that survived with little damage.
At nearly $3500, it cost more than a Cadillac or Jaguar, and underperformed them. It was aimed to cost the same as an American sedan, but failed miserably.
Production Numbers
---
| | |
| --- | --- |
| Convertible | 300 |
Performance Specs
---
| Engine | Size | Carb. | HP | Torque | 0 to 60 | Quarter mile |
| --- | --- | --- | --- | --- | --- | --- |
| I6 | 235ci | 1x3bbl | 150hp | - | 11.0 sec | 17.0 sec @ 76 mph |
Transmission
---
2-Speed Powerglide Automatic
Paint & Colors
---
Exterior
Interior
OEM Brochures
---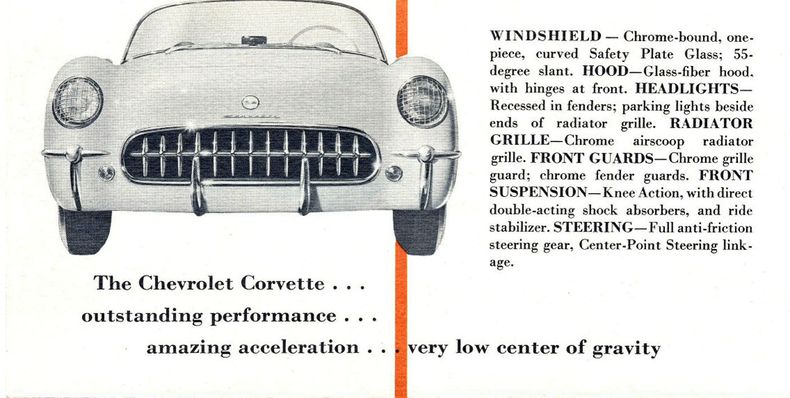 About the Knowledge Base
---
The Motorious Knowledge Base provides a comprehensive vehicle overview for the 1953 Chevrolet Corvette including production numbers, performance specs, factory colors, and OEM brochures. Check out additional model years or related content linked to this article or view other Makes and Models in our Research center.
If you have any interesting facts about the 1953 Chevrolet Corvette to add, want to tell us how we did covering the Corvette, or want to tell us about yours, please leave a comment below.