Overview
---
The Buick Roadmaster Skylark was introduced to commemorate Buick's 50th anniversary.
---
The Buick Roadmaster Skylark was introduced to commemorate Buick's 50th anniversary. It was released as one of three specialty convertibles produced by GM. All three were limited-production promoting GM's design leadership. Of the three, the Skylark was the most popular with a production of 1,690 units.
All Skylarks built in '53 and '54 were convertibles. The cars came well equipped as they were based on the Roadmaster (an already well-equipped vehicle) but A/C was not available as all the cars were convertibles.
The car featured a V8 engine and 12-volt electrical system - two 'firsts' for Buick. The top and seating of the car were lowered a few inches below the Roadmaster and Super convertibles. This was achieved by cutting the windshield almost three inches shorter and lowering the side windows and convertible top frame. To prevent operators from bumping their heads, seats and steering columns were lowered to accommodate.
Buick's definition of the car: "The namesake of a special, limited production sport convertible built as part of the division's Golden Anniversary celebration."
Production Numbers
---
| | |
| --- | --- |
| Skylark | 1,690 |
Performance Specs
---
| Engine | Size | Carb. | HP | Torque | 0 to 60 | Quarter mile |
| --- | --- | --- | --- | --- | --- | --- |
| Nailhead V8 | 322ci | 1x4bbl | 188 | 300 lb-ft | 13.4sec | 19.3sec |
Transmission
---
Paint & Colors
---
Exterior
Interior
OEM Brochures
---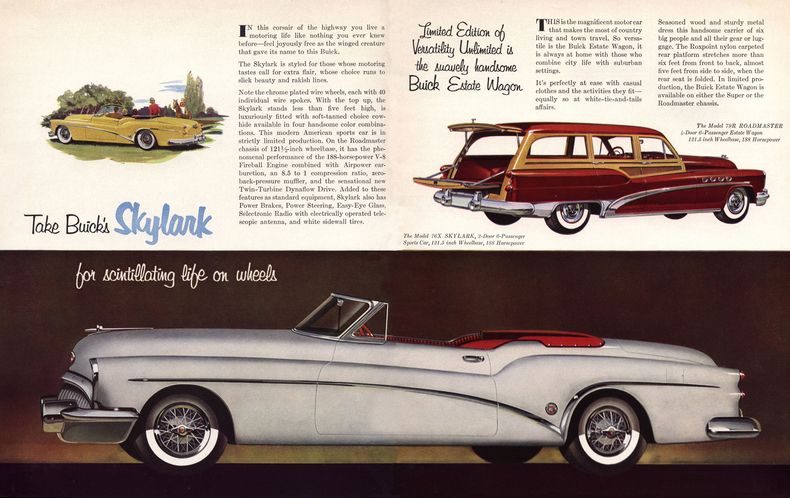 About the Knowledge Base
---
The Motorious Knowledge Base provides a comprehensive vehicle overview for the 1953 Buick Skylark including production numbers, performance specs, factory colors, and OEM brochures. Check out additional model years or related content linked to this article or view other Makes and Models in our Research center.
If you have any interesting facts about the 1953 Buick Skylark to add, want to tell us how we did covering the Skylark, or want to tell us about yours, please leave a comment below.