Let's see how fast your car needs to be in order to outrun a cop.
---
The cops have been rolling around in some pretty cool cars since the late 1960s. Over time, police cruisers got faster though the civilian models were almost always quicker because of budgetary constraints. Two particular models have been brought to the spotlight for the authority service car industry. While one of these cars, the Charger, has been tested at tracks across the country with exciting results. Ford's Explorer is the second vehicle, and because it's an SUV, the performance attributes are typically overlooked. So what happens when you put a police-issued Ford Explorer up against one of America's best sports cars? How fast does your car have to be to outrun the cops?
Watch the latest Motorious Podcast here.
One particular officer is determined to find out exactly how fast his service vehicle truly is, and there is no place better to do so than a drag strip. As the Ford explorer creeps up to the line, we get to see precisely what he's going against, which is hilarious. This cop had the ambitious goal of taking on a C7 Corvette Z06 in a head-to-head race, which yielded incredible results. While it's clear that the 'Vette will take home the win, the cop car still boasts either a 3.3-liter V6 or a 3.0-liter Ecoboost. While it's difficult to find information on these particular vehicles, we know that the Ecoboost has an output of 400 horsepower and the V6 sports around 300 horsepower.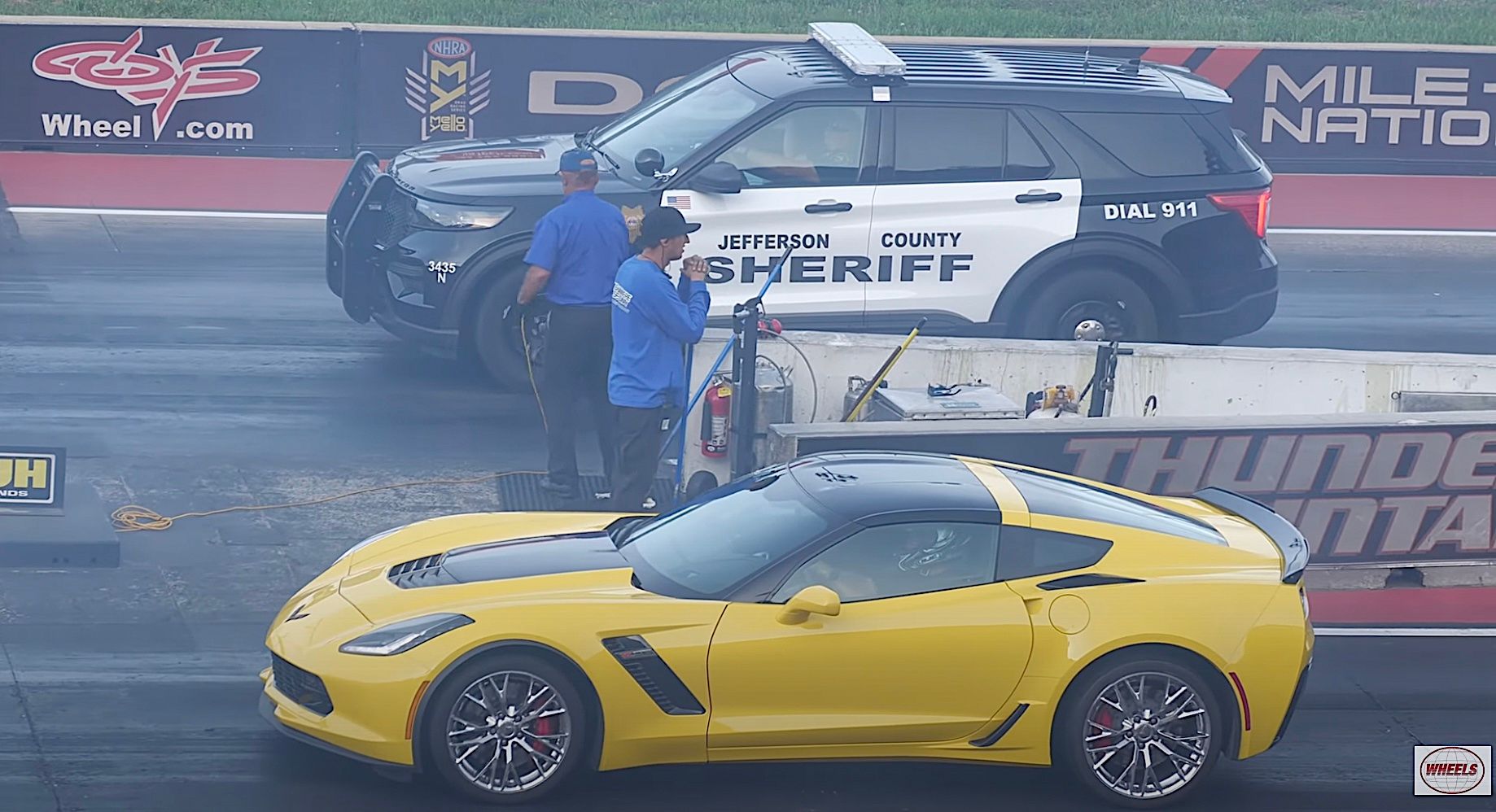 As the light flashes from yellow to green, the Corvette takes off in a wild display of GM performance and modern engine and drivetrain design. Surprisingly, the Ford Explorer was able to keep up at the very start of the race, likely due to the AWD system. However, the American sports car completed the quarter-mile in just 11.55 seconds, with the Explorer finishing it in 15.78 seconds. That makes the Explorer about two seconds slower than the police Charger and a serious contender for most road cars.