The newest bridge in the City of Angels has become a criminals' playground…
---
Video taken by YouTuber German in Venice shows a big takeover of the 6th Street Viaduct in downtown Los Angeles, complete with a Hellcat crash. We'd call this just another night in the City of Angels where criminals face few if any consequences for their actions, but many in the media are doing their best to feign shock while acting like this is some unusual occurrence.
Watch the latest Motorious Podcast here.
According to German in Venice, nobody was hurt in the Hellcat crash. He called that "a good thing." While we certainly don't wish harm on people, at the same time some consequences for their actions might be exactly what these takeover participants need.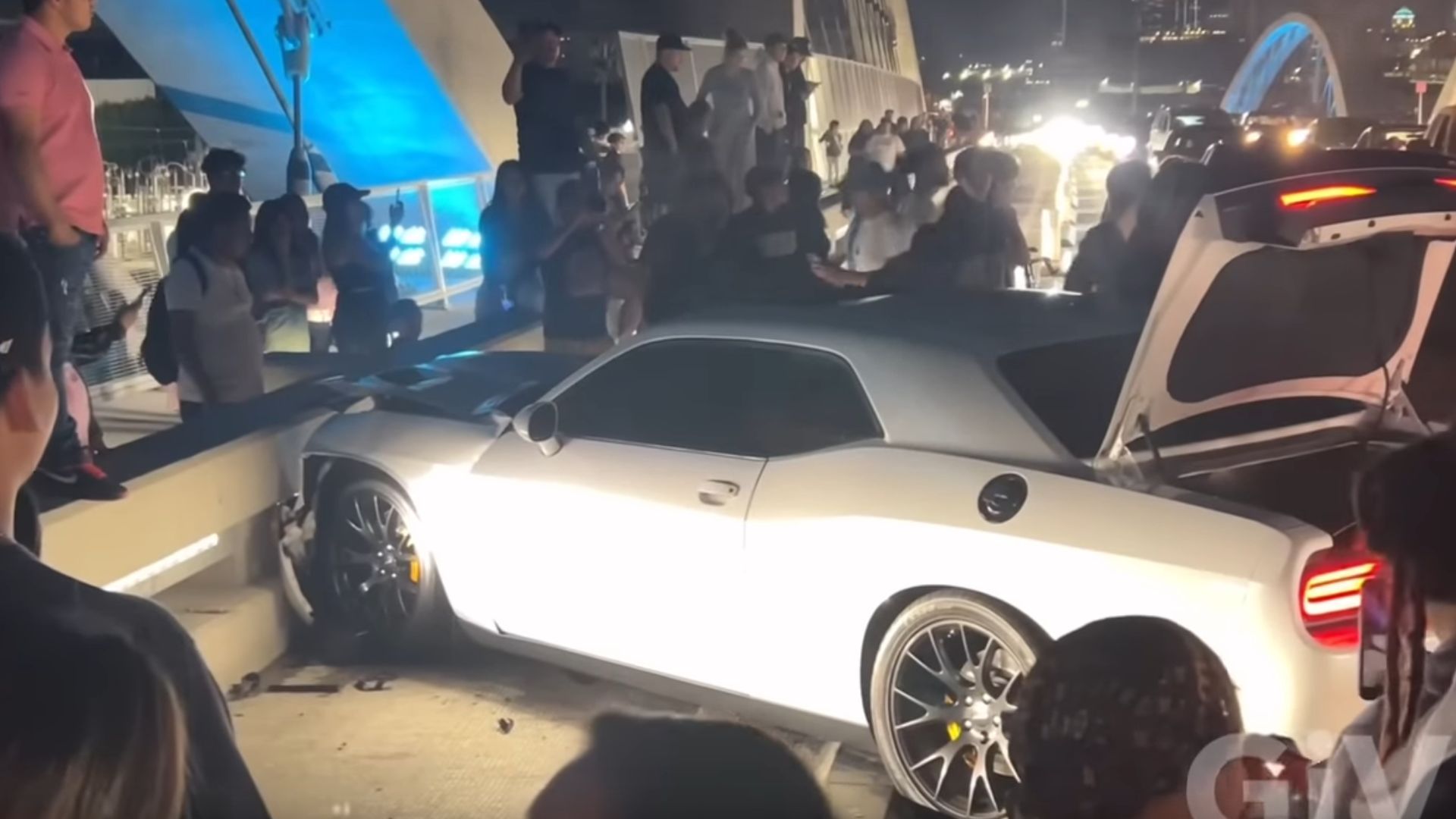 A crowd gathered in the middle of the bridge in advance of the takeover event. We wouldn't be surprised to learn everything was organized on Facebook or some other social media platform. While there was plenty of warmup with burnouts, wheelies, and other "stunting" the real takeover kicked off with two Infinitis trying to do donuts.
Traffic was still somewhat flowing when the Mopar muscle cars showed up to really roast some rubber. One of those, a Challenger Hellcat, swerved into oncoming traffic while doing a burnout. Just because you have power doesn't mean you also bought skill. Also, this is why burnouts, donuts, and racing should be kept on closed tracks.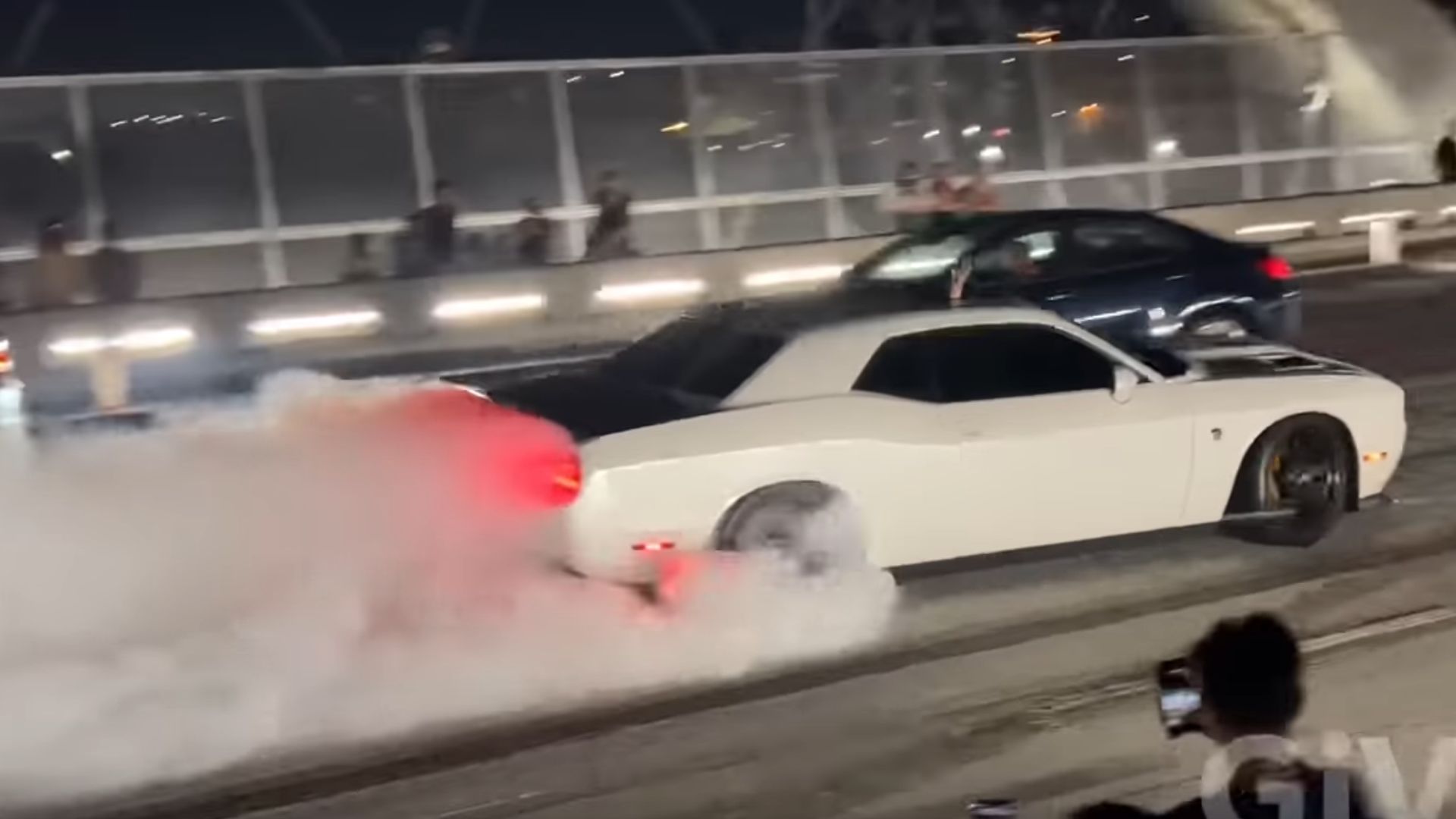 The crowd can be heard laughing and whooping it up over the Hellcat crash. These people obviously showed up to watch some mayhem and they got just that. Had police been more present as things escalated on the bridge, the accident might not have ever happened.
As German in Venice notes, the Hellcat driver took off after the accident, before first responders showed up. Given that the Mopar has no license plate, we're going to go out on a limb and guess it's probably stolen. That's common in these street takeover events. When the tire smoke settled, three cars were involved in the crash.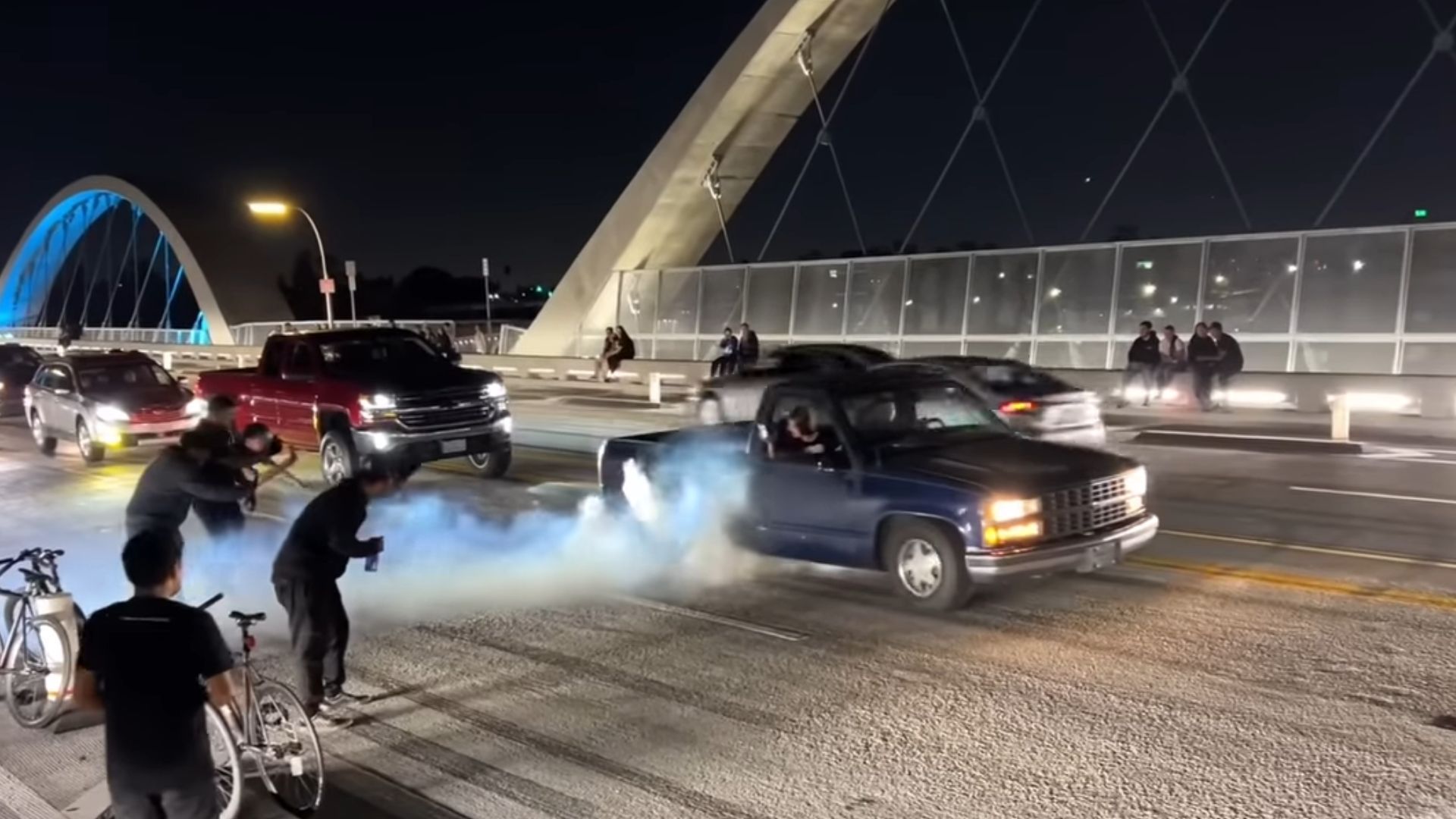 With street takeovers and exhibitionist driving being common on the new bridge, it sounds like shutting it down has become a standard practice for LA authorities. German in Venice noted it was shut down the previous Friday and Saturday nights as well as after the Hellcat crash. Thanks to lawlessness, citizens can't use a new bridge because the authorities can't stop criminals from taking it over.
We've been covering the street takeover phenomena for a while, detailing its origins in California and cancer-like spread across the nation. Apparently many in the automotive media has blown off this coverage in favor of slobbering over the latest four-cylinder crossover launch or something. While these stories might seem simply sensation to some, we believe this trend of lawlessness which includes not only street takeovers but also car theft and vandalism is only increasing.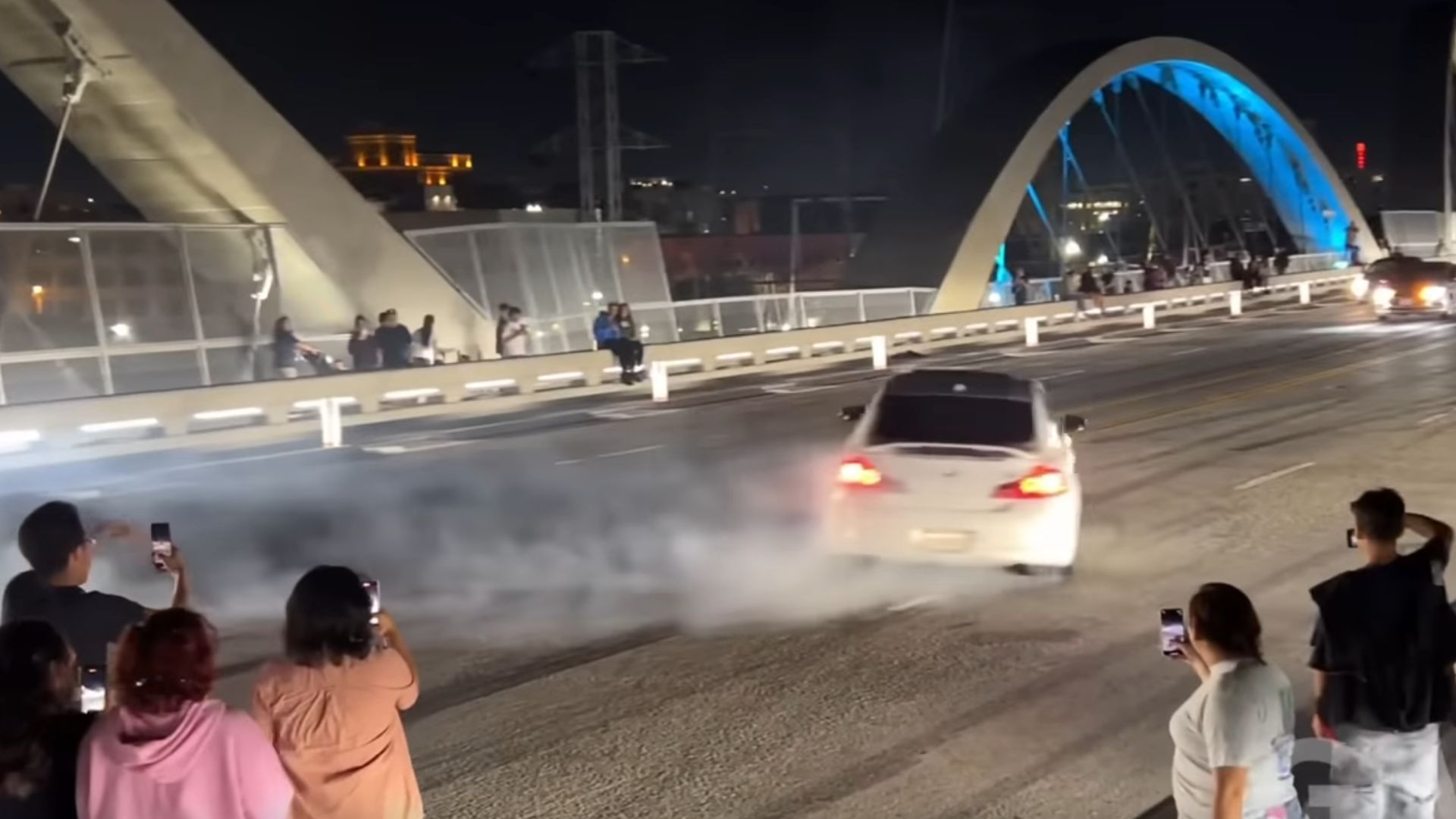 This is a symptom of a societal problem, not just a little automotive news tidbit. When you need to get somewhere with your sick kid late and night and a takeover is blocking the way, you suddenly care. As these grow in popularity, they will affect even more people and their ability to freely move through city streets safely. In other words, what's happening in LA could very well come to your city, if it hasn't already.
The street takeover wasn't the only flagrant flouting of the law going on with the new bridge. German in Venice showed how individuals were standing in the painted median taking video of the traffic, likely for their social media influencer gig. Others turned the right lane into a parking lane so they could take photos, hang out, and in general demonstrate how powerless police in Los Angeles are these days. Eventually the cops did show up for a bit, but even though they handed out citations it wouldn't be a surprise if many of those were thrown out by the prosecutor's office.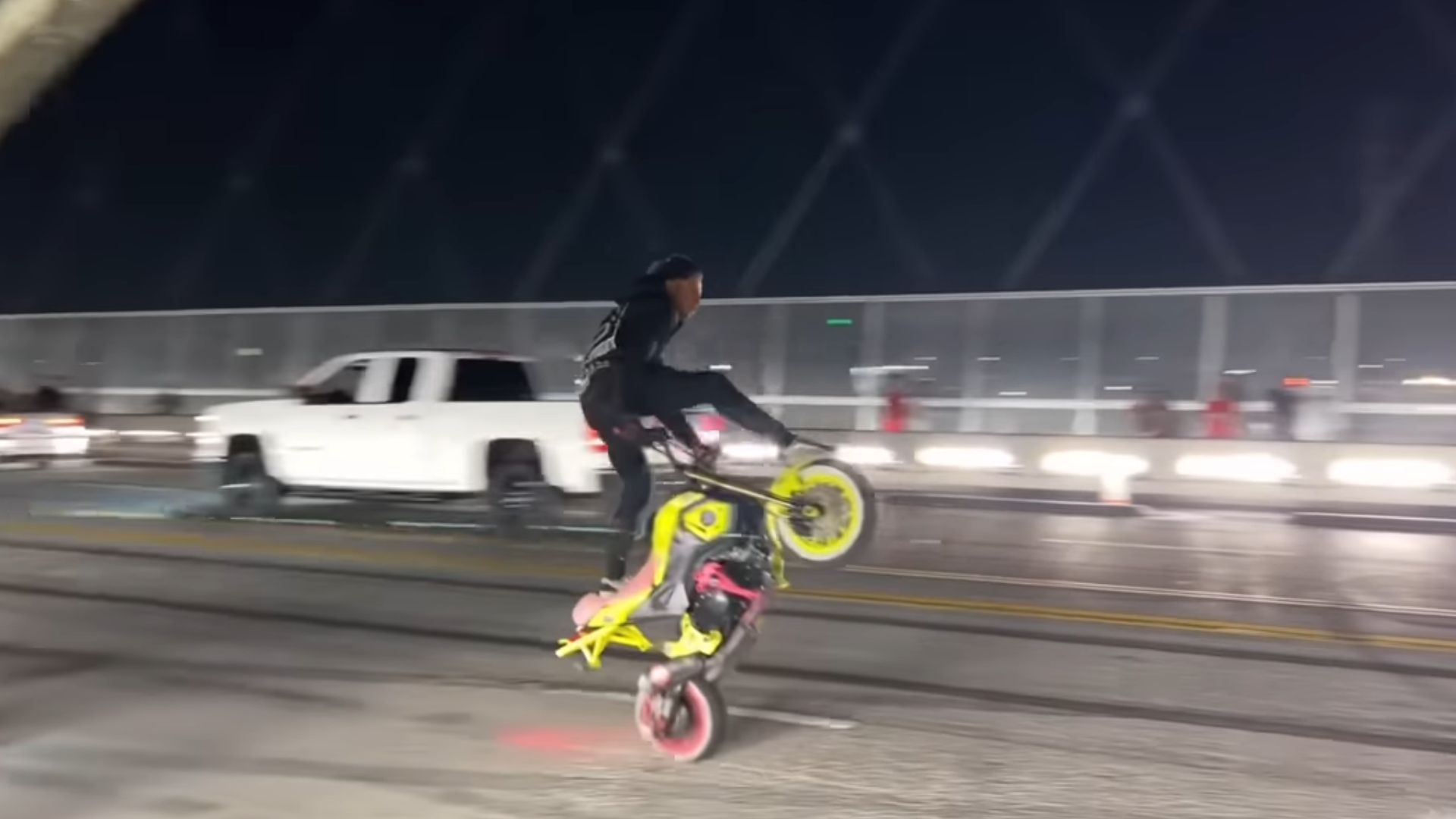 If you want to skip to the street takeover part of the video, start at 14:27. Before that you see some people ripping burnouts, popping wheelies, and holding up traffic, but things really get wild later on.
Images via YouTube