There's nothing like some last-minute panicking about a build.
---
The monumental effort poured into the SEMA Show in Las Vegas every year is huge and often filled with panic, as demonstrated in this story of building a Dodge Challenger for the event. GlassParency is a participant each year and Nick Doran tells of the travails of displaying his dream Dodge Challenger for the 2019 show.
When the company very first participated in the show a few years ago it ran into the first problem in a big way. The night before the show was to start, a crane crushed the GlassParency booth in a freak accident. That's enough to make anyone fear the worst, but Doran said the SEMA staff seemed to have everything under control, so they left, fully expecting everything to be fine the next morning, which it was. But that wasn't anything compared to when the company decided to prep Doran's Dodge Challenger for display at the show.
As is the case with most vehicles you see at SEMA, several companies got together to build this crazy Mopar. It was getting a vibrant orange wrap, body kit, exhaust, lights, and more. As the car was passed from one shop to another, a few things were left undone, thanks to miscommunication. Doran found this out as he was driving it the day before it was to be shipped to Vegas and parts were literally falling off.
That also meant shipping parts for the muscle car on a tight schedule so it would be complete by about the middle of October. A mix-up by one shipper meant the exhaust system ended up in California instead of New York.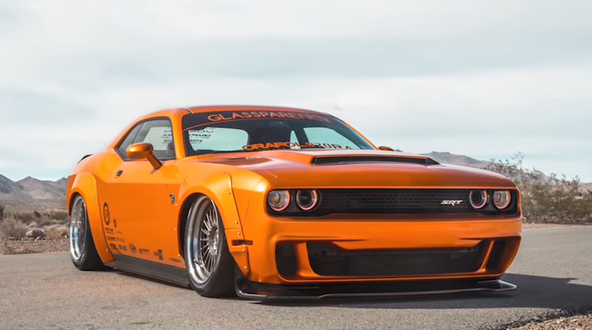 It turned out the partner company drove the exhaust system from Los Angeles to Las Vegas, which isn't too horribly far, and bolted it up to the Challenger on the SEMA floor before the show began. This kind of thing is more common than you might suspect as companies scramble to get finishing touches done in time. The SEMA Show is crazy to attend and even crazier to display at.
Photos source: YouTube