It's been sitting for a while…
---
Originally built to compete with the Chevrolet Corvette, we don't often get a chance to talk about the Ford Thunderbird. A lot of that is because the vehicle is not currently in production but the main thing is how unique they are. This makes them very hard to find in good condition as many of the road going models had trouble surviving the life of a sports car further dwindling their numbers. So it seems only fitting that one of the nicest looking examples we've seen recently is making its first appearance outside of a barn for the first time in years.
Watch the latest Motorious Podcast here.
According to the current owner, this vehicle has been in the same spot  for around 14 years now which isn't the longest we've seen a vehicle like this suffer the crippling effect of time. This means that vehicle is likely in pretty good condition with some leeway given because of its older status. Clearly, the late 1950s were a great time for automakers like Ford which is shown with the exterior styling along with the original Sage Green paint job whose beauty still shines through the years of rust. If you're worried about the floor pans being rusty however, then you need not fear as those have already been cut to  avoid the serious issues that come with a compromised floor.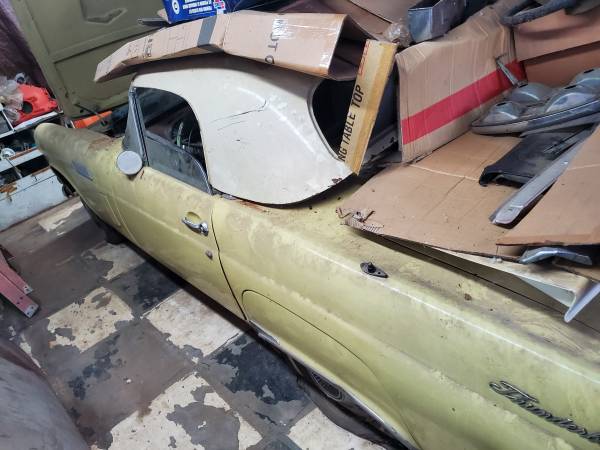 Possibly the best part of the whole vehicle is sitting under the hood with a couple of bright red valve covers making its presence known. This V8 engine would have been a mighty opponent on the streets of the United States, especially when you consider the Corvette's powertrain options at the time. It accomplished this through the use of 292 cubic inches of displacement adding up to a whopping horsepower figure before spinning the wheels through an automatic transmission. All of this adds up to a car that, when restored, will be a very valuable vintage vehicle that provides the driver with a tasteful and fun driving experience. If that sounds like you, then you should consider this incredible T-Bird for your next automotive purchase.