Look at the Prancing Pony go!
---
There's little doubt the Ferrari SF90 Stradale is a hardcore performance machine as the most powerful production vehicle Maranello has ever made. Proving it's more than just brawn, it set a production car lap record at Indianapolis Motor Speedway last summer, lapping the 2.439-mile road course in a mere 1:29.625 seconds.
Check out the wild Harley 9-wheel rig here.
Another milestone for Ferrari, the SF90 Stradale is the first series-production plug-in hybrid electric vehicle, proving yet again that hybrids can indeed provide thrilling performance. Of course, the twin-turbo 4.0-liter V8 combined with three electric motors is quite potent, whipping out 986-horsepower and still producing a heart-pounding exhaust note. Among the impressive equipment is an electric front axle with torque vectoring.
The Assetto Fiorano version pushes the performance envelope further. Among the improvements is the shedding of 40 kg of weight (about 88 lbs.), a re-engineered suspension, increased aerodynamic downforce through parts like the enlarged carbon-fiber rear spoiler with a shut-off Gurney to minimize drag when needed. As a true track weapon, it comes armed with louvres in the rear screen, allowing the powertrain to release heat faster, perfect for pushing hard lap after lap. Maintaining contact with the track surface are Michelin Pilot Sport Cup 2 tires, which are softer and have a smoother tread pattern for optimal handling in dry conditions.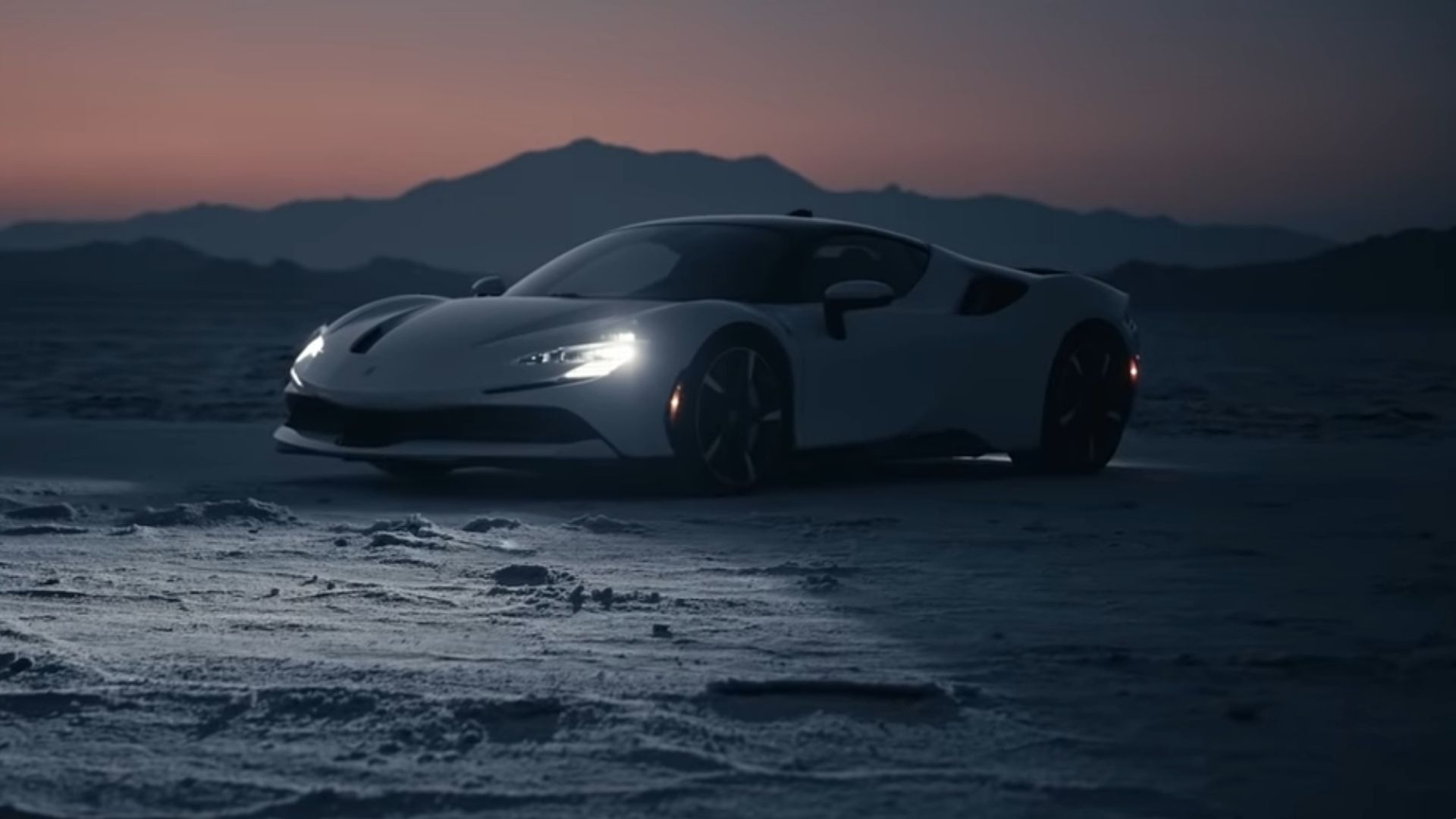 Since good looks are always a factor for anything rolling out of Maranello, the Assetto Fiorano package can include a two-tone exterior inspired by motorsports liveries. Ferrari is so confident, it used the name of its legendary test track in Maranello for the Asseto Fiorano.
To help showcase the beauty and capabilities of the SF90 Stradale Assetto Fiorano, Ferrari took the plug-in hybrid to the Bonneville Salt Flats for some free-range playtime. What better place to show a work of art off like this than the flat, picturesque landscape in southwestern Utah, a place which seems almost like a scene out of a science fiction movie. It's also where countless speed records have been set and broken. Plus, the sight of the Italian beauty on the white stuff with the distant mountains behind it is certainly captivating.
Check out the short video Ferrari recently put out.