Before Le Mans, there was Daytona.
---
The Ford GT40 became a global racing icon thanks to victories at Le Mans starting in 1966, but before that fateful win at Le Mans that was captured with Ford v Ferrari, the GT40 scored Ford its first 24-hour endurance racing win at the 1966 24 Hours of Daytona. Ford is celebrating this key Daytona victory with the all-new 2021 Ford GT Heritage Edition.
Ken Miles and Lloyd Ruby drove the no. 98 GT40 to a win at Daytona ahead of two other Ford GT40s. In fact, this car finished first, second, third and fifth at the Daytona race before showing similar domination at Le Mans and Sebring later in 1966. Mimicking the look of the car that won Daytona, this new Heritage Edition features red and black graphics over a Frozen White exterior paint job with gold 20-inch wheels and a no. 98 displayed on each door roundel.
To add a modern styling element, there is plenty of exposed carbon fiber on this car, while the interior gets a very retro look with a mix of black and red Alcantara in the cabin. If this look isn't special enough, there's an optional Heritage Upgrade Package that adds exposed carbon fiber wheels with red accents, white brake calipers and no. 98 ghosted onto the cabin's exposed carbon fiber door panels.
Past Heritage Edition models include the 1966 Le Mans-winning black no. 2 in 2017, which Brad Keselowski is selling one of, a red no. 1 livery in 2018 and a Gulf Racing livery no. 9 and no. 6 in 2020.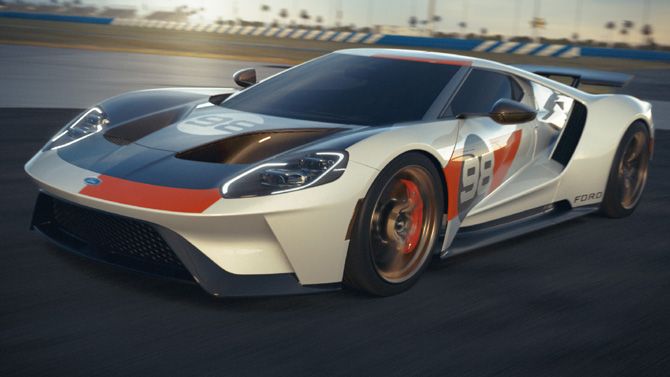 Production of this Ford GT concludes after the 2022 model year, so expect this incredible American supercar to get even more special edition models during its finale year.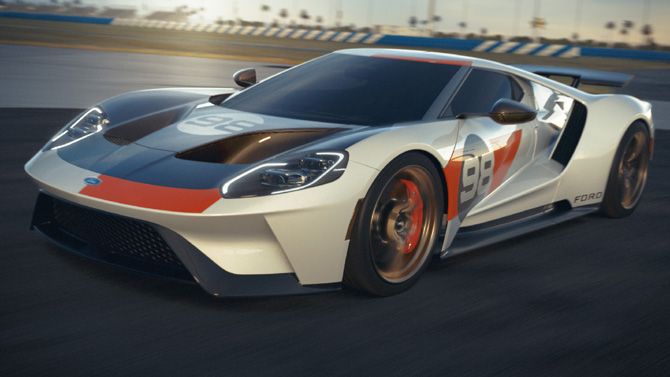 Source: Ford