Is this a world record?
---
While it doesn't seem like the Corvette was really made with the drag strip in mind, because of the suspension design and mid-engine platform, it shouldn't surprise you that these cars are fast. When I say fast, I mean really fast because even the base-model corvettes have gained a reputation for busting a lot of other American performance cars out there. However, no one could have predicted that we would soon be seeing a C8 running sub 9-second quarter-mile times at the local drag strip, as opposed to racing on a road-track. Well that's exactly what happened with this particular car and you'll find out soon enough how it did so.
This incredible racing vehicle is a legendary automobile that deserves some very high praise as it has been built in one of the most difficult ways possible to deliver maximum performance. What we mean is that the factory ECM is very difficult to work with and car companies have been trying to get people to stop modifying their cars' performance for a while now. Basically,  if you  can build your own supercar why would you buy the next one that they build? So in order to make this incredible Corvette, the folks over at LMR got to work building around those limitations.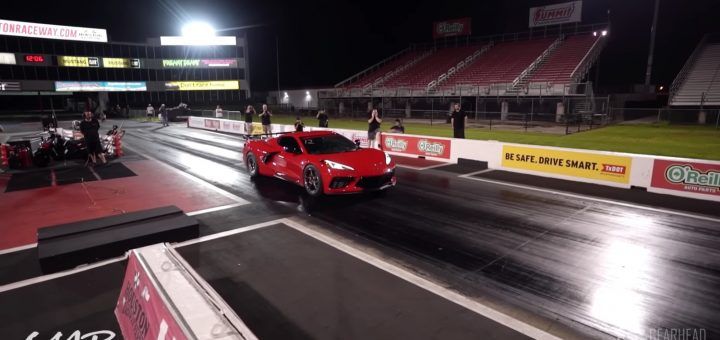 Once the team had devised their plan, it was time to get to work building one of the fastest C8 Corvettes on the planet. The build wasn't too over complicated with the main piece being the twin-turbocharging system which builds performance up to 1,500 horsepower. At the drag strip, this translates to a whopping 8.83 second quarter mile time which is just absolutely ridiculous. On top of that, it got to around 160 mph by the time it reached that pivotal moment which is something that puts it far beyond the world record for the fastest C8 on a drag strip. Nowadays a new record has been set for the world's fastest C8 Corvette, 8.83 seconds on the quarter-mile at 160 mph.