It can be yours!
---
Ah, the '73 Ford Bronco—a relic of Americana that many car enthusiasts adore. But this isn't just any old Ford Bronco. This is a 1973 Ford Bronco "Coyote" Restomod, a masterpiece of automotive reconstruction that somehow feels nostalgic and groundbreaking at the same time.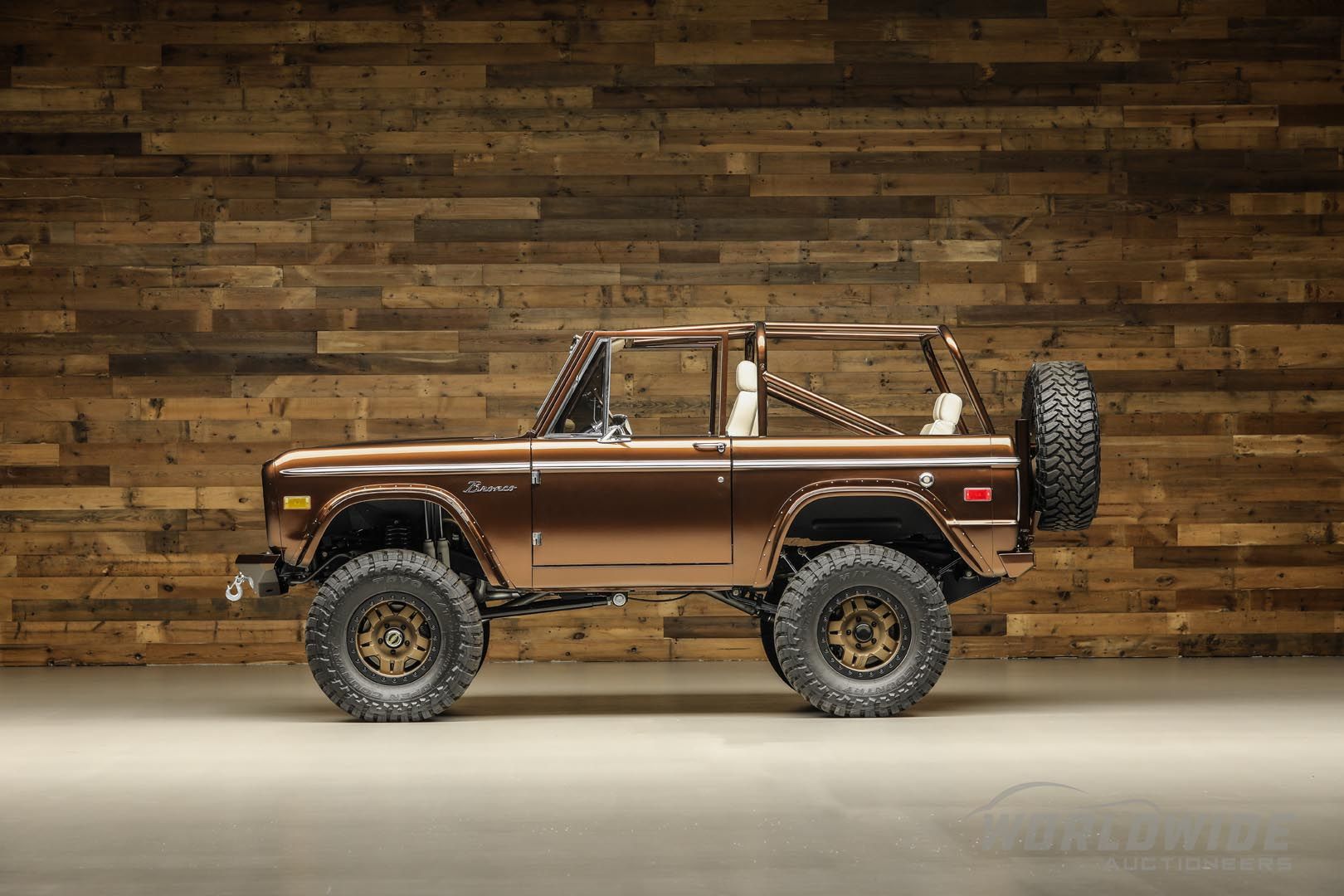 Let's get straight to the heart of the matter: the engine. This Bronco is propelled by a Ford Performance 5.0L Gen 3 Coyote engine. Yep, the same type of engine that usually purrs under the hood of a high-performance Ford Mustang. Bolted onto this Bronco, it gives this old war horse an entirely new lease on life. Forget the grumbling, chugging engine of yore; this thing roars like it's got something to prove.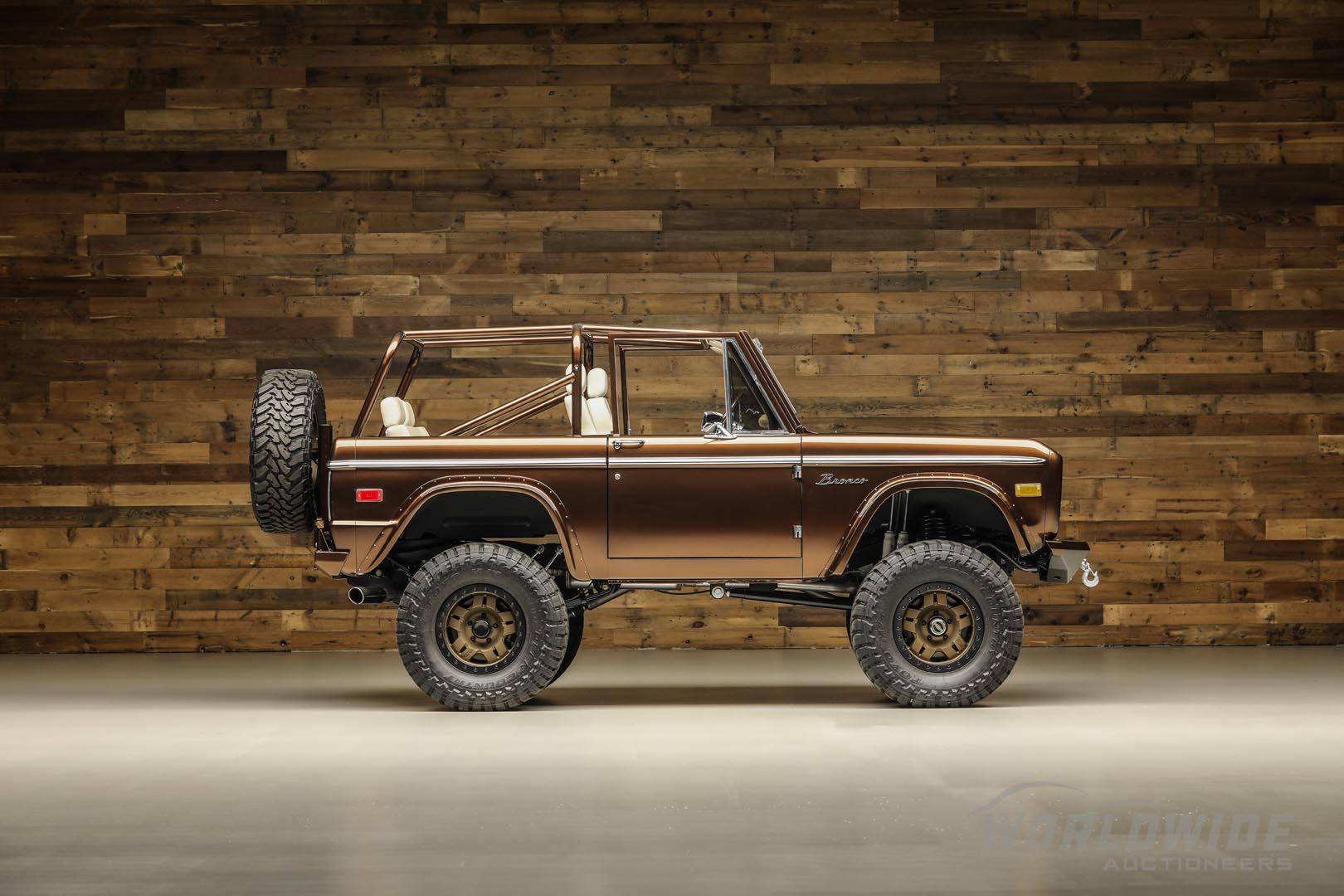 As for the build, words like "meticulous" or "thorough" don't even start to cut it. This is a nut-and-bolt rotisserie creation, which is basically the car world's equivalent of hand-crafting a Stradivarius. The aesthetics are just as captivating, decked out in a lustrous coat of Cacao Pearl that would put a Hershey's bar to shame.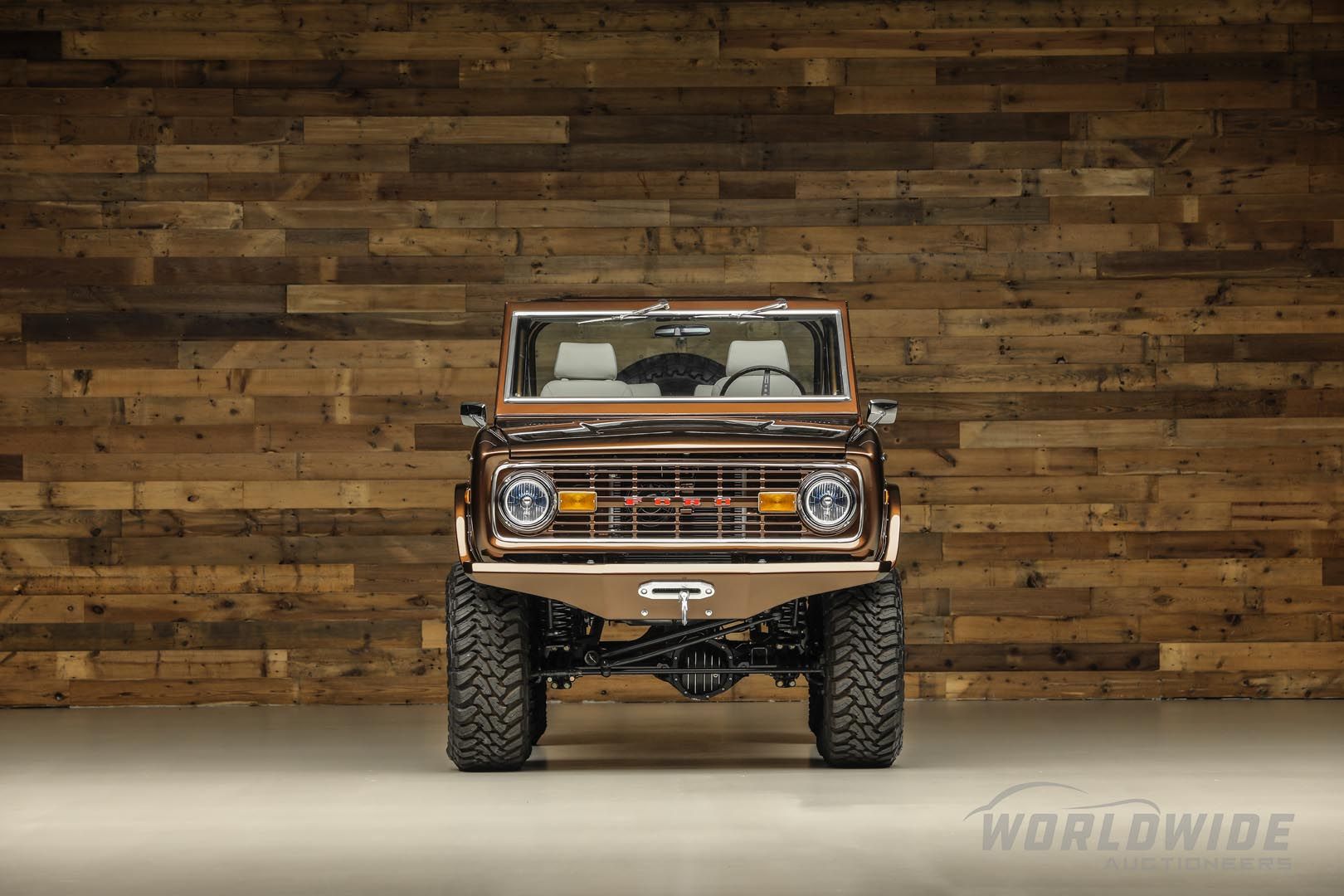 Ever wanted to dominate not just the road but the air above it? This Bronco's 5.5-inch James Duff lift coupled with its meaty off-road tires will make you feel like the king of all you survey. And as you sit up there, ensconced in custom leather bucket seats as plush as any high-end sports car, you'll barely remember that Broncos were once utility vehicles, not luxury liners.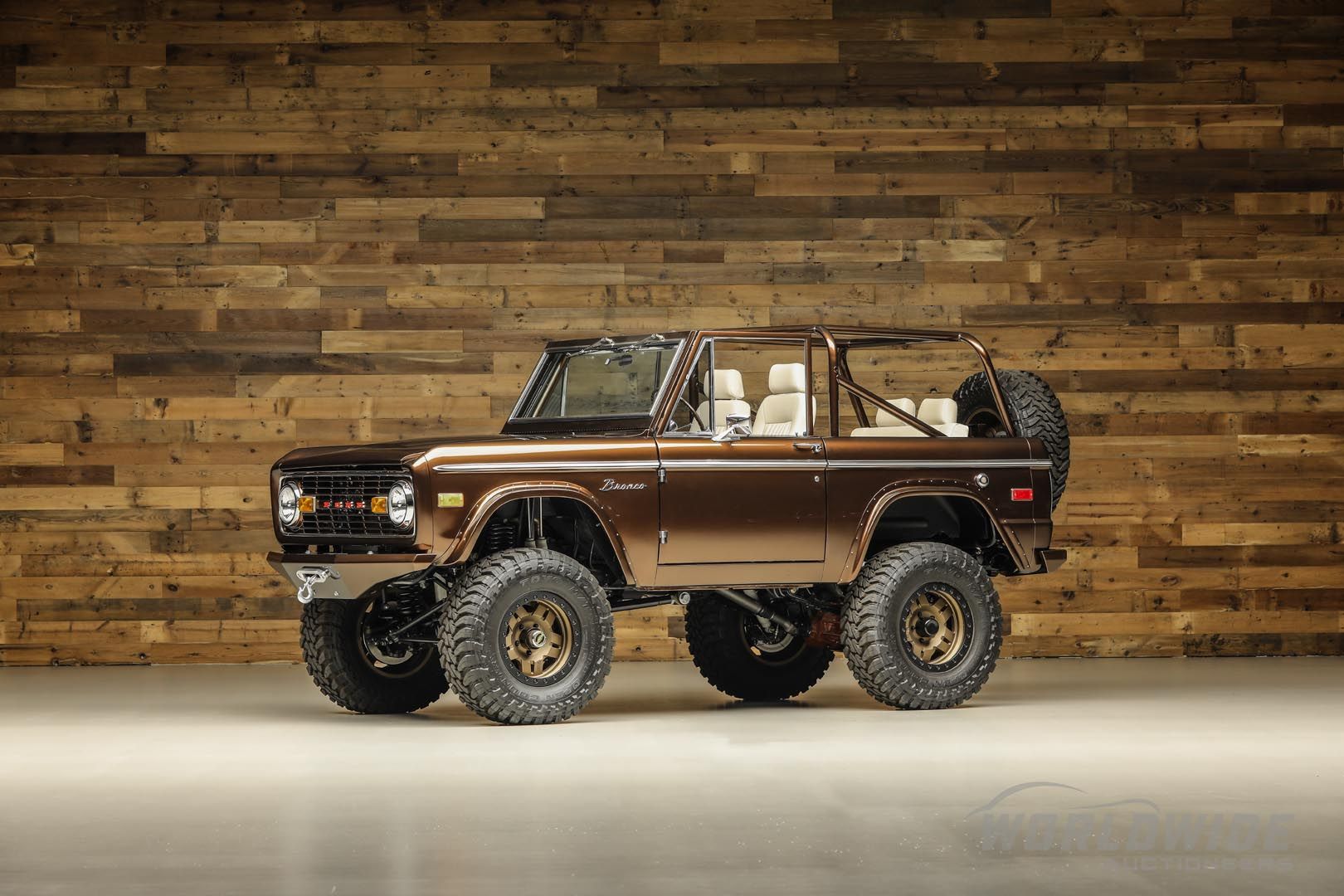 The little details, too, are delicious. Vintage Air makes the cabin a pleasant climate-controlled bubble, while new Dakota Digital gauges flash and beep like something out of a sci-fi film. Not your grandpa's rugged dash, that's for sure.
This particular Bronco isn't just a beautiful specimen; it's a financial anomaly. Custom built early SUVs are the blue-chip stocks of the car world right now. Orders are backed up; build wait times stretch into years. And here this one is—ready to go, as immediate as your desire to own it.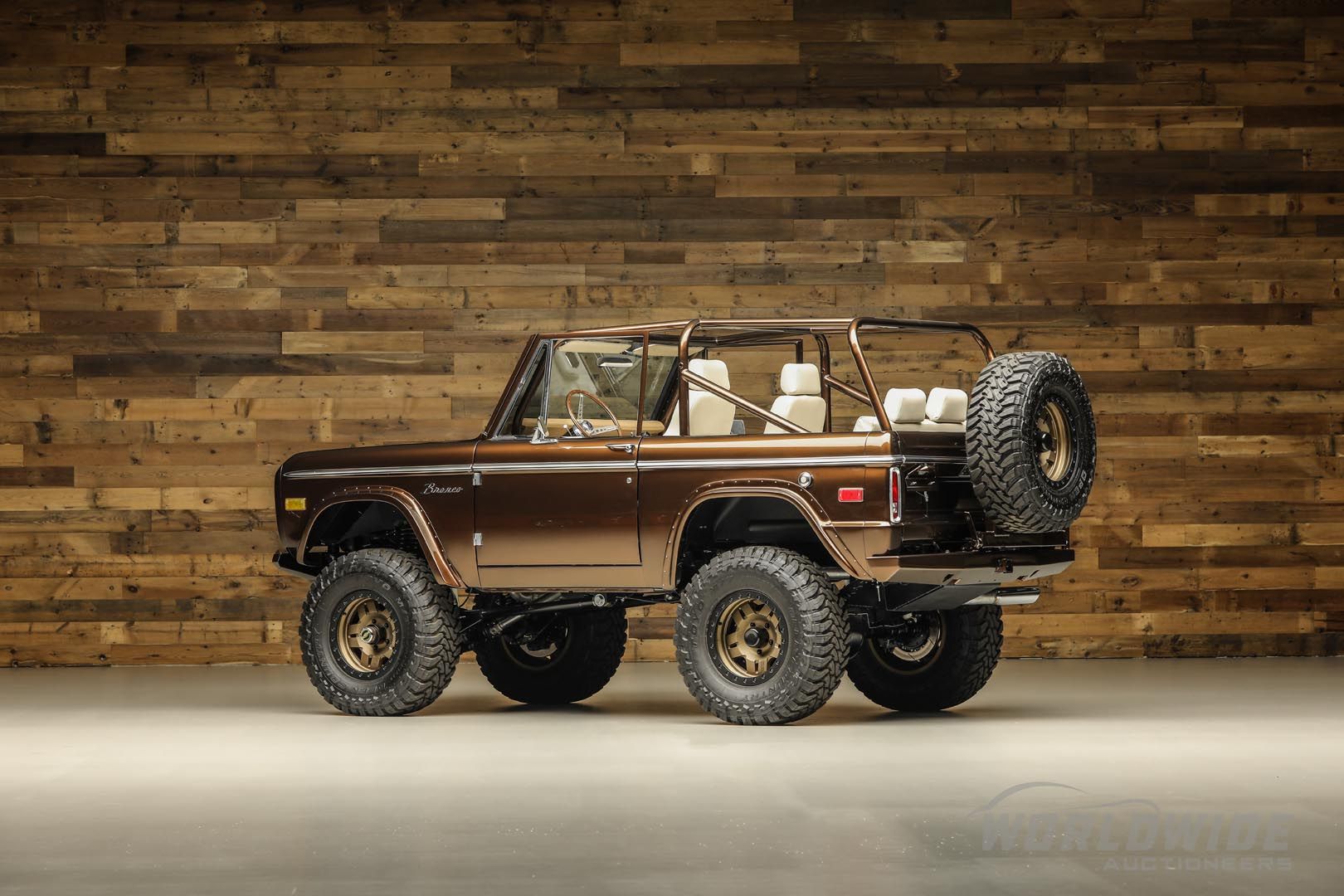 Why salivate over an online gallery of build options and features, tapping your foot impatiently for years? This Bronco "Coyote" Restomod has not only jumped the queue but pole-vaulted over it. If you're ready to put a dash of extraordinary in your ordinary, this is the Bronco to buck the trend. So saddle up. With this ride, you're not just hitting the trail; you're blazing it.
For all those enthusiasts and collectors eager to buy and sell great cars this summer, the road leads right back to Auburn, Indiana, the original "Classic Car Capital of the World" and birthplace of the collector car auction industry in America.

Our next catalogue sale, also the industry's next catalogue sale in North America, the Auburn Auction, will take place August 31 – September 2, 2023 at our Indiana headquarters. To be presented as a simultaneous live and online event for collector car enthusiasts and aficionado to enjoy.