Just listen to that cam rumble!
---
Fox Body Mustangs are probably one of the coolest cars of the '80s to customize, and this 1988 Ford Mustang notchback shows that you don't have to go crazy to make a show-stopping Mustang notchback. This car has been completely restored inside and out, and it is packing a seriously menacing engine.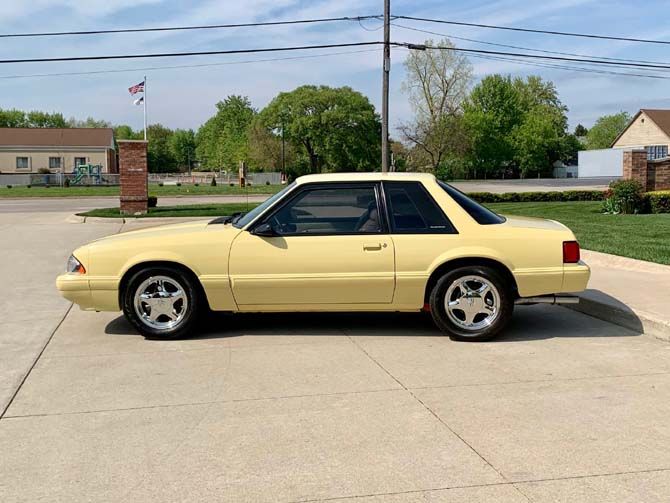 Before you even fire up the engine, though, the look of this '88 Mustang is impressive. The Mimosa Yellow repaint that was done right as evident by the door jams, engine compartment and trunk not showing a hint of overspray. The Euro-style headlights and front turn signals add a cool look, and the car's style is finished off with 16-inch chrome wheels with the classic pony Mustang logo.
With the exception of the aftermarket JVC stereo head unit, the interior of this Mustang is bone stock, super clean and is a flashback to the '80s. Most of the parts found on this car are brand new, which means you get the classic Fox Body look without any of the concerns of driving a 32-year-old car.
As clean as this car is, the highlight is definitely hearing this Fox Body running, so be sure to crank up the speakers when you're watching the video below to hear that 5.0-liter crate engine rumble. This engine has aluminum GT40 heads, a killer cam and a larger intake manifold sourced from a Ford Explorer, and it sounds spectacular thanks to the headers and dual exhaust. The odometer shows about 46,000 miles, but the listing says that there are just 5,000 miles on the car since it was restored and upgraded.
From the outside, this 1988 Ford Mustang 5.0 notchback has a subtle look to it, but this modified car is one mean Fox Body. It is currently up for sale through Showdown Auto where it's listed for $21,900.