This is no ordinary Porsche!
---
In 1987, Porsche made a striking statement with the 911 Carrera Cabriolet G50. This particular model, first delivered to its original owner via Porsche's renowned European delivery program, exemplifies the perfect blend of classic aesthetics with modern functionality. From its inception in Germany to adventures in Florida and Maryland, this beauty is now back on the market after a short hiatus.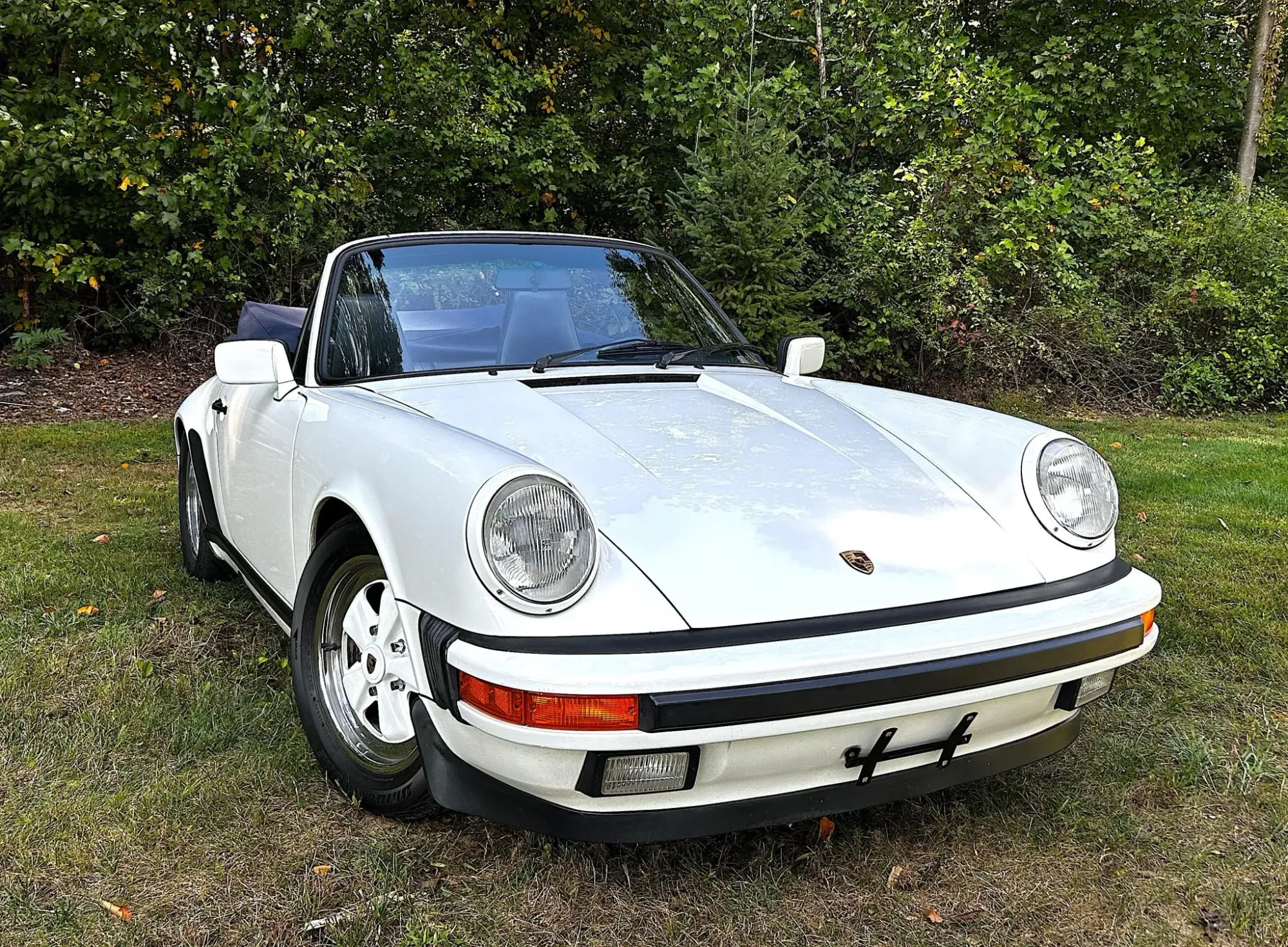 Decked out in Grand Prix White and complemented by Marine Blue partial leather upholstery, this 911 Carrera is more than just a looker. It's powered by a 3.2-liter flat-six, mated to a G50 five-speed manual transaxle that promises an exhilarating drive. Not just that, its Club Sport-sourced DME and exhaust components hint at a spruced-up performance profile.
Its exterior is notable, boasting a front spoiler and a "whale tail" spoiler at the rear. In keeping with its convertible pedigree, it features a recent blue soft top, artfully color-matching its top boot. H4 headlights, integrated fog lights, and power-adjustable side mirrors round out its remarkable facade.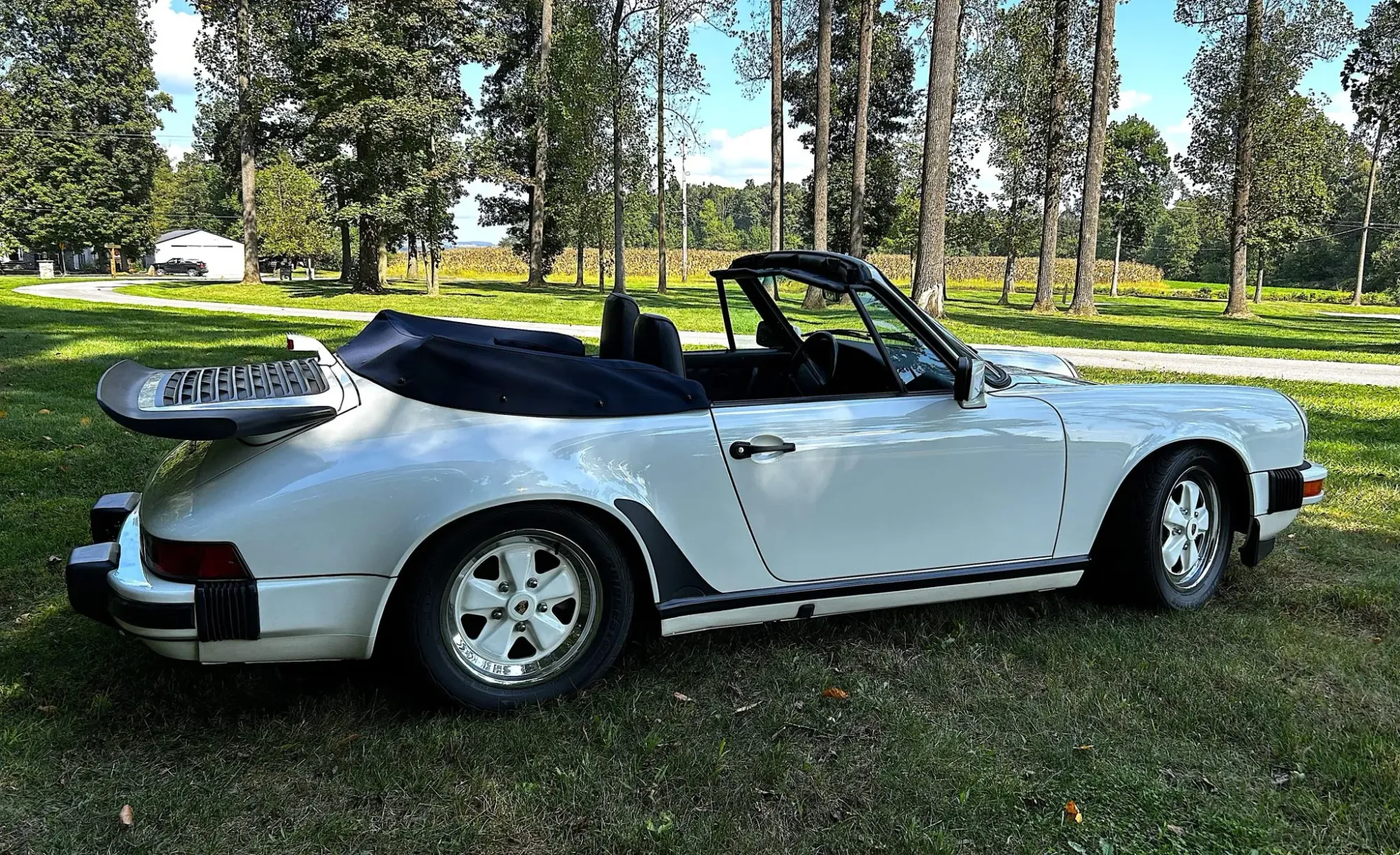 The wheel department doesn't disappoint either. 16" Fuchs forged alloy wheels come adorned with chrome rims and Porsche-crest center caps. These are tastefully paired with Bridgestone So2 N3 tires, ensuring optimal performance.
As we step inside, the Marine Blue leather beckons. Power-adjustable front sport seats promise utmost comfort, and rear jump seats offer versatility. With a Blaupunkt Reno AM/FM cassette stereo system, air conditioning, and a suite of other amenities, the interior perfectly balances luxury and functionality.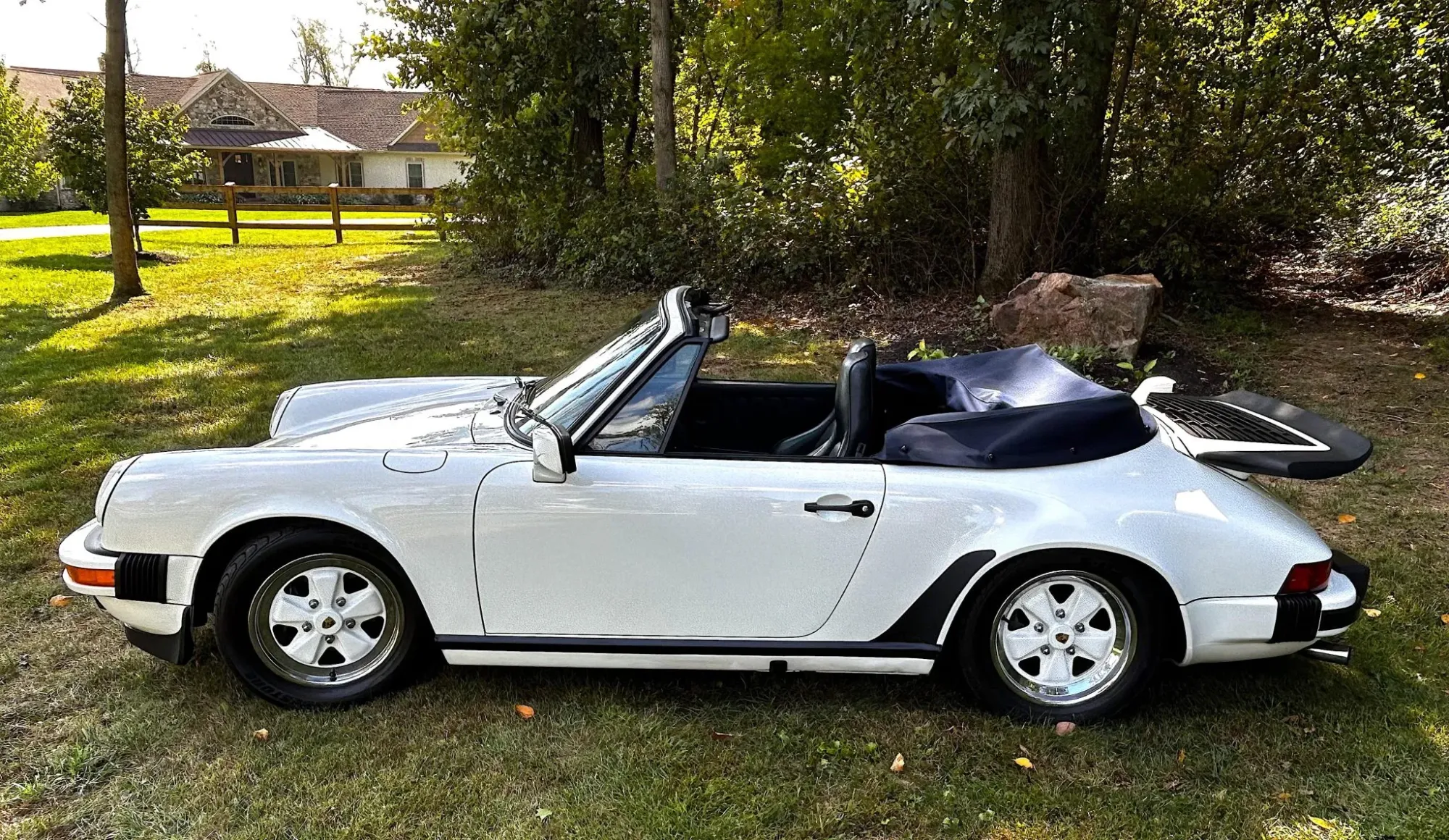 The heart of this beauty is its 3.2-liter M930/25 flat-six engine. Originally rated at 217 horsepower and 195 lb-ft of torque, the engine now boasts modifications via a Club Sport-sourced DME, hinting at increased performance dynamics.
The selling dealer, who acquired the car in 2023, offers an array of comprehensive records. This includes a 1987 order confirmation summary and a spotless Carfax report. The vehicle currently clocks in at 63k miles.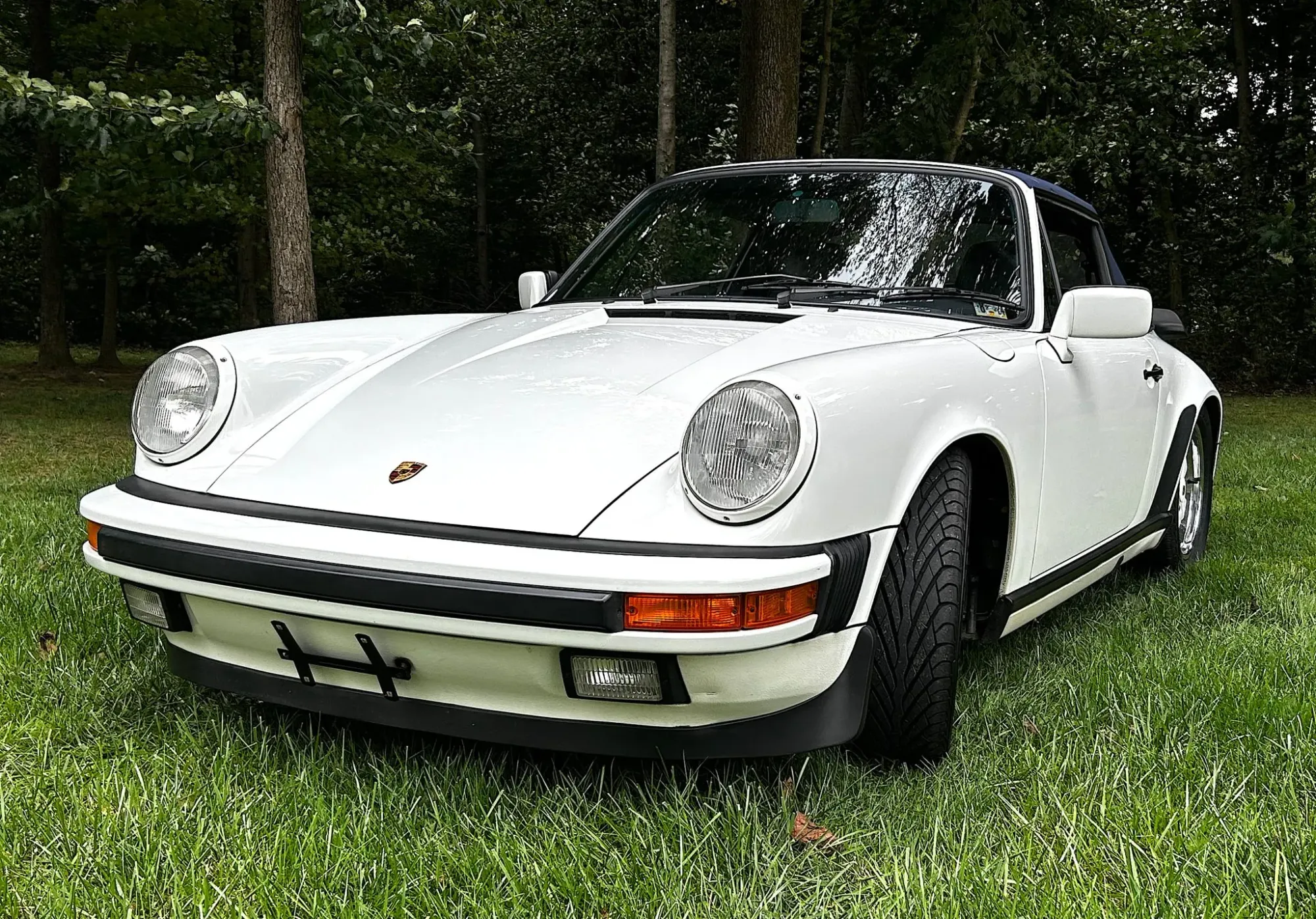 For those intrigued by its specifications, an option sticker decode reveals a plethora of factory settings that make this model one of a kind, from its paint choice to its suite of onboard features.
In essence, this 1987 Porsche 911 Carrera Cabriolet G50 is not just a car; it's a legacy. Whether you're a seasoned collector or an enthusiast with a penchant for classics with a modern twist, this Carrera promises a blend of style, performance, and history that's hard to pass up.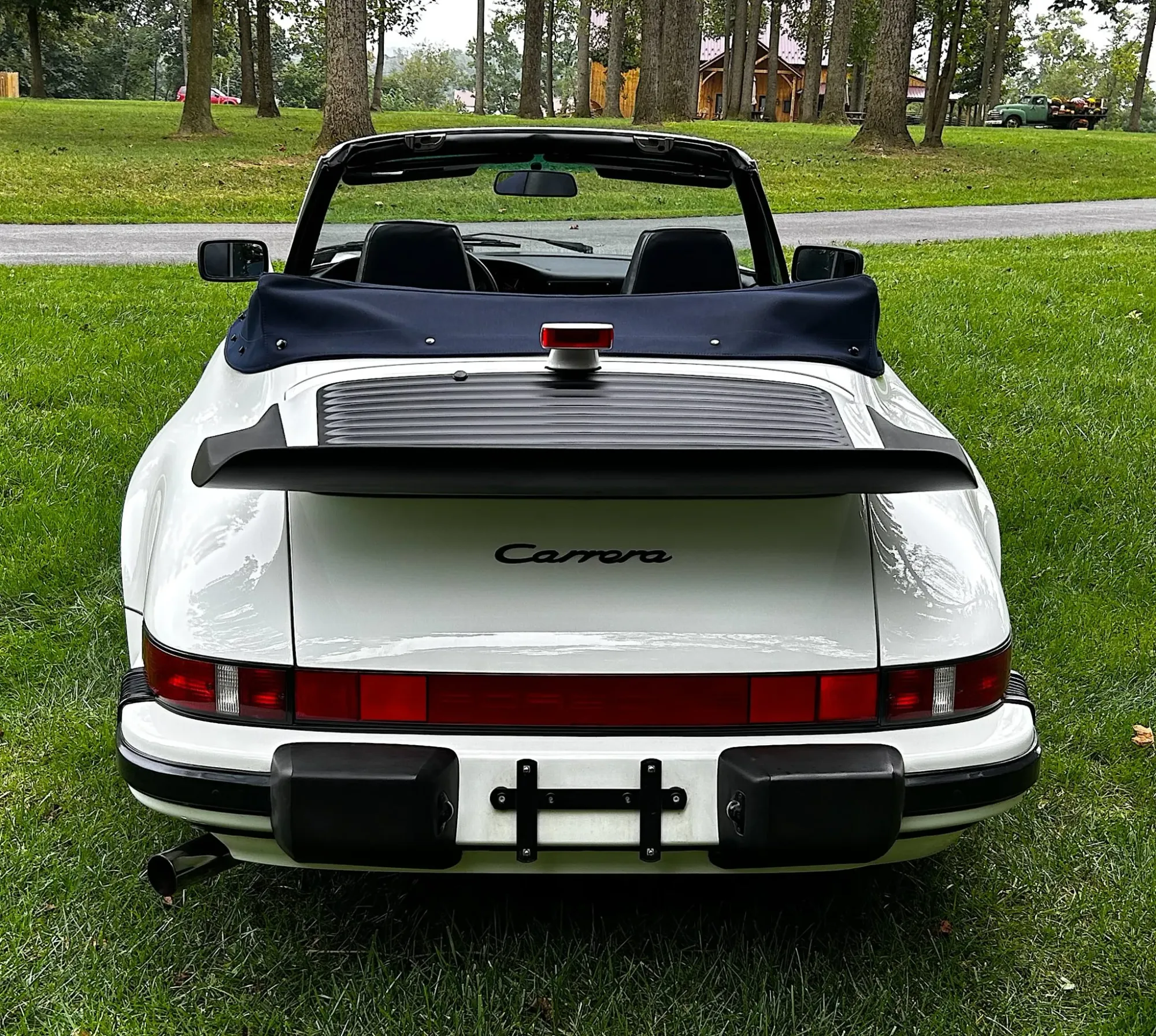 This awesome Porsche is being sold by AIC Auto. John is a Porsche expert with over 40 years of experience and he will be happy to speak with you. Visit their site to see other great Porsches and to learn more about their consignment process.