This 1960 1960 Austin Healey 3000 Convertible is a collector's dream!
---
Though not exactly to the level of Formula One or NASCAR even, the Austin Healey 3000 made its name on the track. In a time when the average car struggled to hold an 80-mph pace, these quick little cars could effortlessly zip up to 116-mph. The 3000 was quickly overshadowed though due to incredibly fierce competition. Still the cars captured the hearts of many enthusiasts, creating an incredible market and circuit for the Austin Healey 3000. Even today, these cars are revered by racers and enthusiasts alike.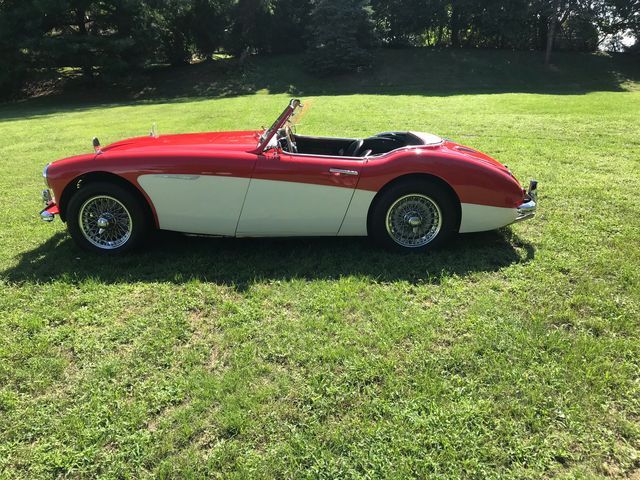 Carlisle Auctions is offering this very nice 1960 example. This Red and White Austin Healey 3000 Convertible features a 2,912-cc in-line 6 cylinder engine paired with a 4-speed manual transmission with overdrive. It rides on a set of chrome wire wheels and is well-equipped with fog lamps, chrome bumpers, and chrome trim. With the black convertible top down, the interior presents well with a black upholstery featuring red piping and a wood-rimmed banjo steering wheel. A detailed restoration binder with receipts accompanies the car.
This Austin Healey 3000 and more will be available as part of the Lakeland Winter Collector Car Auction, February 19-20 at the SUN 'n FUN Expo Campus in Lakeland, Florida (10:30 a.m. start time daily). With 400+ lots expected, the automotive history available is diverse and unique. Nearly 100 years of history will cross the block, including everything from pre-war classics to iconic muscle. There's even an all-truck hour planned for February 19 at approximately 1:30 p.m. Best of all, while some consignments will truly be white glove collectors, many others are head turners that can still be driven and showcased for all to see. Finally, there are THREE great ways to bid and buy; in person, on the phone and ALL NEW, online! Visit CarlisleAuctions.com to review a gallery of some of the confirmed consignments to date, register to bid, consign to sell and more.
More Information: