Such a car truly respects its history.
---
The sixth generation Chevrolet Camaro is one of the fastest cars from the factory to ever wear the Camaro nameplate. Utilizing Corvette power with a track-focused chassis design and engineering made to compete with the Ford Mustang, it's pretty crazy how far the muscle car has come. One example that is particularly popular both in the performance and custom building sectors is the COPO option. Back in the day, this meant you could get basically any engine/transmission combo with racing in mind. Nowadays it means a lot more than just that.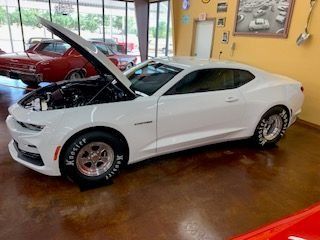 For example, this 2019 COPO Camaro features small options like the parachute package and a set of what are obviously drag racing tires. These are sort of what you'd expect from a car of this caliber which is exactly what makes the vehicles so incredibly desirable. You'll quickly find yourself rocketing down the track at wild speeds when you push the gas pedal and send fuel to the massive V8. Speaking of which, you might be wondering what sort of engine must be feeding the car's obsession for burnt rubber and low quarter mile times.
That crazy powerhouse is a 427 cubic inch V8 engine whose displacement should be very well known within the classic and muscle car communities. Being the 50th anniversary edition, it was important to get the history of the car right which is exactly why that 7.0-liter displacement was chosen. However, one of the more memorable aspects of the vehicle is the Turbo 300 transmission, an automatic transmission built specifically with racing in mind. With all of that power at your fingertips, it's going to be hard to lose a good drag race so if you're a racer looking for your next track weapon, consider this Camaro.

Maple Brothers Auctions is set to host its second annual Oklahoma City auction Feb. 17 and 18 in the Oklahoma City Convention Center. The auction will offer a collection of high quality, sports, American muscle, hot rods, pickups and custom vehicles suitable to satisfy any collector's desires with both reserve and non-reserve vehicles. Bidding is available in person and online via Proxibid. Consignments are currently being accepted. Take advantage of low entry and sell fees! Visit https://www.maplebrothersauction.com for more information.