This street-legal track car is packing Ferrari's most powerful V8 ever.
---
Ferrari has introduced a lot of road cars and racecars in its 80 years in existence, but the 488 Pista is the ultimate expression of both. Introduced in 2018, this track-oriented car incorporates technologies from the Ferrari Challenger racing series while celebrating the impending end of production of the 488, and this 2019 Ferrari 488 Pista being sold through the oldest Ferrari dealership in North America is an incredible example.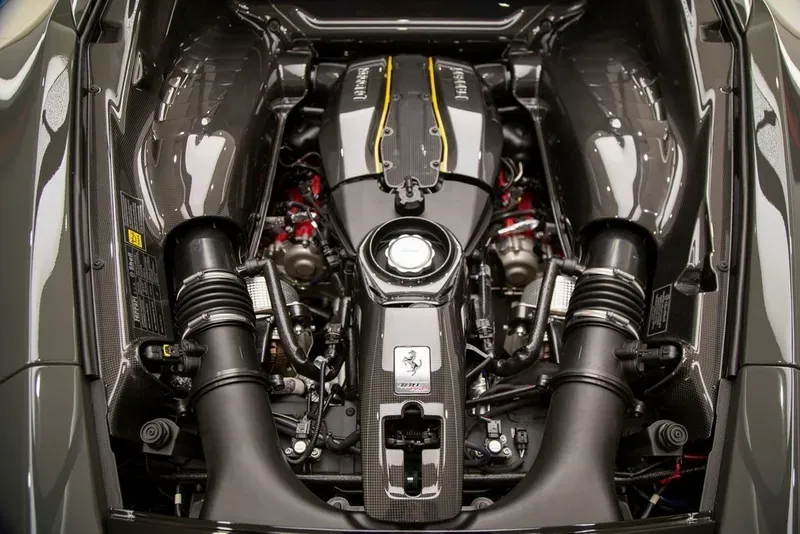 In Italian, "pista" means "track," so there is no denying what this version of the 488 was bred for. To improve its performance on the track, Ferrari started by adding a more aerodynamic body to the Pista using the racecar-like S-Duct at the front of the car with revised spoiler and diffuser at the rear. The heavy use of carbon fiber (including a Ferrari-first, carbon fiber wheels) helps the 488 Pista drop almost 200 pounds in curb weight, while the 3.9-liter twin-turbo V8 has been tuned to produce 720 horsepower making it the most powerful V8 in Ferrari's history allowing for 0-60 mph acceleration in under 2.8 seconds.
This level of performance means that all examples of the 2019 Ferrari 488 Pista are extremely special and rare, and this one being sold by Ron Tonkin Gran Turismo is extremely rare. For starters, this Ferrari has just 720 miles showing on the odometer, and it also comes fully loaded with options making it even more collectible. There are options like navigation, carbon fiber racing seats and even a leather-wrapped fire extinguisher, but the most distinctive part of this 488 Pista is the unique yellow accent on the engine's intake plenum – an off-menu special-request option in place of the standard red accent intake. This yellow accent perfectly matches the yellow and black racing stripes up the middle of the body, which is painted in Grigio Scuro.
Ron Tonkin Gran Turismo, located just outside of Portland, Oregon, has this amazing Ferrari listed for $499,995, which is a steal when factoring in the performance capabilities, rarity and the massive option list of this car. Combining its legendary performance with this car's distinctive styling and ultra-low mileage, this 2019 Ferrari 488 Pista will instantly add credibility to any collection.