Two of the most dominating racecars of the 1960s are exhibited in this Corvette tribute.
---
The Grand Sport Corvette and McLaren M8 Can-Am are two of the most dominating and iconic racecars of the '60s, and this 1965 Chevrolet Corvette Grand Sport Tribute being sold through Corvette Mike Midwest is an incredible mix of these two cars. Rocking the distinct style of a Grand Sport Corvette and the all-aluminum Chevy big-block ZL1 engine from the McLaren, this '65 'Vette is ready to compete in car shows or on the race track.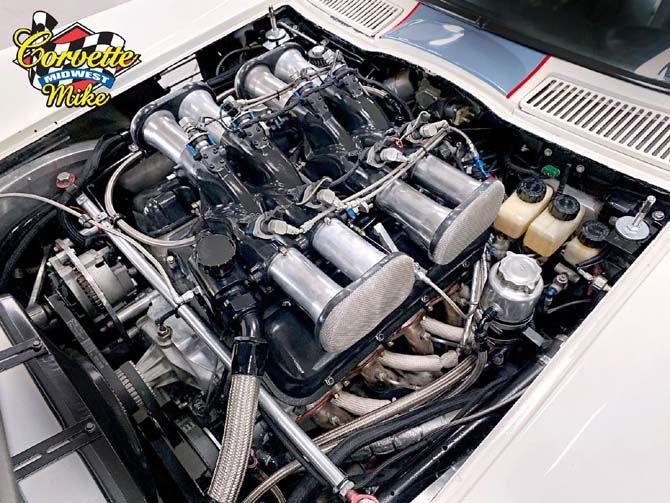 Only five Grand Sport Corvettes were ever built, and while there are a number of replicas and tributes out there, this 1965 Chevrolet Corvette is easily one of the best out there. Everything from its wide fenders, recessed door handles and the Grand Sport-signature front- and rear-end treatments. The interior is ready to race with a full roll cage, racing seats and five-point harnesses.
As rare and beautiful as this 1965 Chevy Corvette Grand Sport Tribute is, what really makes it special is its all-aluminum 427 cubic-inch Chevrolet ZL1 racing V8 developed by McLaren for its Can-Am racecars. The fuel-injected, dry-sump engine has been professionally built, and everything from the radiator to the side pipes have been custom designed to let this engine squeeze out every last horsepower; you can hear this incredible engine rumble to life in the video HERE. A four-speed manual gearbox sends this engine's power to the rear tires through custom driveshaft and half shafts, while the brakes and suspension components from a 1990 Corvette ZR-1 ensure this Grand Sport handles better than the original.
This McLaren-powered 1965 Chevy Corvette Grand Sport Tribute listed for $135,900, so be sure to contact Corvette Mike Midwest for more information whether you're looking to buy or sell. Corvette Mike Midwest is always looking for Consignments, and it is a cash buyer for all classic and collectible cars whether it's a Corvette or a non-Corvette.